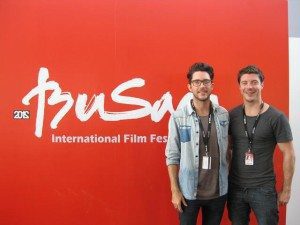 In Beast, writer/directors Tom and Sam McKeith tell the story of Jaime Gray (newcomer Chad McKinney), a young boxer in the Philippines. After his father (Garrett Dillahunt) convinces him to cheat in the ring in order to win cash from a local bookie, Jaime ?accidentally? kills his opponent. Riddled with guilt, he desperately attempts to make things right by protecting his opponent?s family. According to Tom, this scenario is not uncommon in the world of underground boxing overseas.
?We heard stories about boxers wrapping their hands in plaster and taking out the padding,? Tom reassures. ?[In particular, we heard a story] where an opponent lost their eyesight as a result of someone doing this in a fight. We thought that was a compelling idea. If you do that, you [would] have to carry around a lot of guilt. How do you make up for something like that? That was the starting point.?
As first-time filmmakers, any writing/directing team is bound to face challenges. However, the fact that Sam and Tom are brothers might lead one to assume that communication could be more difficult. According to Sam, the fact that they are family isn?t an obstacle for them.
?We?ve always worked together on the short films that we?ve made so we kind of developed a bit of a system as we?ve gone along,? Sam says. ?On the writing side, we kind of write treatments and pass them back and forth between one another. Then, when we get to the script, we do the same thing. When we get onto the set, one of us will watch the monitors, one will watch the set. Then, we?ll switch that around.?
According to them, some of their greatest challenges lay in their decision to shoot in the Philippines. While both men show a great appreciation for the team they were working with, they quickly discovered that one of their greatest challenges would be the weather conditions.
?We worked three shorts in Australia but, after working in the Philippines, it?s a whole different ball game. It?s a great place to film but it has it?s own unique challenges from a production standpoint,? says Tom. ?We were there during typhoon season?which wasn?t an ideal time to be filming?[and we were] hit by a strong hurricane and an earthquake while we were shooting.?
?We wanted to shoot everything in the real locations because we wanted that sense of realism,? Sam adds. ?[Once] we went to set and [the whole area was] totally flooded because there wasn?t drainage so everyone had to leave the area. We finished the shoot later that day but when we turned up and it was chaos. You wouldn?t have the type of insight unless you got to go there.?
Featured (L to R): Chad McKinney, Tom McKeith, Sam McKeith, Garrett Dillahunt
Despite the challenges of the shoot, Tom and Sam transform Beast from a simple ?boxing movie? to an indepth character piece. By choosing to film entirely close-up on McKinney?s broken Jaime, Tom and Sam focus their attention on his emotions, rather than his actions. Given that this was McKinney?s first role, Sam admits the decision was a bit of a risk?but one that definitely paid off.
?We were just lucky as directors,? he says. ?Garrett was the professional but with Chad, as a first time actor, he?s a bit of an x-factor. We were just lucky that we could tap into a lot of his family history and life experience to motivate his performance in the film.
?We?d originally thought that element [of] Garrett being from America and Chad being half-Filipino, half-American would be more central but, as production went along, it became more focused on the Jaime Gray character,? remembers Tom. ?We shot more wides and other scenes [in order to] make Garrett?s character more ?beastly?? that didn?t make the end cut. So, as it went along it became more focused [on Chad] as we thought it was really the core of the story. He?s really the most interesting theme so [we said] let?s just stick with the one theme. The real question is ?Is he a beast?? In the beginning, you meet this guy, who lives a certain lifestyle. He seems like he?s a beast.?
Frankly, it?s this challenge between appearance and reality that makes this film so compelling. Whereas many films set in the sports genre choose to emphasize ideas like ?the triumph of will/human spirit?, Beast opts to explore how someone grapples with the ramifications of their actions.
?You do something wrong, it?s always with you. You can?t run away from it,? Tom points out. ?You can?t pretend it didn?t happen. You can?t try and make up for it by being nice to someone and helping out because it?s yourself that has to carry it with you. The only thing you can do is take responsibility for it. That feeling follows him until he does the only thing he can do which is accept it, confess and accept responsibility. That?s the only thing that gives him some kind of [peace]. I think he tries everything but it?s going to follow him.?
In light of this, it is also important to note the spiritual heart beating beneath the surface of Beast. While definitely examining the ideas of our sin and guilt, there is also strong message of spiritual burden as well. For example, in one of the most interesting moments within the film, Jaime drops to his knees in prayer, looking for God?s help.
?We originally had a different kind of prayer but we rewrote it because Chad is protestant. [Even so,] the film is so observational,? Tom explains. ?You see the characters doing what they are doing. It?s not like another film where the characters might speak what he?s feeling or the style might help to understand what?s in the characters minds by what they?re saying. We felt that we needed a bit of a sign post to help clarify what he?s going through internally. Also, there was this idea that, sometimes, when you?re dealing with guilt, it?s your own sense of being damned or forsaken. Those feelings that have a spiritual kind of quality to them and it felt right to tap into that, given the nature of the story.?
It?s this spiritual heart that truly gives the film its soul. By choosing to focus the narrative on Jaime?s battle with his inner demons, writer/directors Tom and Sam McKeith have truly created something unique and powerful.
Without question, they have shown that there is beauty within this Beast.