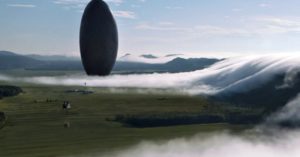 When mysterious spacecraft touch down across the globe, an elite team, led by expert linguist Louise Banks (Amy Adams), is brought together to investigate. As mankind teeters on the verge of global war, Banks and the team race against time for answers — and to find them, she will take a chance that?could threaten her life, and, quite possibly, humanity.
With ARRIVAL, Denis Villeneuve takes his first steps into the science fiction genre?(he is currently filming the highly-anticipated sequel to BLADE RUNNER) and manages to surprise us in the best of ways. ?Rather than succumbing to the temptation to develop the more traditional 'alien invasion' piece, Villeneuve opts for a more poignant approach by focusing the story on character development and relationships. ?In doing so, Villeneuve creates an atmosphere of tension and intrigue as communication between the alien species and human race unfolds like?an intense game of chess with the future of the earth hanging in the balance.
What's more, the film is anchored by?an incredible performance by Adams as she seamlessly moves between hearts of?both courage and emotional trauma. ?With strong outings?in both ARRIVAL and Tom Ford's NOCTURNAL ANIMALS, she could very well finally be poised for recognition come Oscar time. ?Although it also?features solid?performances from its supporting cast (Jeremy Renner, Forest Whitaker), there's little question that this?is Adams' film and she seizes the opportunity.
Without giving away any spoilers, Villeneuve also has much to say within the film about the nature of language and communication. ?Is communication what brings us together or a roadblock? ?Or is it possible that truth can get lost in translation? ?These questions, in addition to the theme of 'leaning into fear' provide more than enough content to ?lift ARRIVAL beyond your run-of-the-mill?sci-fi piece.
Without question, this was one of my favourite films of the fest this year and could receive significant notoriety come awards season.
Trust me. ?The film is not what you expect.
And that is a very good thing.