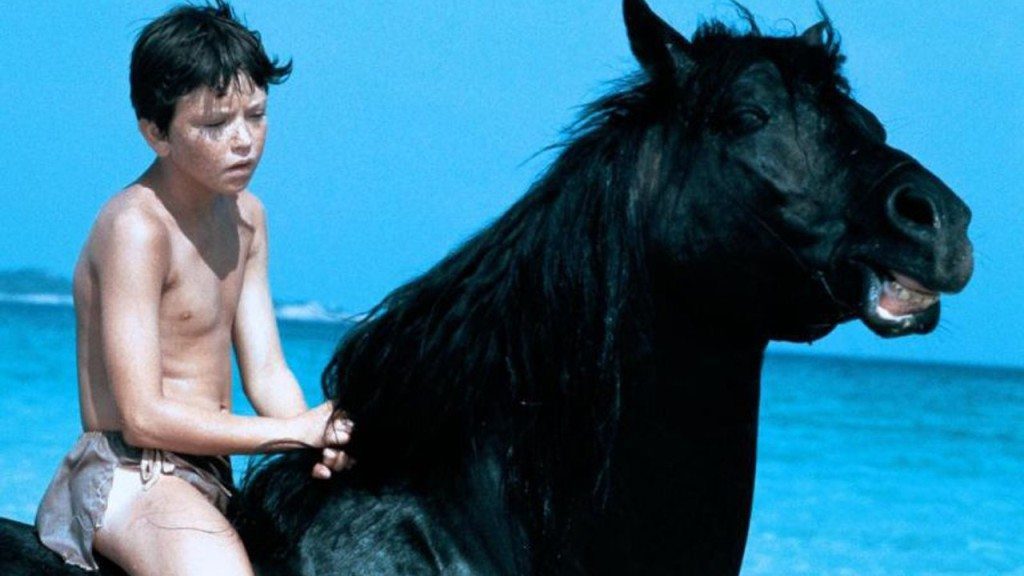 You either love movies about kids and their horses. Or you have no soul.
[I'm kidding… sort of.]
In the 1979 film directed by Carroll Ballard (based on Walter Farley's novels about the aforementioned black horse), a boy (Kelly Reno) and an Arabian stallion become as close as a human and an animal might after surviving a shipwreck together. They would later team up with a retired horse trainer (Mickey Rooney) and go on a series of races and adventures through a feature-length sequel and an early 1990s television show. But as is true in most cases, the original is the best.
Thanks to the Criterion Collection, you can see the film in remastered high definition and surround sound. The film itself takes us from the various locations like the deserted island to the rustic horse-racing barns and down-home style of rural America. It's the visuals that captivate us more than the actual acting or script itself; even the sounds of a horse rushing wild and free, yet under control, are awe-inspiring.
The film was critically-acclaimed at the the time, recognized as more than a children's tale, with nominations for Rooney and?film editor Robert Dalva; the Golden Globes entered the action by nominating Carmine Coppola for Best Score. Thanks to the Criterion Collection treatment, fans can now unpack the components of what they see visually, as well as the underlying elements of the story Farley wrote, with Ballard's embellishments.
Special interviews with Ballard, director of photography Caleb Deschanel, and Mary Ellen Mark (discussing her photographs from the set) are contained on the Blu-ray. Fans of Ballard's?Fly Away Home?or?The Black Stallion?will appreciate that his five short films from the late '60s and '70s (with introductions) are included:?Pigs!,?The Perils of Priscilla,?Rodeo, Seems Like Only Yesterday, and?Crystallization.
If I'm honest, I'm not a big "animal movie guy." I don't care about?Free Willy, or even appreciate?Homeward Bound. But?The Black Stallion?is a film I find myself revisiting, because there's something primal and intense about the shipwreck, and the?Robinson Crusoe?way that the boy and his horse live symbiotically, protecting each other. Sure, it's not two people "laying their lives down," but it's a reminder that early on, in the Garden of Eden, Adam named the animals (and probably called them friend). I know there's a shipwreck involved, but sometimes, the island beach seems to be just a cut of paradise.
Mutual respect will do that, right?