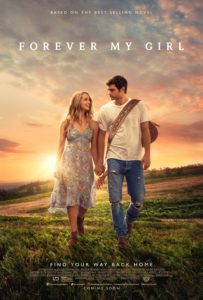 Produced by LD Entertainment (Risen, Jackie), Forever My Girl tells the story of Liam Page (Alex Roe), a superstar country singer who can?t shake the hurts of his past. When the death of a high school friend brings him back to his home town, he encounters Josie (Jessica Rothe), his ex-fiance for the first time since he left her at the altar. Though she isn?t interested in reconnecting with Liam, Josie does tell him that he has a daughter, Billie (Abby Ryder Fortson), from their previous relationship. As a result, Liam decides to stay longer in his home town to get to know his child and, potentially, rediscover himself as well.
For a studio that?s known for such gritty films as 2011?s survival film The Grey and the Oscar-nominated Jackie Onassis biopic, Jackie, this film is certainly a departure for them. Infused with an energetic dose of country music, Forever My Girl has a much lighter tone than the above titles, carrying itself as a fun, romantic drama. Relative newcomer Alex Roe (The 5th Wave) handles himself with southern charm as star Liam Page (remarkable considering he had little musical training prior to the film) but it is Jessica Rothe?s performance as Josie that often proves most up to the challenge. Rather than settle for the ?disgruntled ex-girlfriend? role, Rothe portrays Josie as a confident and assertive young mother who has created a healthy life for both herself and her daughter.
Interestingly, the film is also very concerned with exploring the nature of forgiveness in its story, placing each character in various degrees of brokenness. Josie, while established in her new life, has never truly forgiven Liam for abandoning her. In addition, Liam has never been able to forgive himself for not being able to help his mother. Finally, Liam?s father?and town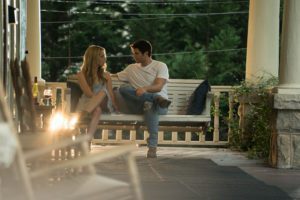 pastor?Brian Page (John Benjamin Hickey) has never forgiven his son for abandoning both his family and his personal values. As each character finds themselves on a different emotional journey, they begin to recognize the healing power of forgiving one another. In doing so, they each experience a renewed sense of community by recognizing their own imperfections and releasing their past hurts. (Incidentally, it?s also worth noting as well that, while the film would hardly be considered of the ?faith-based? genre, Forever My Girl certainly uses a Biblical understanding of grace and forgiveness as a template from which to build their character arcs.)
While admittedly the film breaks very little new ground for the genre, it does entertain and delivers what it promises. Bolstered by a strong pop country soundtrack?"Water Down My Whiskey" in particular was stuck in my head for several days?and charming characters, Forever My Girl will likely appeal to fans of the romantic drama but is not likely to attract many new ones.
Forever My Girl?is currently available on Blu-ray, DVD, and Digital HD.