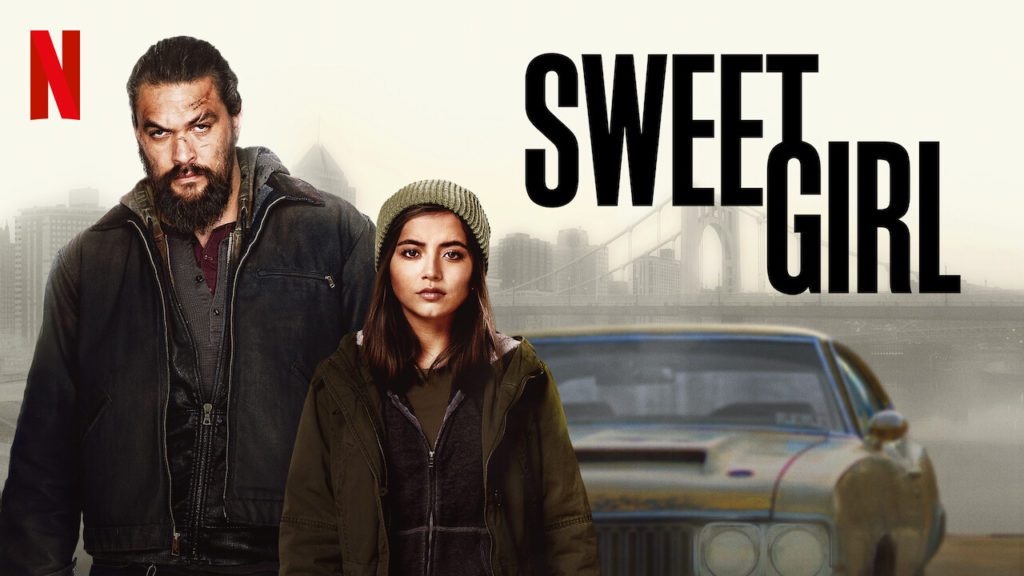 Sweet Girl, a Netflix thriller, stars Jason Momoa as Ray Cooper, a veteran and father who watches as his wife passes away to cancer after a medical syndicate forces a drug off of the market, and feels compelled to wage a one-man war against the corporations involved. While primarily a "standard fare" kind of film that we'd expect to see Ryan Philippe or Bruce Willis in, the film's script by Gregg Hurwitz and Philip Eisner attempts to give the Aquaman star a broader platform to work from with Sweet Girl.
Cooper's daughter Rachel (Isabela Merced, Dora and the Lost City of Gold) serves as the heart of the film, as Cooper's desire to fight the evil he sees in his wife's death clouds him at times from seeing his remaining role as father. She is along for the ride in the first two-thirds of the film but ultimately gets her chance to shine in terms of action violence, too. While the Coopers are up against overwhelming numbers at the medical corporations' disposal, their primary opponent appears as Manuel Garcia-Rulfo's hitman Amo Santos. Santos humanizes the face of the medical decisions that are primarily economic not Hippocratic, alongside Justin Bartha's CEO Simon Keeley who oozes sleaziness while also appearing publicly to not say anything wrong.
There's a strange twist at the end of Sweet Girl that is aimed at clever, but comes across as passably unacceptable in terms of narration and storytelling. While we've read books and seen movies with unreliable narrators, this is something I'm still shaking my head about the hook they pull off. I understand the transition they were aiming for, but it didn't work for me. (Somehow, the 19% Rotten Tomatoes rating makes me think I'm not the only one.)
While the film comes across as derivative, Momoa and Merced are solid in their roles and show more than they have in their previous roles. I'd love to see them team up again with something less ridiculous mixed in, but we'll see if that happens. Momoa definitely has the capacity for more, and it remains to be seen whether he'll get more roles that stretch him.