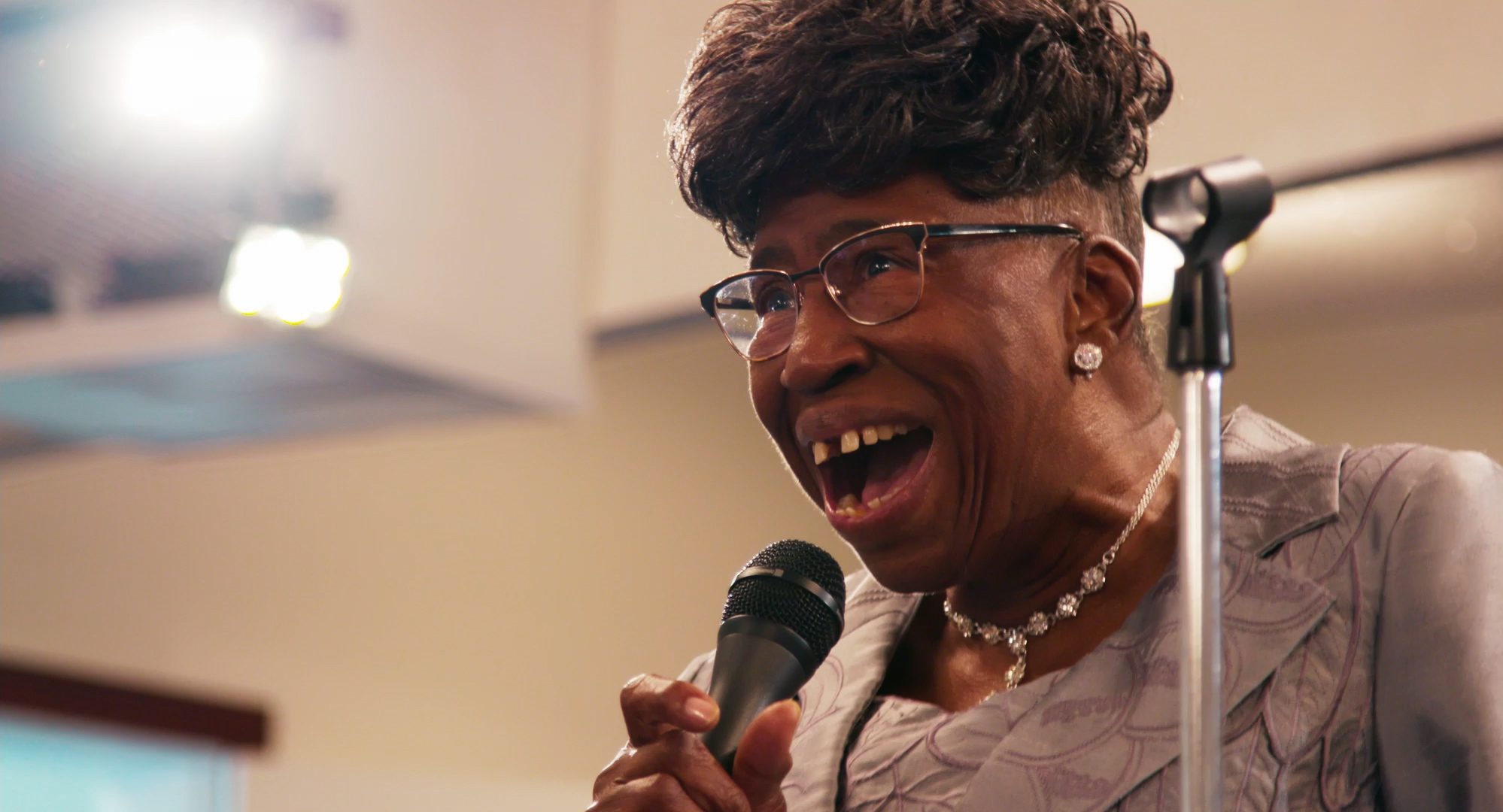 In Stay Prayed Up, Ms. Lena Mae Perry and her gospel group, The Branchettes, prepare to record a live album with musician and producer, Phil Cook. This documentary film highlights community, faith and just how important gospel music is to the people in this community, and indeed to a lot of people outside it as well.
Ms. Perry grew up singing with her siblings, a talent that was quickly discovered by her church who put them in the Sunshine band ? the children?s choir- and ministering in different churches. She eventually would start singing in the senior choir of her church and from, that experience, she and two other women would form The Branchettes in 1973. Ms. Perry is the only original member of The Branchettes still in the group and promises to keep taking that name with her wherever she goes. She is a firm believer in God, her steady faith even coming through the screen in her interviews, and a pillar in her community, fondly referred to as ?Mother? by everyone in it, and lives up to that name by cooking for, praying with and counselling people she encounters.
I love that Phil Cook, who grew up in a more reserved church, says that he first discovered gospel music in the movie, Sister Act and that he basically could not refuse its call; and that Ms. Perry taught him to see God in everything, because I can relate to his sentiment.
Not the ?growing up in a reserved church' part. I grew up in church in Nigeria with a pastor (and parents) that loved the arts and encouraged as many people as he could to be involved in it in some way; that meant choir practice, guitar lessons, drama, and dance–all at church. As I?ve moved around and been to churches in different communities, my idea of what it meant to be in God?s presence became: solemn. I subconsciously traded in the more vibrant expressions I was raised in for quieter ones. Partially because I?m a quieter person and thought these expressions fit me better. But I also started to believe that music that was loud (or ?showing off?) distracted us from who God is. Because of this flawed thinking, I felt that I needed to remain lowly and remember that I?m not worthy to be in His presence. (In fact, if I wasn?t crying, I believed that maybe I didn?t really love Him.)
I think there?s an aspect of truth to those beliefs, but they?re certainly not the whole truth. What I discovered as I lived in them was that I began to feel restricted, a feeling that would impact my view of God and consequently, my identity.
Recently, I?ve been trying to get back to the joy and freedom I experienced as a kid–one that I think gospel music represents and that Stay Prayed Up captures, recognising that worship of God includes a celebration of the gifts He has blessed us with.
Following a limited theatrical release, Stay Prayed Up is available on Digital July 5.