Winner of the Palme d?Or at the Cannes Film Festival this year, Shoplifters is a part of Hirokazu Kore-eda?s examination of family?s place within society. This is a topic he has looked at from various angles in other films, notably Like Father, Like Son; Our Little Sister; Nobody Knows; and I Wish. (I recommend them all.) He always brings a bit of a twist into the idea of family, leaving us to consider our own views.
In Shoplifters, we see what seems to be a fairly traditional family: father, mother, grandmother, a daughter on the verge of adulthood, and a young son. The family lives in near poverty conditions. The father works occasionally and the mother has a low paying job. The grandmother gets a pension. But to make ends meet, they do petty crimes, especially shoplifting. On the way home from one of their ?shopping? sprees, the father Osamu and his son Aki see a five year-old girl who seems to have been abandoned. They take her home with the idea of feeding her, but mother Nobuyu notice evidence of abuse. They decide to keep the child with them. When the parents don?t report her missing for some time, it seems the decision was right.
We may think this family is immoral with its focus on theft. They justify it to themselves by saying that something that hasn?t been bought doesn?t really belong to anyone. We know that is not true, but it helps them in their difficult situation. Soon, Aki is teaching the girl how to steal. When a shopkeeper spots her, he tells Aki to not make her do that (implying that he?s been aware of Aki?s practices all along.)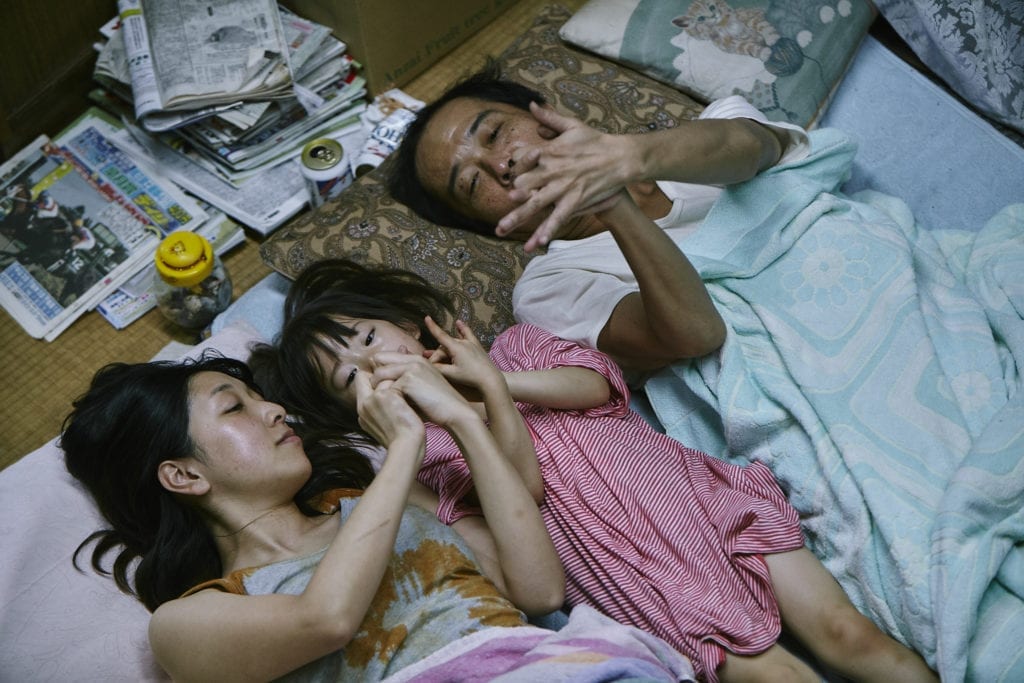 But there is also a moral sense that they exhibit?especially in taking in this girl who can offer nothing in return. The love that is evident in the family is shared with this stranger who they have rescued from a dangerous place.
As with all of Kore-eda?s films, Shoplifter provides us with very human characters that are easy for us to care for. We know this family struggles and that their actions are less than admirable, but because of the love they share and the happiness they find in one another, we sense that in many ways they are a family that we would like to be a part of. But in time the family bonds are to be severely tested, and perhaps irrevocably broken. It may cause us to question not their lives, but the society that has put them in this position.
As they get used to the girl as a part of their family, they reflect a bit about the idea of picking one?s family rather than just having it be about biology. Those thoughts keep coming back as we learn just how this family came together. Soon we come to realize that Kore-eda has again brought us a family that is not as simple as we assumed. It is here that we might want to give thought about our own definition of family. The society has given us an idea of what a family should be, but is it really clear cut? In recent years, the functional definition of family has undergone many transitions. This film gives us a new perspective to consider our own idea of what it means to be a family.
Shoplifters is Japan?s official entry for Oscar consideration as Best Foreign Language Film.
Photos courtesy of Magnolia Pictures.