?Misery, you can?t get away from it.? — Officer Jerry
In a shocking follow-up to his directorial debut Generational Sins, director and screenwriter Spencer Folmar delivers a powerful warning about the state of the world, explicitly about the opioid epidemic and even more deftly about the way we relate to each other in terms of cause and effect. Fresh off of a visit to his own Pennsylvania hometown, Folmar wrote a story about how one man?s war against drugs led him to places he never imagined, as he struggled to find the balance between judgment and grace.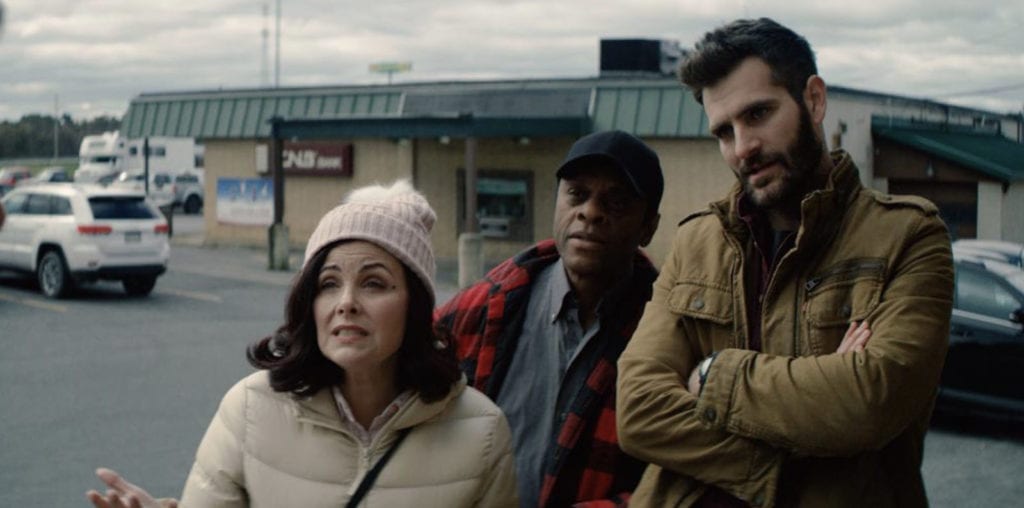 Adam (Alan Powell, The Song, Caged No More) has survived three tours abroad, and two divorces, returning to his own hometown to raise his toddler son and tend the local watering hole. But his sister overdoses on heroin and the anger he feels creates a fire that threatens to consume him. With two other townspeople (SWAT?s Sherilyn Fenn and Welcome Back, Kotter?s Lawrence Hilton-Jacobs) by his side, he finds himself deputized by the alcoholic sheriff (Garry Pastore) to track down and stop the dealing of drugs in their town of Whispering Pines. While several of the situations Adam finds himself in, all of them are ripped from real-life situations as small towns fight back against the opioid epidemic.
?If one knows they should do and they don?t, isn?t it a sin?? — Hazel
While someone might assume that the film would focus solely on shady ne?er-do-wells injecting heroin into their arms, the diversity of the epidemic is covered, from pharmacists instructed to fill any prescription brought their way to doctors struggling empathetically to ease their patients? pain, from medically-induced addiction to young people hooked as their recreational tastes escalate. This is not a film that aims at a scapegoat and fires, but an evaluation of the community, including law enforcement, the medical process, the educational structure, the religious establishment, and the legal system, that all bear the weight of the epidemic.
Folmar paints a realistic picture of the desperation and hopelessness of aspects of small-town life, where despair, poverty, violence, and addiction have set in. The audience feels for Adam?s situation – a veteran who served his country but who comes home a la Rambo or Buford Pusser to encounter a problem even more nefarious – but can see the issues he wrestles with that are based more family-based, like guilt, shame, and responsibility. (These are clearly issues Folmar has studied hard, not least with Generational Sins.) Shooting Heroin is about an epidemic, but the gritty portrayal by the former Anthem Lights? frontman of Adam brings the story into our own living rooms and towns.
There?s a clever twist to this indie feature that Seth & Nerva?s ?The Brilliance? highlights perfectly, another earmark of Folmar?s budding film direction. No shot – whether it?s of a loaded bar full of alcoholics or a well-placed use of Scripture briefly – is wasted in an economic exploration of a person?s responsibility for their brother or sister, their son or daughter, their father or their mother.
Shooting Heroin will shake you to your core, and demand you consider what it means to carry one another through this life. Micah 6:8 states, ?He has told you, O man, what is good; and what does the Lord require of you but to do justice, and to love kindness, and to walk humbly with your God?? For twenty-first century people of faith, the pursuit of justice, kindness, and humility in the face of great evil will take them to places they never expected, with answers that counter-culturally confront darkness that everyone might walk in the light.