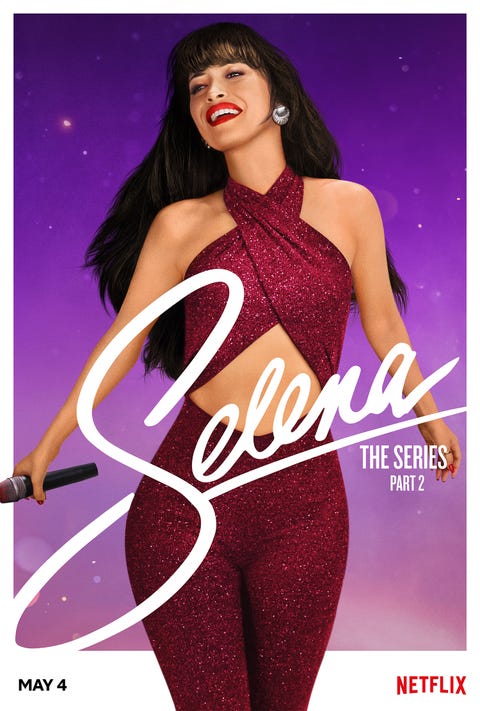 Family is everything. But what if your family doesn?t quite understand you? What if they think your dreams are too much for you to handle?
Part 1 of Selena: The Series gave us an in depth look into the early years of Selena y Los Dinos, and a glimpse into their lives as they became more and more successful.
Season 2 goes full speed ahead with their lives in the public eye and explores not only their professional ventures, but dives deeper into their personal relationships.
The cast playing the Quintanilla family and the remaining Selena y Los Dinos members continue to flourish as we see an even greater chemistry between them. Unsurprisingly, Christian Serratos still nails her portrayal of the incomparable Selena, navigating the different sides of Selena as she matures. Noemi Gonzalez and Gabriel Chavarria shine as they become more comfortable in their roles as Suzette and A.B. And we get a more personal and vulnerable side to Chris Perez, played by Jesse Posey.
It was clear that Selena had much respect for her fan base and that they were very important to her. She refused to be disingenuous to them despite certain pressures to do so. It would seem that the fans saw themselves in her and she therefore didn?t want to contribute to a disconnect between them. As we learned in the Part 1, people are brought together through Selena and the music.
Selena was obviously owning the game in her music career, but she had other dreams too. She never hesitated to explore those dreams, like fashion design and her boutique. Though the more Selena took on, the thinner she was spread. She was doing so much on her own that it became too much. But telling her to stick to singing was the wrong way to get through to her. She seemed stubborn in the best way, refusing to admit that her dreams were too much for her to handle.
As Selena becomes more popular on an individual basis, we can tell that the rest of the band feels distanced. This is confirmed when Abraham (Ricardo Chavira) absent-mindedly stated that Selena?s voice is all that matters and that?s why the people come to see the performances. This clearly rubs the band the wrong way. It?s interesting to see how the family and band navigate this new dynamic of Selena?s individual success. In fact, Selena isn?t the only one who is exploring opportunities outside of Los Dinos. This overarching individuality seemed to permeate the band. They even began recording individually, causing more of a divide. It was clear that a spark was missing. Thankfully, the band realized that they must come together to produce the best product. They thrive most when they are all in it together and show their support for one another.
We also see how marriages are affected by the music career and touring.? Suzette?s fiance is patient and tries to travel to see her whenever he can.? A.B.?s wife is stuck at home with two kids and even when he?s in town, he?s barely home, spending most of his time at the studio.? And Chris feels like Selena doesn?t have time for him because she spends so much of her time working.
As someone who does not speak Spanish, I appreciated the addition of subtitles during the musical numbers as it really gives a better feel for the story and what the songs are about.
All in all, the second installment of Selena: The Series is very entertaining. It?s exciting to binge watch, whether you?re a super-fan or not.
Selena: The Series, Part 2 is streaming on Netflix beginning May 4, 2021.