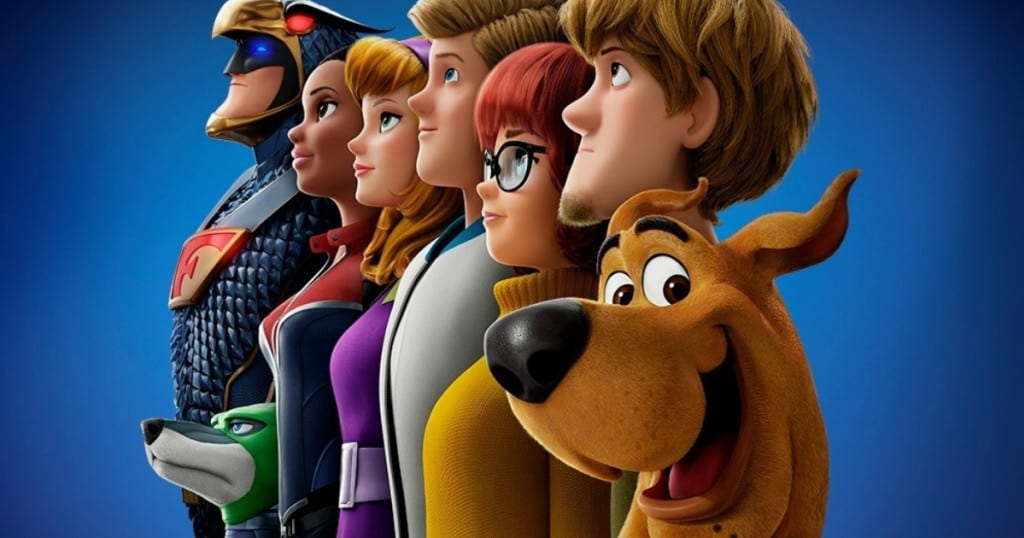 Scooby-Dooby-Doo, where are you?
[Admit it. You sang along too, didn?t you?]
With the franchise celebrating its 50th anniversary, Scooby-Doo has never really been hard to find over the years. Whether it?s the endless stream of television series, straight-to-disc movies, or even its own line of Lego sets, Scooby-Doocontinues to endure as one of the more beloved animated franchises in pop-culture history. Now, the team at Mystery Inc. has returned to the big screen [or, at least, it was supposed to be the big screen] with its latest adventure in Scoob!, a semi-soft reboot of the franchise that takes us back to their beginning.
Since their first mystery as kids, the team at Mystery Inc. ? Fred, Daphne, Velma and his lovable dog, Scooby-Doo ? have been travelling the globe together, unraveling paranormal mysteries. Though, when the evil Dick Dastardly tries to kidnap Scooby in order to unleash an ancient legend, Mystery Inc must team up with Blue Falcon and his team of superheroes in order to stop Dastardly from causing a global ?dogpocalypse?.
Directed by Tony Cervone, Scoob! is a fun family romp that honours the past while bringing the franchise into the present day. Featuring gorgeous animation and solid casting, Scoob! is an effective re-introduction to the world of Mystery Inc. and, interestingly, the Hanna-Barbera itself. Whereas it?s not uncommon for reboots to contain subtle references to other characters and stories, Scoob! surprises by fully immersing itself in its animated history by completely merging the larger Hanna-Barbera universe with that of the Mystery Machine crew. By bringing back classic heroes and villains like Dick Dastardly, Muttley, Captain Caveman, DinoMutt and more, Cervone reintroduces beloved characters that have been forgotten by a generation. (Personally, it brought great joy to my heart to hear Tracy Morgan belt out ?Captain?. Cavemaaaaaaaan?…)
Himself a veteran of the Scooby-Doo universe as an animator, director and voice-actor, Cervone is well-acquainted with the source material and understands the dynamic between these iconic characters. Despite its mystery-solving premise, what really keeps bringing people back to Mystery Inc has always been the relationships between these beloved characters. As such, even with a story that involves space ships, ancient civilizations and, yes, raising the dead, Cervone does a good job of focusing the story on the emotional connections between the members of the team, especially the dynamic between Scooby and Shaggy.
It?s strange to think that a franchise that is called Scooby-Doo would have so few stories centered around a character arc of the beloved dog and his owner but that has generally been the case. While the mystery and adventure keep the story moving, it?s Cervone?s interest in exploring the dynamic between Scooby and Shaggy that sits at the film?s emotional core. Bound together as friends for life, Scooby and Shaggy have never been apart so the two have never really explored what it means for them to grow and succeed as individuals in their relationship. As a result, when Scoob finds out how ?important? he is, Shaggy struggles with jealousy and feels as though he?s losing his friend. What does it mean for a friend to have success while you still wait for your moment? What does friendship look like after both people grow and mature on their own? These questions lie at the heart of Scoob! and help provide a positive lesson to kids about what it means to love and support friends, even when growing up changes the relationship.
With eye-popping animation and an entertaining story, Scoob! is a successful extension of the Scooby-Doo story (and re-introduction to the Hanna-Barbera world). Heart-warming and silly, the film shows the tensions that can arise when growing up looks like people are growing apart and what it means for friends to truly celebrate each other?s victories. So, feel free to sit on the couch with your kids, pass the Scooby Snacks and have fun singing along when that iconic theme song kicks in.
I know I did.
For full audio with director Tony Cervone, click here.
Scoob! hits video on demand on Friday, May 15th, 2020.