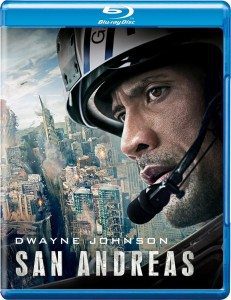 San Andreas is not going to win any Academy awards for best film or best actors, but?that doesn't mean it is not worth watching. It is filled with tons of edge-of-your-seat drama and over the top special effects, yet in the midst of all that, there is an interesting story behind it.?You can already guess what San Andreas is about just by the title, and, if you've seen the trailers, you have an idea as well. You may have even gone to the movie theater to see it. Yes, it has a lot of explosions and high damage, but zoom in, away from all the destruction and you see that the movie isn't about what's being destroyed or taken down, but it really is about what is being rebuilt.
On the Blu-ray, you'll find your typical special features, but also some information on the actual San Andreas fault which is definitely worth taking the time and watching.
San Andreas stars Dwayne "The Rock" Johnson as Ray, a LAFD search & rescue captain who is one of the best at what he does. However, personal tragedy in his life has led to his wife leaving him and seeking a divorce. She is now with someone else and ready to move in with him, a shot to the gut of a man who has hesitated in signing divorce papers. However, when a massive earthquake hits LA, it is Ray to the rescue of his ex. Of course, they soon find out that it is not just LA, and their daughter is in need of help in San Francisco. The journey of rescuing her while she herself helps two brothers stay alive (who saved her no thanks to the mom's boyfriend) is filled with all kinds of obstacles. Some parts are realistic while others a bit over the top. It is definitely a roller coaster ride that will have you laughing, crying, angry, relieved, and sad all through out.
As I said above, when we examine this film more closely, it is about rebuilding. In the midst of all the tragedy and destruction happening, a family is being put back together. A prideful man became vulnerable, while a woman who had given up hope in the man saw something new. The dream of one daughter was coming together, as her family is once again restored. The thing is, it was tragedy that drew the family apart to begin with. Rough times and patches tend to do that to people. We tend to pull away when we should come together. Sometimes, that separation can never be restored and other times it takes another tragedy to draw them back. But what if we can avoid the second one?
At one point in the film, Ray gets some people to safety behind a wall on the other side of a stadium while building were collapsing. When asked how he knew it would be safe he simply said, "just get behind something big and strong". That quote is so true, and something we should adopt it when tragedy and trials aim to tear a family apart. We shoud get behind something big and strong, and nothing is bigger nor stronger than God. You see, it's not all the destruction and mayhem going around that is causing us to tear apart, it's on the inside. God can mend the broken pieces in our lives and bring us back together. Why go through another tragedy just to find the road back, when we can take the one less traveled? Everything is a mess, nothing is like it was, so what do we do now…"Now we rebuild".
San Andreas is available on Blu-Ray and DVD and also digital download.