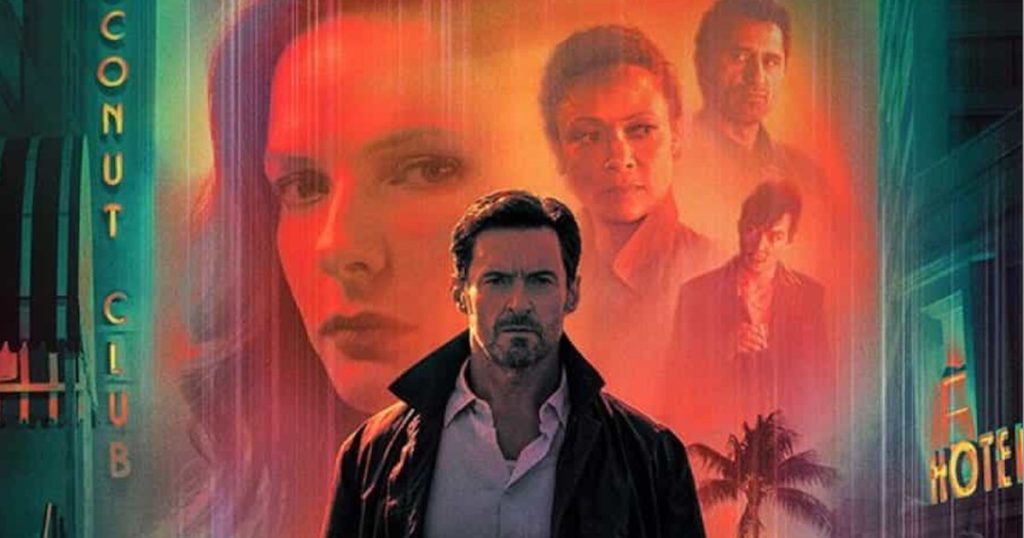 Let's just get this out of the way: Reminiscence is like a mash up of Inception and Chinatown, with a mystery that seems like Robert B. Parker should've written it and Christopher Nolan or Zack Snyder should've shot it. But it stars a breathy Hugh Jackman and (ex-Luther star and Greatest Showman co-star) Rebecca Ferguson, as Jackman's ex-cop/private investigator Nick Bannister falls for the dark and mysterious Mae.
In climate-change rocked Miami, Bannister and his fellow veteran Watts (Thwandie Newton) oversee a profitable business that allows clients to re-live moments from their past in a sensory-deprivation tank. In a dark and CGI-delivered environment, the audience can see the way that the desperation of the average citizen longs for the comfort of memories of a better day in the past. When Mae approaches their company about helping her find her keys, Bannister finds her captivating, and they embark on a hot and heavy romantic involvement.
When Mae suddenly disappears, Bannister dives back into her recorded memories to find clues as to where she has gone. In the process, Bannister uncovers a conspiracy with significantly evil undertones, revolving around pride, greed, sex, and power that threatens to drown him in the murkiness of the situation. Against the advice of Watts and others, Bannister continues to push deeper into Mae's history and his own.
While the film has a hook or two, it's reasonably straightforward. But it raises some questions about how we view the past, and how hung up we are by the past. In reality, Reminiscence shows that the past can be as powerful a drug as anything that we can ingest. Sometimes, it becomes an addiction, something that distracts us from who we are supposed to be and from what we're supposed to do. Yes, there is a time for fond memories and good feelings, but when we dwell in the past, we fail to live in the present or prepare for the future.
Reminiscence isn't great but it's not bad to look at, and it raises some philosophical questions for us to consider about how we see ourselves, past, present, and future.