Short films are important enough for the Academy to award three Oscars to shorts each year: Best Animated Short, Best Live Action Short, and Best Short Documentary. Most people haven?t had a chance to view these films, which may be harbingers of tomorrow?s filmmakers. But each year, shortly before the Academy Awards are presented, programs made up of these short films play in select theatres around the country. You can find where they will play near you at https://shorts.tv/theoscarshorts/theatrical-release/ . The films will also be available on VOD on Feb. 4. Here?s the line up for the Live Action Shorts.
A Sister (Une Soeur) (16 minutes) from Belgium, directed by Delphine Girard. As a man and woman travel in a car at night, the woman calls her sister who is taking care of her child. She?s late and wants to make arrangements. But when we see the other side of this call, we discover the real drama that is playing out. This might be the most important call she has ever made. Makes for a very good thriller in the few minutes of this film.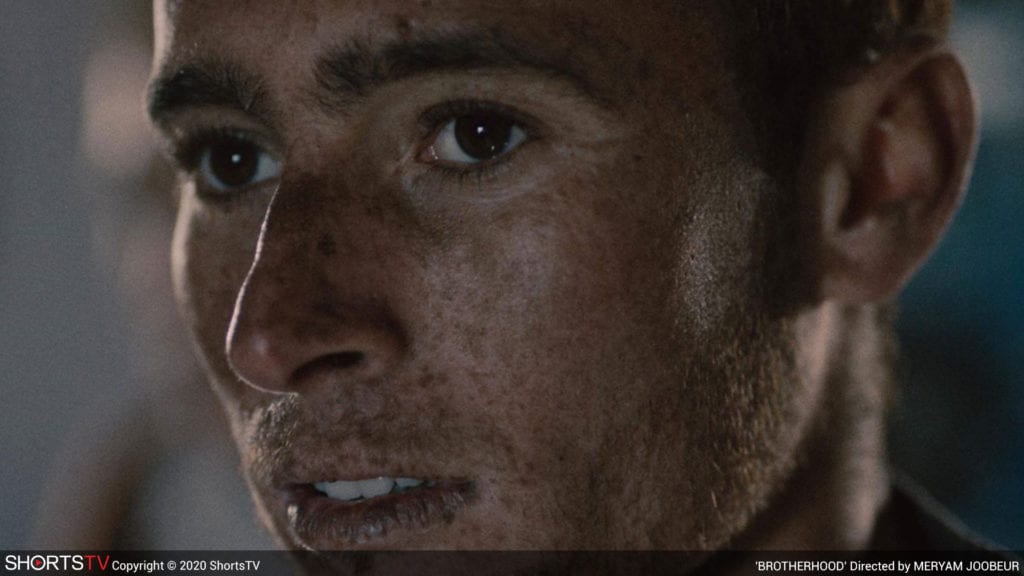 Brotherhood (25 minutes) from Canada, Tunisia, Qatar, and Sweden, directed by Meryam Joobeur. Mohamed and his two sons are shepherds in rural Tunisia. When his estranged oldest son, Malik, returns, everyone seems pleased he?s home, except Mohamed. Malik left the family to fight with ISIS in Syria. Now he?s back, with a mysterious wife in tow. She stays covered in her burqa at all times?even within the family, who are strangers to her. Mohamed has little patience for all of this. It is only after he has acted to get rid of Malik that he learns the real story of Malik and his wife. This is a story that focuses on judgmentalism, especially when it gets in the way of familial love.
Nefta Football League (17 minutes) from France and Tunisia, directed by Yves Piat. Two brothers come across a donkey in the desert. It is wearing headphones and carrying many bags of a white powder. The older brother thinks they have found a goldmine. They younger thinks it?s just laundry detergent. When they get to town, the older brother looks to cash in. But the younger has other ideas for using this windfall.
Saria (22 minutes) from the US, directed by Bryan Buckley. Two orphaned girls are subjected to an unpleasant life at the Virgen de La Asuncion Safe House orphanage in Guatemala. They plan an escape with many others. But they are found and brought back. If that isn?t tragedy enough, it gets worse. The story is based on the true story of a fire that killed 41 teenage girls.
The Neighbors? Window (20 minutes) from the US, directed by Marshall Curry. A couple with two (then three) children are pretty much tired out. They don?t have time or energy at the end of the day. One evening, they see their young neighbors across the way having some very interesting sex. Since the windows are always uncovered, they become a constant source of interest for this couple. As the months pass, they see parties, more sex, and then things change a bit. Eventually they will see some very intimate and touching parts of their lives. They will also discover that perhaps they have added something to the lives of their neighbors as well.
The Live Action Shorts are usually my favorite of the shorts categories because they do such a great job of showing some of the issues we all must deal with in life. This year?s nominees, while all very good, don?t quite carry the power that I?ve appreciated in other years. That said, my top pick for Life Action Shorts is The Neighbors? Wife. What starts out as a story about a slightly perverted voyeurism grows into a touching connection between people.
Photos courtesy of Shorts.TV