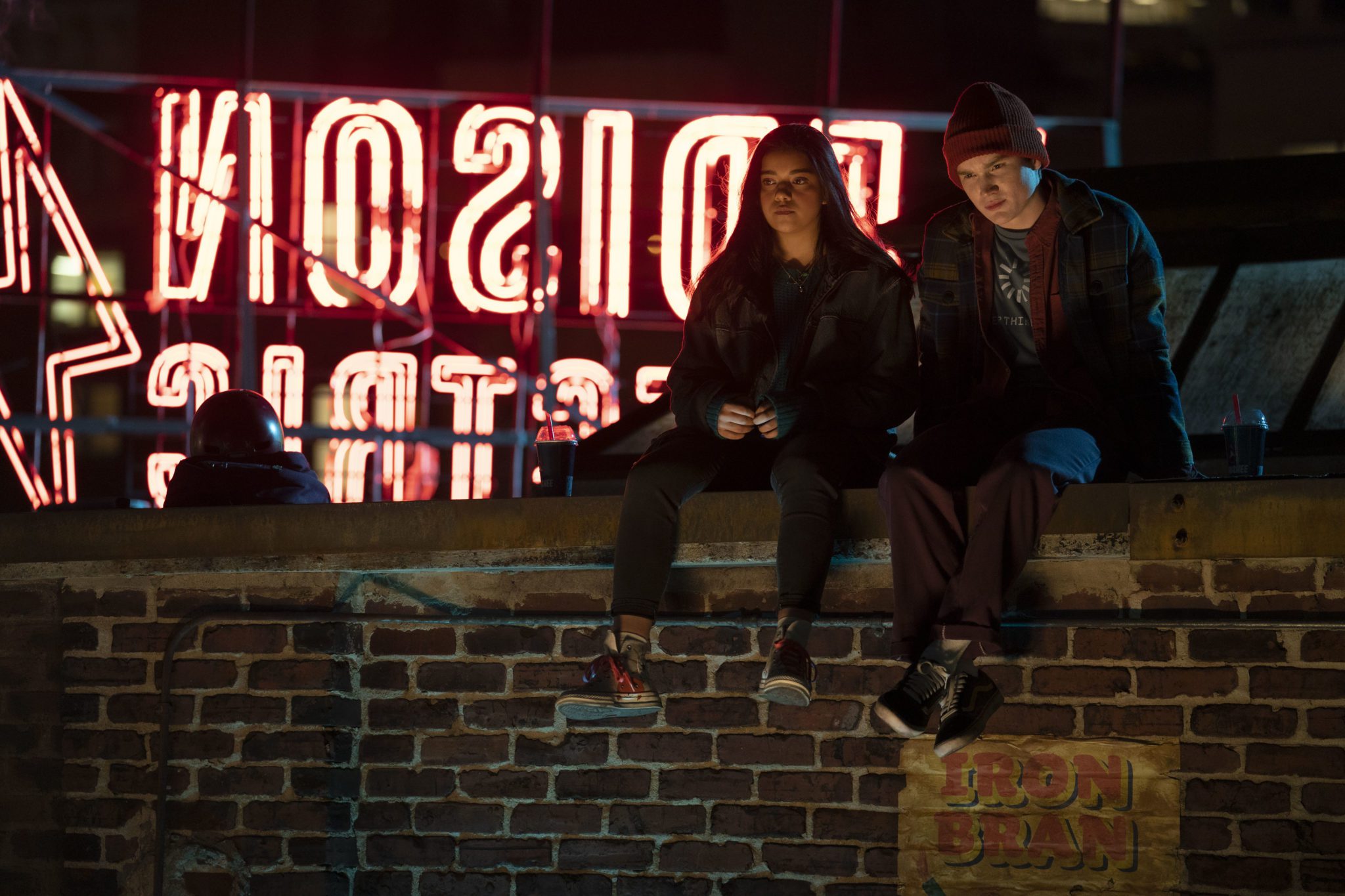 ?The change is here. The change is her.? ? Ms. Marvel
It?s no secret that, ever since Iron Man flew across screens roughly 13 years ago, the Marvel Cinematic Universe has perfected the art of selling superheroes. First, create an origin story for a loveable outsider who is struggling to find themselves. Then, after they encounter an otherworldly power, they are transformed and finds their true calling. Using the same formula, Disney has managed to dominate a box office (and streaming world) with no signs of slowing down.
Though, there is a wind of change blowing in the MCU. As we transition out of a world dominated by white male superheroes, Marvel has done an excellent job celebrating the vibrancy of voices within our own world. Whether it's Sam Wilson's Captain America, the rise of Wanda Maximoff or the global celebration of Eternals, this new phase of the MCU has changed the faces of their stories. Now, with the release of Ms. Marvel on Disney+, Marvel has created another solid example of how diverse casting and cultural representation opens up new worlds for storytelling.
And the story of Kamala Khan feels like it?s going to be something truly special.
Set in New Jersey, Ms. Marvel introduces the Marvel Universe to Kamala Khan (Iman Vellani), a 16-year-old high school teen and fangirl of the Avengers, especially Captain Marvel. Living at home with her Islamic family, Kamala spends her nights dreaming of one day becoming like her hero. So, when she hears about the very first ?AvengersCon?, a convention honouring Earth?s Mightiest Heroes, Kamala knows that she must be one of the first ones in attendance. Dressing up in cosplay of Captain Marvel, she adds a golden bangle that she discovers in a box of old junk in the house in order to secure her victory in the Con?s costume contest. However, when things go wrong, Kamala discovers that she has the power to create energy constructs and begins to wonder if becoming a hero may be more of a reality than she?d ever imagined.
Marvel excels at bringing the imagination to life but here they have created a world of such vibrant, youthful enthusiasm that one cannot help but be drawn in. In many ways, Ms. Marvel is reminiscent of Spider-Man Homecoming or the introduction of Miles Morales in Sony?s animated Into the Spiderverse. In both cases, those films walked the line of style and substance by giving their characters colourful worlds to play in while never losing the character?s passion and soul.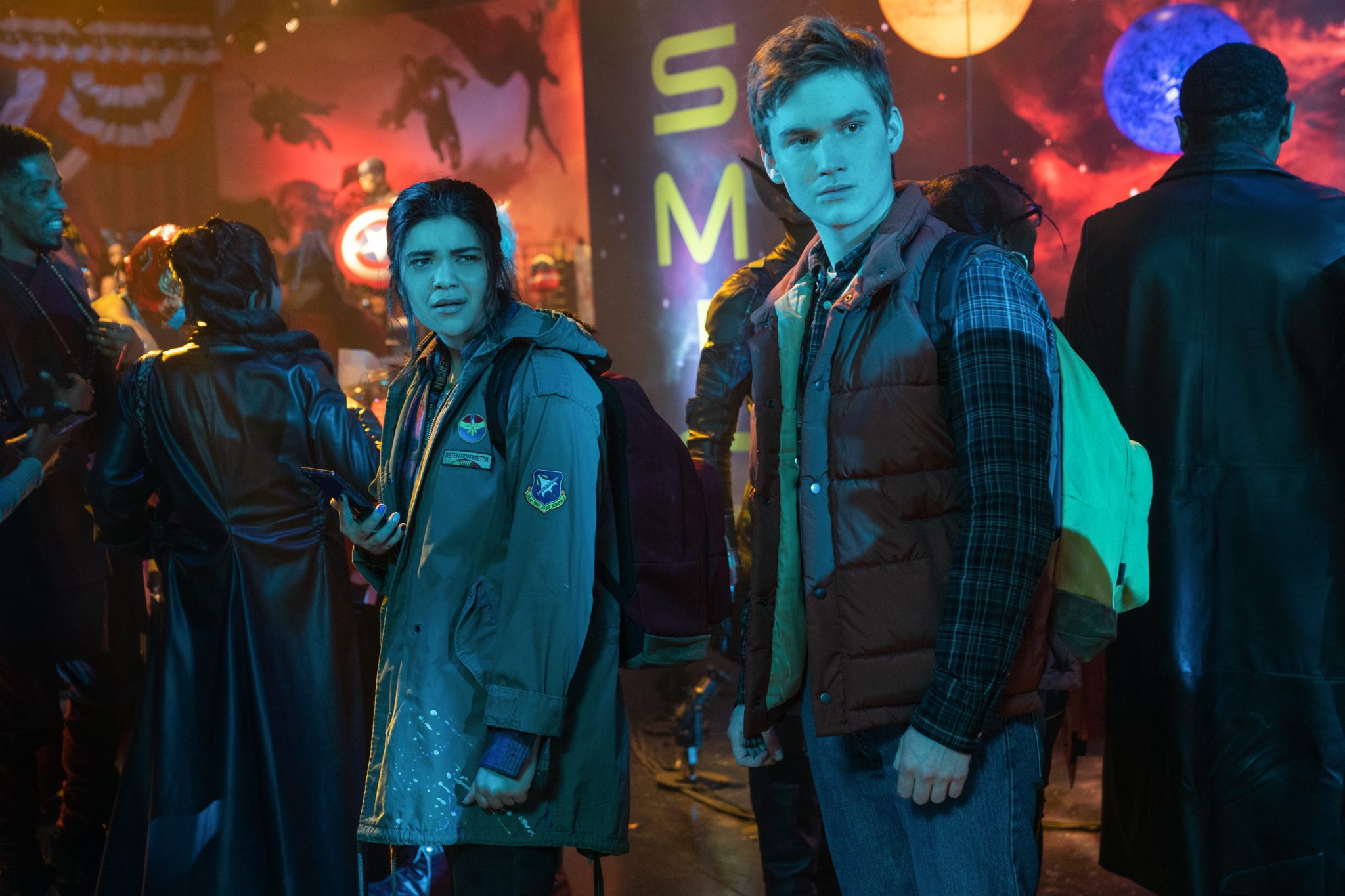 Ms. Marvel takes a similar approach by selecting a charismatic lead and immersing her in a world of neon vibrancy that bursts off the screen at all times. Whether it?s the seamless integration of animation or the bright, engaging visuals of the world, Ms. Marvel wants the screen be flooded with colour and joy. (In fact, powered by music from the ?80s and ?90s, there?s even a slightly retro feel to the series that adds some extra snap.)
Most importantly though, Feige & Co. have truly found someone extraordinary for their Kamala Khan. Young lead Iman Vellani has such charm that she absolutely sparkles on screen [pun intended]. Balancing innocence, humility and fire, Vellani has the soul of a dreamer and the spirit of a hero, making her perfect for the future of the MCU.
Although the series pops with a Western style, the series does an excellent job of highlighting Kamala?s Islamic heritage. Living with her devout parents, Kamala takes her faith and culture extremely seriously. Trips to the mosque, conversations in Urdu and more help ground her world in the Islamic traditions and faith. At the same time, she also lives in a world of Instagram and pop culture.
In?Ms. Marvel, it's important to still honours the old ways, even as Kamala lives in a new world.
What interesting is that, at this point in their storytelling, the MCU has begun to pass the torch to those who have grown up with it as part of their livelihood. Characters like Iron Man and Captain America have left their mark and faded away for the next generation. Kamala is no exception. To her, the world has become a place where superheroes are admired (and, dare I say, common?) and the greatest of them all is Captain Marvel. Revered for her strength, power and fierce example of womanhood, Captain Marvel is held up in the highest esteem by the young hero-in-waiting and she yearns to be like her. Plastering her room with posters and dressing up in cosplay at the first AvengersCon, Kamala will do anything she can to honour her idol.
Kamala is a dreamer. And the life of a hero is her ultimate fantasy.
And therein lies the true spirit of Ms. Marvel. This is a series about honouring the past but still leaning into our dreams. Whether it?s her mother or Captain Marvel herself, Kamala holds the women of her life in the highest respect. But she?s also growing up and wants to be figured out what it means to herself in the process. She recognizes the value and power of the women who have blazed the trails but she also wants to become who she was meant to be.
For Kamala, it's time for her dreams to become reality.
The first episode of Ms. Marvel is available on Disney+ on Wednesday, June 8th, 2022 with new episodes streaming every Wednesday afterwards.