?Do you think it?ll ever be normal?? ?No, but I think it can still be good.?
Set in the near future, Mother/Android takes a familiar premise and makes it feel entirely fresh. While stories about robot uprising are far from new in the science fiction world, the execution of the story is particularly well told. Directed by Mattson Tomlin (Little Fish) and produced by Matt Reeves (War of the Planet of the Apes), the film is an emotional journey with multiple layers that works surprisingly well. Fueled by strong performances across-the-board, Mother/Android is simply solid sci-fi storytelling.
In Hulu?s latest sci-fi entry, Mother/Android tells the story of Georgia (Chloe Grace Moretz), a young woman who has just discovered that she?s pregnant. As she and her boyfriend Sam (Algee Smith) discuss their options and future, a sudden noise pierces the air and their robot servants embark on a murderous rampage. As the world spirals out of control Georgia and Sam set out on a journey to find safety from the android revolution before she gives birth.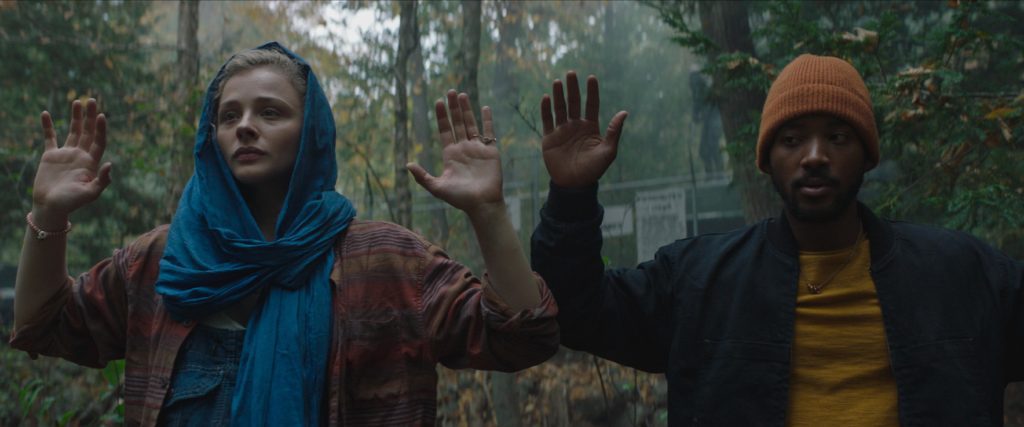 Visually, light plays a key role in the film?s aesthetic and storytelling. Beginning with a bright and festive palette, the quickly gives way to bleaker, cold colors that drain all life from the screen. As such, when light breaks through, it becomes extremely noticeable. Whether it?s the warmth of a hospital bed or beads of bright neon green, Tomlin uses bright lights to symbolize hope. In these moments, Tomlin uses light as signs that shine in the darkness and reconnect with the normalcy of the opening sequence.
Mother/Android emphasizes the sacrifices that we make for our families and children. As a first-time mother, Georgia is willing to fight fearlessly both for her unborn baby and her partner, Sam. Both she and Sam have a relationship built on trust and they remain dedicated to supporting one another. Sam repeatedly reminds her that he ?wants to protect her?. In some ways, it?s interesting that he uses that phrase as it feels like toxic masculinity and certainly Georgia is no ?damsel in distress?. (Incidentally, Georgia responds strongly to that sentiment initially as she is not one in need of ?protection?.)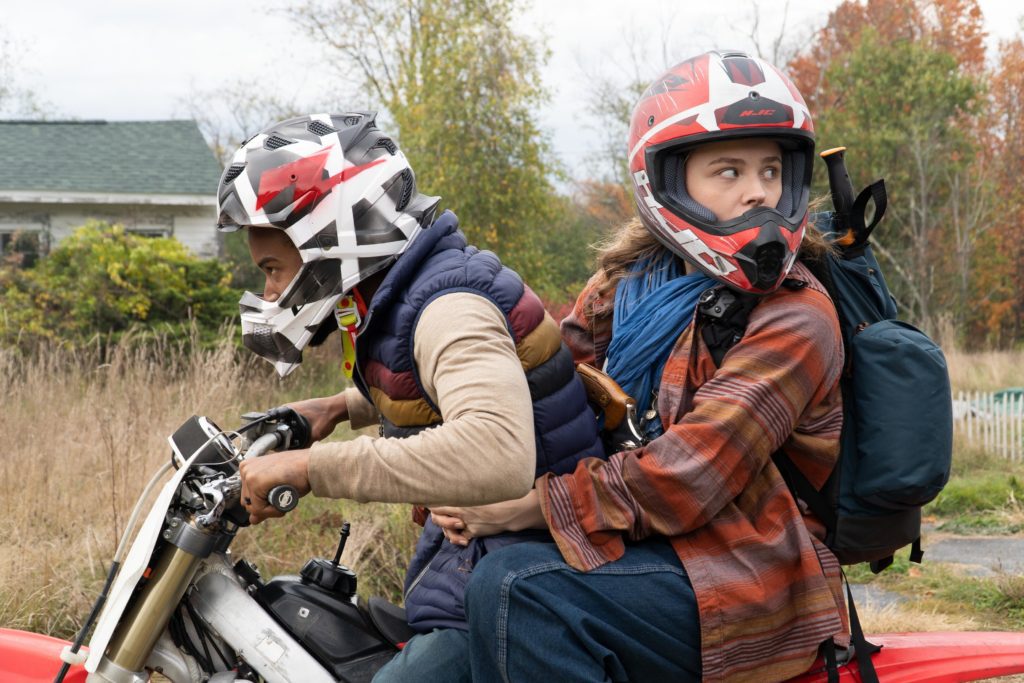 However, in this case, the sentiment goes both ways. The level of sacrifice required to keep their family together is met equally by both partners. He wants to protect her and she is willing to do the same. The deep love and passion that they have for one another is felt simply by the fact of what they are willing to keep the other safe. For example, without giving away any spoilers, there is one particularly harrowing set piece where one partner enters a building filled with vicious androids in order to rescue the other out of love. Shot with one single take, this moment in the film has an intensity to it that is palpable. With each movement, therein lies a potential threat to their life. Even so, the idea of leaving the other behind is simply unconscionable.
At the same time, the film absolutely speaks to life in a pandemic reality. Set in a time where simply using a camera becomes a potential threat, the story is very much about surviving and thriving in the midst of the worst of circumstances. Though they?re alone and isolated in ?no man?s land?, Georgia and Sam are committed to the idea that they will still succeed as a family. Although forced to live in fear, they are determined that love will help them make the best of things. (With this in mind, the camera takes on even greater significance.) This is not simply a story that is telling us to make the best of it but a story that suggests that this is not the end. Yes, the world may have changed but this will not prevent them from creating a loving home for their family. (If that does not strike a chord in the middle of our COVID world, I do not know what does.)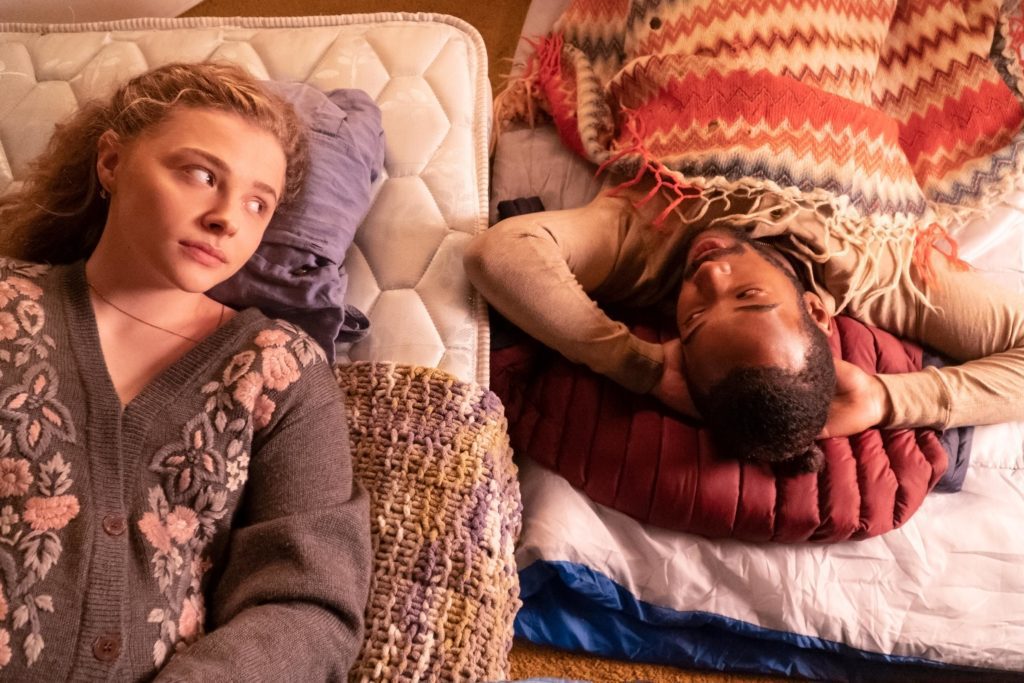 Tightly written and featuring well-executed set pieces, Mother/Android really is something special. However, the film?s value lies beyond its intensity. Coming at a time when the world is in constant flux, Mother/Androidserves as a reminder that we can still find stability and hope. At a time when it feels like the world is changing constantly, sometimes it helps to be reminded that our ability to thrive as a species is not determined by our circumstances. After all, even if things aren?t normal, that doesn?t mean it can?t still be good.
Mother/Android streams on Hulu on Friday, December 17th, 2021.