?What hurts my brother or sister hurts me.?
Simple and powerful, that phrase provides the foundation of the educational environment at St. Benedict?s Preparatory School in Newark, New Jersey. Led by Father Ed Leahy, St. Benedict?s is structured around its foundational belief in community and mutual accountability. As the subject of the new documentary series, Benedict Men, the staff of St. Benedict?s and their students have built a new kind of school environment that Father Leahy insists is built around empowering youth within safe, spiritual community.
?The underpinnings in the school are community leadership, tending to the heart and academics,? Father Leahy explains. ?Those four columns, so to speak, hold the thing up. Creating communities is what is essential to what we do, because it's what has been destroyed largely in our country right now. Any sense of togetherness, of working towards a common goal, of giving up what you want for what we need, ?whatever hurts my brother or sister hurts me?. That kind of sense is what's completely absent in the country. So, we do it.??
?I tell people all the time, we have a fence around our property and some people think it keeps the monks in or it keeps the bad people out. It doesn't do either of those. It really marks off Holy ground. It's a space where we can treat each other differently and be a sign to the world of what's possible. [It's] not because of our own strength, but because of the power of the Holy Spirit in us. It allows it to happen that it's possible to have people of different ethnicities and faiths [to come together]. We're mostly Christian, but we have large Muslim, Hindu and Jewish populations. It's? a sign of faith and God's love to the city and to its environment. That's all we're trying to do, but the community is the fundamental part of what does that. We're all climbing the same mountain. It's about faith. It's not about religion. Religion is what gets us killing each other. Faith won't do that.?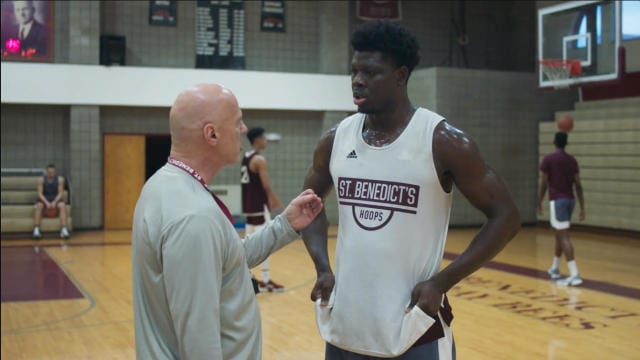 Currently airing on Quibi,?Benedict Men?is a documentary that delves into the lives of the students at St. Benedict?s. As the school?s basketball team drives toward its latest championship, the youth are challenged to learn the meaning of brotherhood in all aspects of life.
Even so, while the power of community sounds good, it helps no one if it?s left simply as a mantra. However, what?s most impressive about St. Benedict?s is the fact that doing ?life together? has become embedded into every aspect of school life. For Father Leahy, much of establishing community stems from empowering students to use their voice and help participate in leadership themselves.
?The voice of the kids is what's essential,? Father Leahy expounds. ?So, we work hard in trying to help young people of color discover their voice or amplify their voice, which is exactly why I'm so happy about this piece and Steph Curry's involvement in it. Steph Curry's voice is being heard in a different way now… I think what's happening in the country right now is you've got guys like Steph, LeBron and others… [who] are using their voice to raise issues and to cause people think, hopefully, in another way. So, leadership here amplifying the voices is what's essential.?
?So, the kids run the place day to day,? he continues. ?They're responsible for the community and the decisions that get made within the context of community. It works. Our job, as adults, is to protect them from making decisions that will harm them in the long run or harm them physically Outside of that, they can, they make any decisions they need to make.??
Of course, with any form of leadership development, differences of opinions can create conflict between the youth. For these instances, Father Leahy believes that the school must be a safe space for the youth to express themselves and take responsibility for their actions where necessary.
?You have to have a community of trust that allows for criticism,? he feels. ?Mark Taylor, who's tremendous coach, [will] take the ball [in the locker room] after every game, and anybody who wants it can get it for the purpose of 'call outs' or 'shout outs'. So, you can either say something positive about another's performance (or about your own) [with] a shout out, or you could give a call out. If somebody's somebody screwed up or you did, you can admit that or you can say that to somebody else. It's unbelievably effective to watch it in a locker room. It's ingenious… We have a school meeting every day… We meet face to face. We don't have any loud speakers where talking voices are coming out of the walls at you. So, we can deal with any issues that we need to deal with straight up, face to face, all together. It works.??

While the emphasis of?Benedict Men?may focus on the success and obstacles faced by the school?s basketball team, Father Leahy understands that sports are only one part of their lives. In fact, he believes that the school?s job is to prepare their students for life outside their walls as best as possible. By encouraging the students to envision their future beyond the world of sports and fame, Father Leahy wants to them to avoid the stereotypical false dreams that he argues are being sold to African American youth. To him, these ?hoops dreams? that have been sold by the media have become a form of ?nouveau slavery? insofar as they turn students into products.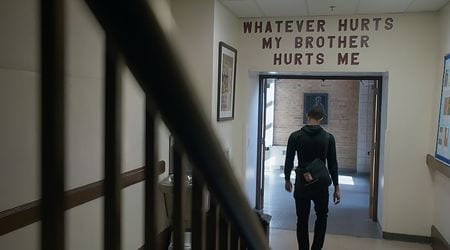 ?[Modern basketball] is a nouveau slavery in that it's essentially the buying and selling, so to speak, of African American kids,? Father Leahy begins. ?It's horrible. It even causes adults to begin to see teenagers as assets. I've seen it, even with parents. Parents can begin to see their sons as an asset rather than their son. And this doesn't happen just in basketball. It happens in all youth sports now. There are a million people in the world that could be his coach or her coach. There's only one that can be his father and there's only one that can be his mother. Be his mother, be his father. Don't be his coach. Don't be as agent. Be his parent. That doesn't happen a lot of times.??
?It's even more difficult in a situation where many of our kids are subject to a system of government that puts more African American men in jail than any place else in the world. (It puts more people in jail than any place else in the world!) So, lots of kids are living without their fathers. It's a huge problem, because moms begin to worry that they're going to lose them to the street. Moms began to grip even tighter to hang on to them at a time and an age emotionally when a kid is trying to separate from mom. It creates huge tensions, suffering, and resentment to operate in young men.?
With this in mind, it?s also important to Father Leahy that they care for the emotional and spiritual of their youth as well. As the third philosophical column supporting their school structure, ?tending to the heart? has become an essential component of the teen?s development.
?We have a pretty extensive counseling center that 40% of our kids will contact? at some time during the year,? Father Leahy enlightens. ?We run small groups around topics like, the kids call themselves, Unknown Sons, [who are] kids with absent fathers. Another group is called Blues Men. They're kids who suffer from depression. Another one is Ala-Teen, [who are] kids who are affected by somebody with substance abuse. There's an anger management group… And then we have face to face, one on one therapy as well. It's interesting. You see kids whose academic performance is horrible. Once they begin to deal with the issues of their heart, you can watch their grades go up like a thermometer. It's amazing. The problem is nobody's doing that in schools and the anger that exists in so many black and brown men in this country doesn't addressed. They feel like nobody pays any attention and… in order to get people's attention in this country, you have to turn over a car or something. It shouldn't be that way. So, the leadership structure and the counseling center are huge in charge of giving these guys and girls agency.?

Similarly, Father Leahy also claims that the false narratives spread to the youth set up undo pressure on today?s African American youth to succeed in the world of sports. In this way, one of the aspects of?Benedict Men?that he appreciates most is the fact that the series does not shy away from the realities and struggles that the students face from the outside world.
?What the story tells you though, is the pressure that's put on 16 and 17-year-old kids and should never be put on them,? he contends. ?The only way that a guy like (basketball player and student) Zarique Nutter sees himself getting out and being able to help his mother is by being a basketball player. That's horrible. Why is that the only way? But that's the only way that it's presented to these kids because of the media. What do they say? The media is controlled by white people, by the way, right? What do [the students] think? They see basketball players, football players, and entertainers. They don't see the possibility of being a banker, a neurosurgeon, a dentist or anything other than an athlete or an entertainer. It's just not presented with that. There's nothing around them that gives them that notion that they can achieve. So, a guy like Zarique is up against it, living in that difficulty and feeling a responsibility to Mom to use this talent… A 16-year-old is not supposed to be doing that but this country forces that on African American and Latino guys. It's not right. It's a shame. I think [Benedict Men?director] Jonathan Hock told a great story because he pointed it out? Until we get it figured out, we're going to have big, big problems? It's a damn shame that nobody wants to understand the sufferings of the other. Until we can do that, that's going to be rough sledding. That's my feel.?
Benedict Men is now available on Quibi.