It is kind of fitting that I finished this series and am writing this review in the midst of "Eclipsemania" because there are many metaphors/similarities that the wonders of the eclipse, this series, and a Christlike life all have. But we'll get to that later.
Spoiler Warning:?I will try my best to remain as spoiler free as possible, but there will be spoilers not just from this series, but those that led to this one as well.?You've been warned.
Netflix is all in with their original series and ever since they released the first season of Daredevil, they've been on a collision course that led us to this series (similar to the MCU with Iron Man). Defenders is the culmination of a story line that started in Daredevil season one and continued through season two and Iron Fist. Although it barely touched the standalone series about?Jessica Jones and Luke Cage, their stories were woven connected through side characters (most visibly being the nurse Claire who has appeared in every series).
Defenders brings the plans of The Hand to full view and with that plan it unites characters who would rather work alone but are forced to work together. The end game of The Hand was not something anyone saw coming which is refreshing in a series where so many things can be predictable. Although it starts slow to build the story, by the third episode it starts to pick up and the second half of the series was well-paced and action-packed. I liked that it didn't try to overload the story which worked out great. Although Danny Rand is still a little annoying (I get what they are doing with him, I just don't like it), it was nice as a comic geek to see a budding relationship somewhat start to form between him and Luke Cage. The setup is there for a Heroes for Hire series if they ever choose to go that route. Meanwhile, Jessica Jones and Daredevil (although great in the group) are definitely better off as a solo act.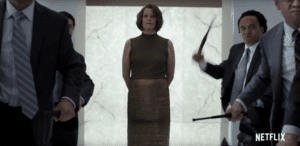 As far as The Hand is concerned, Madame Gao has been front and center. For many, it appeared that she was the main person behind the organization until we were introduced to another faction in Iron Fist and its leader Bakuto. Then there was the mystery main guy in Luke Cage that was hinted but never seen. Fast forward to now and enter Sigourney Weaver's character of Alexandra, the real leader of The Hand. Here is where we get their history. They aren't ordinary enemies of Kun' Lun, they are defected members of the order, five to be exact, that left and formed The Hand. The founding members, all leaders and powerful consist of Alexandra, Madame Gao, Bakuto and also making their first appearances Murakami and Sowande. Individually they are a formidable group, but together they are nearly unstoppable. But the key player to them all was teased at the end of Daredevil season two, where the corpse of a dead Elektra was taken by The Hand. As the Black Sky, Alexandra resurrected Elektra (the worst part of season 2 of Daredevil became one of the best characters in this series) as the perfect weapon. All her training and skills multiplied but an empty dark vessel of emotions. Now that all founding members of The Hand are revealed, and the Black Sky is theirs to wield, their plan for NY and what lies in the bottom of the giant hole we saw in Daredevil, comes to light.
This series isn't necessarily great, but it is still very good and engaging. The events, trials, and tribulations the heroes face develop their characters in such a way throughout the series that really spoke volumes. You have these lone wolves who are so used to trying to protect everyone around them that they find it hard to make allies and friends in a fight that they all have a stake in.?In a matter of days they didn't just team-up, but they forged a lasting friendship. They found their place and their purpose. For some, they finally found home. In their darkest hour and darkest times, in the shadows of the night, they saved a whole city and are content with not getting any recognition.
In the midst of "eclipsemania" I started thinking on how this show ended. A prevailing theme, and what really brought everyone together, was their love for their city. It was home and it was worth fighting for. But for one character, there was more at stake. When we look at the eclipse, even in the midst of totality, there was a glimmer of light that still shined. It couldn't all be covered because the light is still stronger than the dark. Christ, in the midst of our darkness knows that there is still a glimmer of light and us and that glimmer was worth dying on a cross and bearing our sins. Others will see us as hopeless and a lost cause. The enemy sees us as not worth saving and totally belonging to him. But Love conquers and God so LOVED the world. Daredevil wouldn't give up on Elektra. He saw that glimpse of light and held on to it. And just like the eclipse, slowly the darkness and emptiness began to fade. In the end, it was love that won…..unconditional and sacrificial love.