Unless you've been living under a rock, you probably know that Marvel Studios has been making quite a few movies. You probably also have heard?that they've created a Cinematic Universe, but what does that mean? All their movies are both individual and yet together at the same time. They flow in the same time periods and the characters interact. In other words, they are all connected.
Just a few months ago, Marvel Studios released a film that many predicted would be their first big failure. I mean, it is Ant-Man, right? However, the film's reception went extremely better than expected, and the box office sales prove it. So, with that success, why not add a sequel to an already stacked group of Phase 3 films?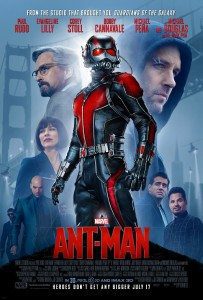 Well, that's exactly what Marvel Studios?announced today. The Ant-Man sequel will be titled Ant-Man and The Wasp, and rightfully so, as Evangeline Lilly killed it as Hope Van Dyne in the first film. ?The film is set to arrive in theatres on July, 6 2018. Of course, that also means some films get an updated release date as well, so Black Panther will now move up to February 16, 2018 and Captain Marvel will be March 8, 2019.
What say you? Did you catch Ant-Man in theaters? Are you excited for a sequel? Let us know what you think! Personally, I love the news and can't wait!