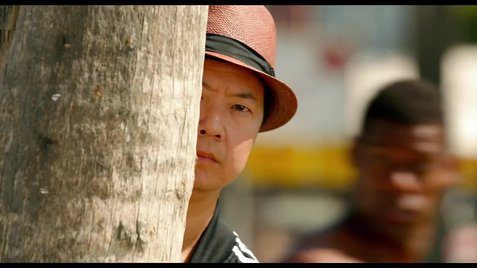 In one of the strangest premises I've ever heard, Ken Jeong plays a bartender intent on killing David Hasselhoff to win a million dollar dead pool. Produced by the folks behind this summer's Rock-infused?Baywatch, this is a movie you have to see to believe.
When Chris (Jeong) gets in deep with a loan shark, and the rest of his life seems aimed at ruin, he realizes that the annual Who Will Die This Year pool is his way to set the world right. With his friends Fish (Rhys Darby) and Tommy (Jim Jefferies), Chris sets off on a series of mishaps to solve his financial problems.
Of course, Hasselhoff shows up as himself (or at least a version thereof), while Rick Fox, Michael Winslow, and Howie Mandel join a stream of comedian/celebrities floating through. [Seriously, Justin Bieber plays K.I.T.T. If you don't get that, well, Google it.]
Just to see comedians like Will Sasso (MadTV), Ron Funches (Undateable), and Dan Bakkedahl (Life in Pieces) all together in one flick is worth it. It almost makes you think you wouldn't even need a plot…
Special features include… Hilarious Deleted Scenes. It says so right there on the cover.?