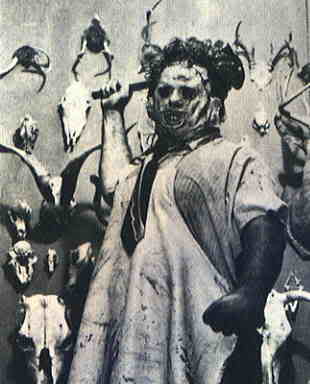 He could've just as easily played Santa Claus.
He was big and happy and gentle and he could've made the perfect Kris Kringle.
But instead, he became famous by wearing the skin from other people's faces and hanging victims on meat hooks.
His name was Gunnar Hansen, but most folks only know him as Leatherface.? He starred in that role–his real one and only role–in Tobe Hooper's 1974 horror masterpiece, The Texas Chainsaw Massacre.? And last week, at the age of 69, Hansen passed away at his home in Maine after a bout with pancreatic cancer.
He moved to the States from his native Iceland at the age of five and ended up in Austin, Texas, where he would meet Hooper years later while attending the University of Texas.? Hooper immediately cast him when Gunnar was barely able to fit through the doorway of the audition room.
Though TCM was a box office sensation, its cast barely made a dime, due to distributors' mishandled financing.? Hansen's first post-production check reportedly totaled forty-seven dollars.? He would later appear in several other horror films, but the parts were never as noteworthy as his debut performance.
More fond of writing than acting, Hansen penned a historical/environmental biopic of the Barrier Islands in 1993; twenty years later, he published his memoir, Chain Saw Confidential, which focused on his now-legendary onscreen alter ego.
Hansen became a fan favorite on the horror convention circuit because of his friendly demeanor and genuine appreciation for his fans.? So far removed from the brutal killer he played onscreen, Hansen was a true gentleman off camera.? His iconic character will forever haunt viewers, but the man beneath the mask was the one they loved.? And he loved them right back, with a heart the size of Texas.
May he rest in peace.