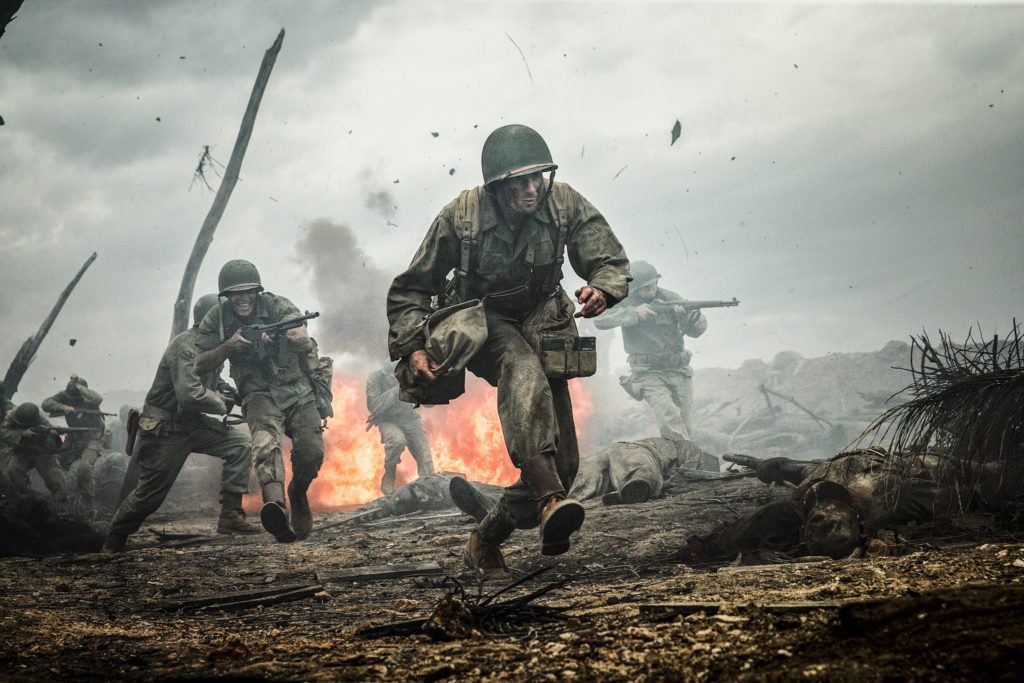 Hacksaw Ridge?is the extraordinary story of an ordinary man named Desmond Doss. Not gifted with exceptional physical powers, or benefitting from a stellar education, Doss enlisted in the Army during World War II as a conscientious objector, challenging the way that his fellow soldiers saw patriotism, bravery, and honor. Directed by Mel Gibson, Doss' real-life story finally gets the attention it deserves, nearly seventy-five years after Doss set foot on Okinawa.?Nominated for Best Picture at the Academy Awards, as well as Best Picture, Best Director, and Best Actor at the Golden Globes,?Hacksaw Ridge?has a heartfelt story to match its spectacular visuals.
One of the quietly spectacular?things about the film is the way that just a few moments spent on Doss' childhood, and sprinkling in a few flashbacks from his youth, set the stage for us to understand how Doss (Andrew Garfield) formulates his ideas about faith and violence. Gibson and cinematographer Simon Duggan show us a foreshadowing of the Maeda Escarpment (aka Hacksaw Ridge) with a regular hike in the Blue Ridge Mountains of Virginia that winds to the top of a mountain. The balance – between the peace of the Blue Ridge and the violence of Hacksaw – shouldn't be lost on us in retrospect. But that's not the only balance the story shows us.
While we see that Doss' avoidance of violence hinges on battles he had previously with his brother and father, Tom (Hugo Weaving), we are subtly exposed to the depth of the Doss family pain. Tom served in World War I and carries survivor's guilt; he longs to protect his family from the violence of the current war but he's too angry with himself for living when all of his comrades die. For the eighteen-year-old Doss, there is no way to understand his father's deep pain until he sees the violence of war for himself. The struggle of the father to protect the son is evident early on, but it becomes clearly apparent when Doss finally enters basic training at Fort Jackson, South Carolina.
At Fort Jackson, Doss finds himself completely alone. His commanding officers, Sergeant Howell (Vince Vaughn) and Captain Glover (Sam Worthington), want to run him out of the ranks of the Army upon finding out about Doss' Seventh-day Adventist convictions. Doss' unwillingness to carry a gun (or work on Saturday) rubs the officers and Doss' counterparts (namely, Luke Bracey's Smitty); the Army works to literally beat Doss into submission.
I knew that this segment of the film would trouble me, but I couldn't be prepared for how upsetting it was. While the greater problem in World War II is the Nazi/Axis threat, Doss' greatest enemy through eighteen months (compressed in the film) is actually his own company. Gibson's film sets us up to consider Doss' faith but here I found one of the major selling points of the film: there's a clear recognition that we often incur more violence on each other than we do on our real enemy. [As I write this, my Facebook feed is bloodied by those on both sides of our U.S. election, those who won and those who lost. Rather than working to find a way together forward in unity, too many are still focused on the differences they see in each other.]
Yet, in the case of Doss, he remains resolute about what he believes?without ever condemning someone else.?He never considers himself better than or superior to any of the men who doubt his beliefs or conviction in decision-making. He is the lamb sent to slaughter who refuses to raise its head but which refuses to turn aside from its resolute belief. This is truth?and?grace, belief and gritty reality mixing together into the existence of actual life.
In?the case of?Hacksaw Ridge, the crucible is one steep cliff and one terrible battlefield. While the court martial that allows Doss to serve is undeniable, his comrades still consider him less than a soldier. With the first assault on Okinawa, Doss proves himself by rescuing several wounded officers. By staying when the rest of his company retreats, pulling out soldier after soldier pinned down behind the enemy line, Doss proves himself remarkable.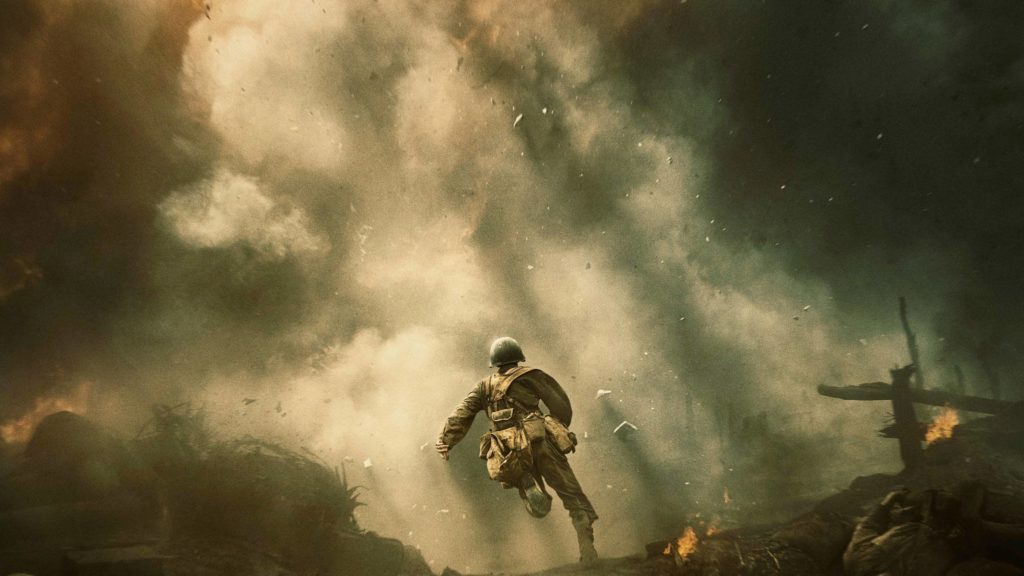 As I watched Gibson's trademark bloody portrayal of the film, I was shocked by the way that Doss' spirit stood out in direct contrast to those around him, in the same way that his red cross stood out against the drab greens, tans, and grays of the film. There's no question that Gibson's experience shooting the wartime scenes fit in well with the powerful script, but Doss' story stands out thanks to Garfield's quiet portrayal. We know that his love for Dorothy Schutte (Teresa Palmer) burns bright, but it's his faith that sends him in after soldier after soldier.
Sitting in the movie theater, hearing Doss pray, "Give me one more, Lord," over and over again, while plunging into the smoke and fire of the mortared battlefield, I found myself thinking of Shadrach, Meschach, and Abednego, thrown into the fire of the furnace in Daniel 3. These three men could have turned back on their beliefs and been spared, just like Doss could have bowed out during his court martial or retreated?just like every other soldier did. But Doss stayed because he believed that was what God called him to – and he felt compelled to respond.
One last scene stood out to me – one which I had anticipated since seeing the trailer. Here, the company must return to the top of Hacksaw Ridge, and Glover tells Doss that the men won't go up without him. Doss prays – while the men wait. They don't necessarily believe what he believes or believe that his prayer works but?because he believes?and they believe in him, his prayer matters to them.
How powerful is that?
James 5:16 says, "Therefore confess your sins to each other and pray for each other so that you may be healed. The prayer of a righteous person is powerful and effective." Doss' life of prayer and humble service proved to be remarkably transformative for others, in ways that we can hardly believe – but which the furnace of Hacksaw Ridge's fury proved.
Doss has a litany of men tell him in the aftermath of the first onslaught that they underestimated him, that they didn't?know?him the way that they thought they did. And yet, through bombing, shooting, stabbing, and explosions, Doss saves the men who once were his enemies -?while they were still his enemy. He never treated them that way, but they saw him that way – and he didn't let that matter.
While so much turmoil exists in our world today, I am reminded that there is still a cross that shines through the dust and fire. I am reminded that there is still a place where the prayers of a person avail much – in the heart of God. Here is a man, Doss, who believed that he was called to lay down his life for his friends – and even his enemies – because he was pursuing the cross of Christ. Here is a man who proved that there was a way through, that we don't have to like everyone or agree with everyone, to see that the common goal and the greater good rise above our differences.
Doss stands as an example of the unity of our humanity – the things we have in common – and as an example of one man's faith in the midst of an unbelieving world.
Hacksaw Ridge?is a film for such a time as this.

Special features on the Blu-ray/DVD/Digital HD include deleted scenes, the theatrical trailer, and a Veterans Day greeting from Mel Gibson; "The Soul of War"?documentary shows how the film was made, including a look at the story from the perspective of the actors, director Gibson, and those intimate with Doss' story.?