Oh, Gotham, how I love and loathe thee. The darkly resplendent world of Batman, Gotham City reigns supreme with nuances that outdo the likes of Metropolis or Star City when it comes to the background that births a hero. But in the Complete Second Season of FOX's?Gotham, all hell breaks loose on the streets of the city, as villains old and new make their move to wrestle power from each other, from the police, and from the legend that will become Batman.
If you're unclear on the premise, then consider this:?Gotham?takes place in a world where Bruce Wayne (David Mazouz) is still a child, where Jim Gordon (Ben McKenzie) is still 'apprenticing' to Harvey Bullock (Donal Logue), and the villains of the city have no fear for any bat. While I do truly love the depiction of the young Gordon, this series (like Tim Burton's?Batman) will always be defined by the villains who stand in the way of justice and peace.
Oswald Cobblepot/Penguin (Robin Lord Taylor) is back in his smarmy, subversive way, to trouble the city, but to always stay just below the rough level afforded to the worst of the villains. Those are a combination of long-time legends like Hugo Strange (B.D. Wong) or newly created like Fish Mooney (Jada Pinkett Smith). But the show is also willing to blend the characters from the old version of Batman, the new TV-only version, and the in-between (Eduardo Flamingo, from the Grant Morrison era). Regardless of how the characters might have been born, in the darkness of Gotham, they all find a way to rise.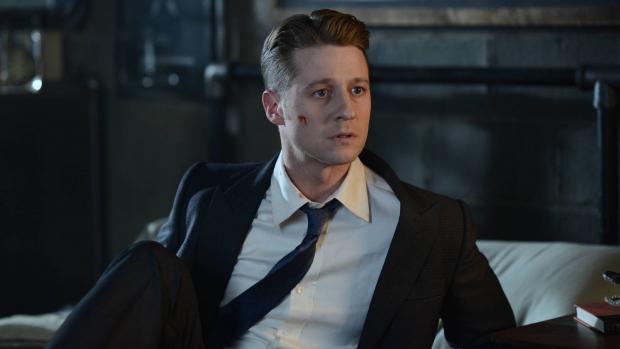 And yet, the pot is stirred by Theo Galavan (the wickedly creepy James Frain), who has ties to the Order of St. Dumas (which old school fans will know leads to all things Azrael). While the story seems to take us further and further into the dark, we see the cost to villains and heroes alike, and ultimately, we know there will be a place for Batman. But if there's no darkness, Batman wouldn't need to rise.
Thankfully, until he does, there's Jim Gordon.
For folks interested in digging in beyond the twenty-two episodes, check out these main featurettes on Blu-ray:
-The 2015 Comic-Con Panel from the Warner Bros. lineup
-"Gotham by Noir Light" – the way that the camera lens allows for a darker look at the city
-"Alfred: Batman's Greatest Ally" – an exploration of Sean Pertwee's character, and his connection to Bruce.
-"Cold-Hearted: The Tale of Victor Fries" – a deeper look at how the good doctor devolved in pursuit of a cure for his wife.
The lore of Batman continues to grow, and FOX delivers a deeper exploration of our baddest villains.