God?s Own Country will no doubt be compared to Brokeback Mountain. The easy comparison crossed my mind as I watched the screener for this film. But the dynamics of this relationship bring an entirely different feel to this love story.
Johnny Saxby (Josh O?Connor) is working on his family farm in Yorkshire. He is isolated. When most of his contemporaries have goon off to cities or university, he has remained. With his father?s health failing, Johnny must keep the farm going himself. He deals with his feelings by binge-drinking and casual sex?but not with any sense of pleasure. He is self-destructive, irresponsible, and unlikable.
When his family hires Gheorghe Ionescu (Alec Sacareaunu), a Romanian immigrant, to temporarily help on the farm, Johnny has to deal with new emotions in his life. At first Johnny is resentful of Gheorghe, but as they spend time isolated in the fields during lambing season, he begins to respect his work. Their relationship becomes sexual but there is an evolution to it. At first it all seems to be about domination, but as the two become closer emotionally, it takes on aspects to tenderness and affection. But what will happen when Gheorghe?s contract is over?
The landscape for this story is not a lush and verdant Eden, but a harsh, difficult terrain. That applies to the love story that unfolds in the film as well. It is a struggle for Johnny and Gheorghe to maneuver through the emotional landscape of their relationship. What starts off as resentment, anger, and competition slowly evolves into a complex relationship. As they become more comfortable with their relationship, they also become more vulnerable to the pain that love can bring as well.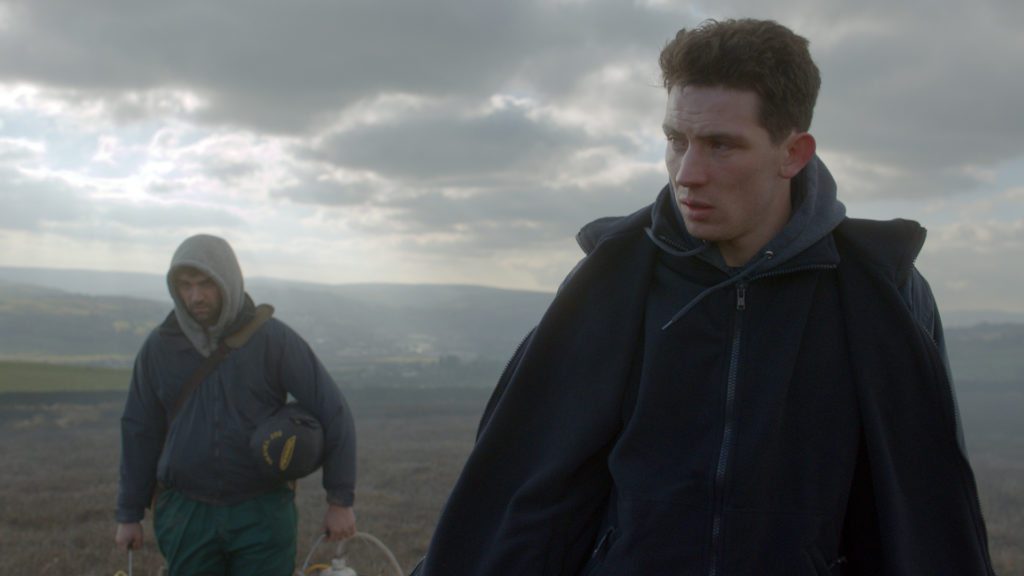 Perhaps the thing we appreciate most about this growing relationship is the way it helps both Johnny and Gheorghe (but especially Johnny) grow into more caring men, but also men who we can care about. That kind of growth is a key factor in loving relationships, they allow us to become, through our loving, more than we have been alone.
Photos courtesy Samuel Goldwyn Films