There is something about this time of year that makes me want to set aside the daily grind and logic and realism and trade it all for magic and wonder. The happiness that pushes its way through the fatigue and stress, the possibility of miracles?there?s just a spark that seems to only come around once a year, and now is that time.
That being said, Godmothered starring Isla Fisher and Jillian Bell seemed to have all the makings of a perfectly magical movie ? la Disney's Enchanted. Faced with the closing of the Motherland and fairy godmother school, Eleanor (Jillian Barr) sets off to make the happily ever after dream come true for 10 year-old Mackenzie. If she can grant that wish then the school will be saved and she will continue her journey towards full fairy godmother status.
But when she arrives in Boston, she finds Mackenzie is no longer a dreamy-eyed little girl, but a stressed and cynical single mom who is overworked and emotionally shut down. Now grown-up, Mackenzie (Isla Fisher) is clearly startled to see her ?fairy godmother? come to grant her wish, especially considering she has long given up on happily ever after. Through a series of goofy accidents, mismatched spells, and giddy optimism, Eleanor breaks through Mackenzie?s walls and helps her discover both internal happiness and reconnection with her daughters. At the end, everyone learns that while there may not be such a thing as happily ever after, there IS such a thing as happiness?and it?s ok to find it for oneself instead of waiting for magic.
I wanted to love this movie. It had everything I need in a movie right now: Christmas lights, families reconnecting, quirky dialogue, minimal angst?but it fell flat for me. My kids especially enjoyed all of Eleanor?s mess-making, and while the middle was charming and witty, I found the beginning slow and the ending flat.
You see, I think that fairytales can still exist. We can still hope for magic. No, it doesn?t have to look the way it does in books or movies–and no, it doesn?t always pop up out of thin air wearing a giant hoop skirt covered in flowers–but we don?t have to let the dream go completely.?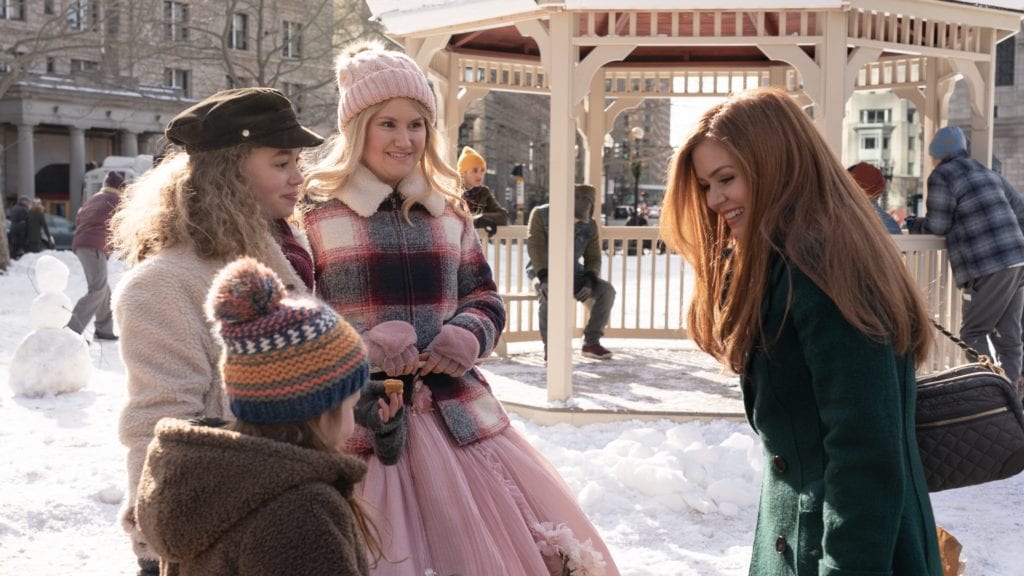 When Eleanor is explaining to her headmistress of the school, Moira (Jane Curtin) that maybe love looks differently in the real world than it does in fairytales, she delivers a speech that's encouraging everyone to look for love as they see it – that love looks differently and comes in many different ways and faces. It was a good speech. But oh how I wished that lesson was woven into the fabric of the rest of the plot. There are hints of it for sure, as Eleanor learns of Mackenzie?s late husband?s passing, helps Jane (Jillian Shea Spaeder) overcome her stage fright, and stops trying to matchmake between Mackenize and her coworker Hugh Prince (Santiago Cabrera). But for this potential ?drop the mic? moment, it didn?t feel genuine within the larger story. And it seemed to kill the fairytale ideal in a way that disappointed me as opposed to inspiring me.?
It?s a perfectly fine movie, and one that kids will enjoy. I?ve already seen a lot of reviews on social media already and people are loving it. And I?m sure it will be a weekend most-watched for Disney+. But for me, I was left longing for the magic of what could be possible?especially this time of year.?
Godmothered is available on Disney+ on Friday, December 4th, 2020.