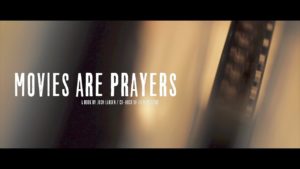 Josh Larsen's highly anticipated new book,?Movies are Prayers: How Films Voice Our Deepest Longings, is finally out! ?And ScreenFish wants to send a copy to you!
Movies do more than tell a good story. They are expressions of raw emotion, naked vulnerability, and unbridled rage. They often function in the same way as prayers, communicating our deepest longings and joys, to a God who hears each and every one. In this captivating book, Filmspotting cohost Josh Larsen brings a critic's unique perspective to how movies function as expressions to God of lament, praise, joy, confession, and more. His clear expertise and passion for the art of film along with his thoughtful reflections on the nature of prayer will bring you a better understanding of both. God's omnipresence means that you can find him whether you're sitting on your sofa at home or in the seats at the theater. You can talk to him wherever movies are shown. And when words fail, the perfect film might be just what you need to jumpstart your conversations with the Almighty.
To enter, simply write in the comment section of the Facebook post and tell us what your favourite movie is and how it speaks to you! ?The contest will close at 11:59pm on Sunday, June 18th, 2017 and the winner will be notified via. Facebook.
Good luck!