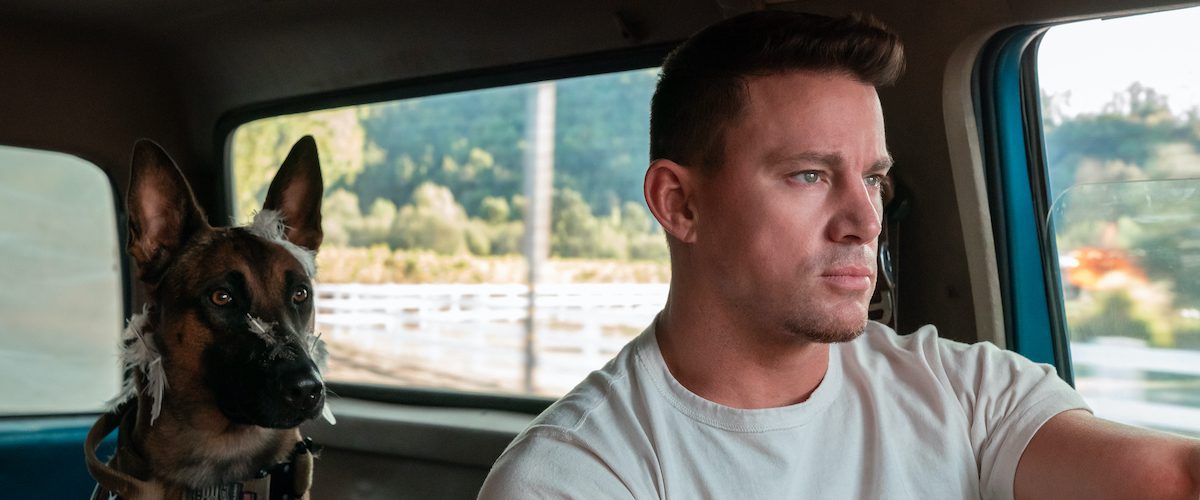 There?s power in the Dog.
Directed by Reid Carolin and Channing Tatum, Dog tells the story of Briggs (Tatum), an Army Ranger who has recently been discharged due to concussion protocols. Begging his old friend for a chance to get back into rotation, Briggs is given an assignment to prove himself by bringing Lulu, a Belgian Malinois military dog, to her partner?s funeral. However, as the two begin to show their own mental scars, the tensions between them continue to grow as they must learn how to work together to find some hope for their future.
While Dog is billed as a ?buddy comedy?, that may be an oversimplification of its strengths. (Though, it?s also not out of the realm of possibility that Lulu may also be Tatum?s best onscreen partner in years.) Though Tatum has shown himself to be a skilled comedian over the years, the best moments come from the film?s more dramatic themes. Carried by a code, Dog speaks openly about the sacrifices made by the troops and the honour held between them.
But, surprisingly, Dog is about far more than the military.
Though Briggs desperately wants to jump back into the fight, Briggs is unable to do so. For him, life in the military is all that there is. Now, left adrift after his concussion, Briggs is a man without a purpose in life. Having been programmed for the fight, life makes little sense for him in the everyday. Struggling to survive the day and plagued by panic attacks at night, he simply doesn?t see how he fits in a world where he?s not at war. Similarly, Lulu is also dealing with the after-effects of her life on the battlefield as well. Fraught with anxiety and rage herself, she is an emotional time bomb waiting to go off. Having both been discharged from the military, Lulu and Briggs have no idea how to connect with the new world around them.
Both are hurting. And both need help.
But it?s here that the film surprises with its conversation regarding mental health. With sensitivity and grace, Dog begins to undercut the toxic masculinity that is stereotypically associated with a military culture. While the film never criticizes the military itself, it also is unashamed to explore the damage that it can take on the troops. As a result, through a relationship that exposes the inner pain in both of them, both Lulu and Briggs manage to find some comfort and hope. Like Lulu, Briggs needs to learn how to experience the joys of sunshine. (?You gotta show her that work can be fun again,? he?s told.) For them, the real battle becomes for their own mental health
Admittedly Dog doesn?t give any particularly easy answers to the questions that it asks but that is to its credit. Issues like how to properly support veterans, recovering from trauma, and homelessness are complex and shouldn?t be oversimplified onscreen with an easy ?fix?. Instead, Dog simply points to the fact that recovery is possible over time. Despite the fact that all feels dark, both Briggs and Lulu help each other see some light once again.
Though Dog wants to be seen as hilarious, it really is the soul of the film that resonates most. This isn?t a film where laughs always work but it is a quality exploration of the struggles of mental health, especially post-trauma. Though the answers are often different for everyone, Dog serves as a reminder that there?s hope on the other side of suffering.
To see the press conference for?Dog?with directors Channing Tatum and Reid Carolin, click here. To hear the press conference, click here (podcast.)
Dog is available in theatres on Friday, February 18th, 2022.