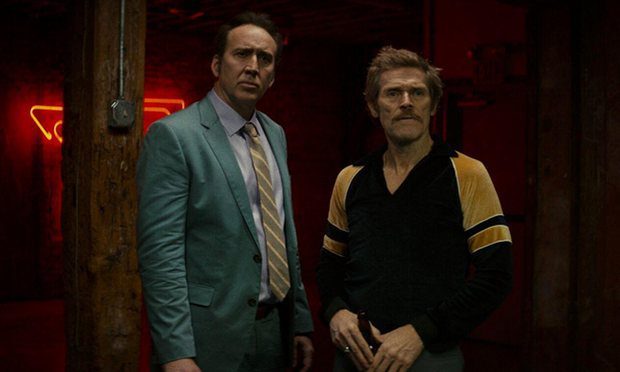 Paul Schrader wrote/co-wrote Raging Bull, Last Temptation of Christ, Taxi Driver, and Bringing Out the Dead, films directed by Martin Scorsese. But with Dog Eat Dog, Schrader directs an eclectic cast that serves up a weirdly engaging film based on Edward Bunker?s 1995 novel. Unfortunately, Schrader didn't write this – and it doesn't come close to the level of Schrader's other works.
John Aloysius McCain AKA Mad Dog (Willem Dafoe) resides?in a weird little house, shoots up with illicit drugs, is on disability, and has a strange tattoo of an eye underneath his chin. He's the most interesting character in an unholy criminal trilogy that includes our unreliable narrator Troy (Nic Cage) and Diesel (Christopher Matthew Cook). He murders his live-in lover, well, technically, he's the live-in, and her teenage child after his lover flips out over all of the porn he's downloaded.
Is this supposed to be funny, or gritty, or both? It's no?Boondock Saints; heck, it's not even?Smoking Aces.
We get backstory on why Troy loves his two inept co-kidnappers, set to strip clubs and prison sentences they served. We're supposed to think Diesel is brilliant (but he's an idiot) and we're supposed to recognize Mad Dog's loyalty, but it's twisted. While we're supposed to get sucked into the storyline enough to care for these losers, it just never happens. This is the sad state of Cage's near direct-to-DVD career at this point, but Dafoe is usually better than this.
Nothing to see here, just move along.