'You ever have that one movie that comes so highly recommended and you go into it with such high expectations and a half hour in, you wonder if you'd heard incorrectly and perhaps mistaken it for an entirely different film?
?
Yeah. ?Deadgirl is kinda like that.
?
Proving that strokes truly are different amongst folks, Deadgirl had your humble narrator questioning future viewing advice from said source, the broader implications for their relationship as a whole, and the current mental well-being of any and everyone involved with the film.
?
But it did require him to wrestle with some seemingly innocuous plot and social commentary to mine an underlying faith narrative that should've jumped out at him from the get go.
?
So, well-played self-proclaimed horror aficionado; your impassioned recommendation proved worthwhile in the end (though in a totally different way than expected). ?And hats off to you, Deadgirl cast and crew; your postmortem parable, though hard to swallow, still left some theological meat to chew on.
?
Now if I could just get the aftertaste outta my mouth…
If nothing else, high school outcasts J.T. (Noah Segan) and Rickie (Shiloh Fernandez) are ambitious. ?J.T. is always trying to find the next party;Rickie is always trying to find his way back into the arms of his former sweetheart, Joann (Candice Accola). ?The problem is no one much cares for J.T. and the only way Rickie has a hope of getting back with J.T. is by going through her meathead boyfriend, Johnny (Andrew DiPalma).
During a conspicuously long fire drill, the bosom buddies sneak off to the an abandoned mental hospital on the edge of town, letting off some angst-filled steam with a bit of breaking and entering and vandalism.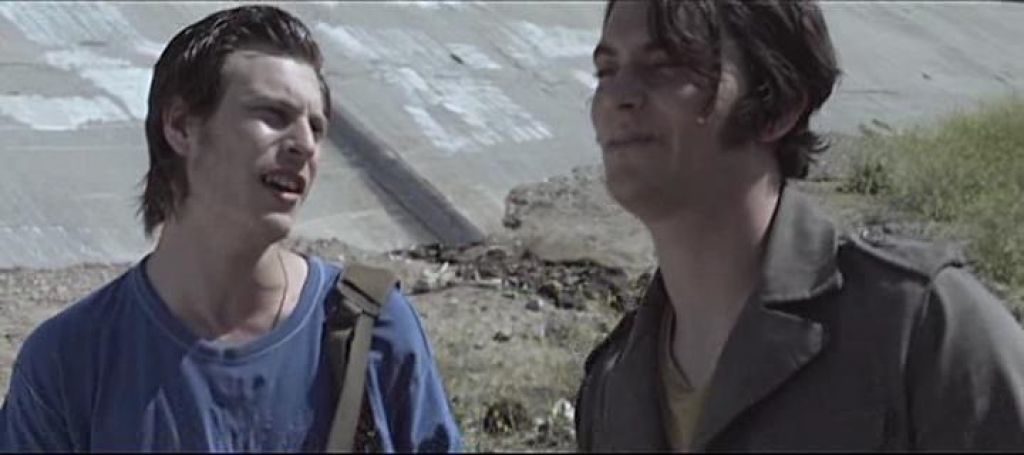 Exploring the basement, they discover a nude mute female who's been covered in plastic and strapped to an exam table.
Assuming her to be dead, the guys get the jump scare of their life when the would-be corpse begins moving. ?? Rickie suggests that they remove her and carry her to the police. ?But J.T. warns against it, fearing he and Rickie will be arrested for trespassing. ?Instead, he proposes that they keep the girl right where she is and keep her secret.? Rickie objects, fleeing the scene after J.T. gets violent and overpowers him.
Rickie returns with a gun, trying to force ?J.T. into releasing the girl. ?After a struggle, J.T. recovers the gun, revealing that he choked the girl to death twice during his absence, but she continued to revive. ?He then unloads three rounds into the girl and, sure as shooting, she survives. ?Horndog J.T. then recommends that they keep the pathetic creature as a zombie sex slave.? Rickie bails, still admonishing J.T. for his choice.
Rickie returns to the hospital the next afternoon to find classmate Wheeler (Eric Podnar) raping the Deadgirl as J.T. watches.? J.T. reveals that he invited Wheeler to the scene and Rickie decides that he must do something to stop them from continuing the depraved cycle.? He sneaks in when they are not there in an attempt to free the Deadgirl, but before he can finish cutting her bonds, the others return.? The Deadgirl attacks J.T. and Wheeler but they live to rape another day.
Back at school the next day, Johnny beats up Rickie when he sees him talking to Joann.
Wheeler tries to help out, but gets pounded before revealing that they have their own girl to have their way with.? Johnny and his pal Dwyer (Noland Gerard Funk) force Rickie and Wheeler to take them to see the Deadgirl, who they proceed to then have their way with.? After the Deadgirl bites Johnny in a particularly uncomfortable place, he contracts a horrible infection that kills him in a wickedly gruesome way (we'll spare you).
Dwyer decides Deadgirl needs to be taken to the hospital so the infection can be identified, as he has yet to learn that Johnny's dead.? And (for the sake of brevity), he dies, J.T. and Wheeler end up dead and eventually Joann becomes another Deadgirl that Rickie can eventually have his sick, twisted version of love with for as long as he lives.
Deadgirl is a seriously disturbing movie on multiple levels with a bizarre, though admittedly unforeseen conclusion.? There's plenty of gore and nauseating storyline and by the end of its 105 minutes, the only likeable character is reduced to an eternal victim.
But for all his fractured flaws, Rickie embodies Paul's autobiographical commentary in Romans 7: 15-20 (a theme that has appeared more than once here at ScreamFish).
"
I do not understand what I do," Paul says. "For what I want to do I do not do, but what I hate I do.
?
And if I do what I do not want to do, I agree that the law is good.
?
As it is, it is no longer I myself who do it, but it is sin living in me.
?
For I know that good itself does not dwell in me, that is, in my sinful nature. For I have the desire to do what is good, but I cannot carry it out.
?
For I do not do the good I want to do, but the evil I do not want to do?this I keep on doing.
?
Now if I do what I do not want to do, it is no longer I who do it, but it is sin living in me that does it."
Rickie starts with the best of intentions, but it isn't long before he begins acting just like his deplorable friends.? And in true Nietzsche-ian fashion, he becomes a bigger monster than the ones he's trying to destroy (or the one he helps create). ?Like Paul, hates what he is turning into, but he can't seem to find a way back to his old self (which was admittedly, not very stellar). ?Unfortunately, he never escapes his downward spiral.? He falls for the girl–and the lie–that there is no other option.? Thankfully for us, Christ's grace is forged with truth and hardened with compassion. ?It's big enough to invade the darkest places, even the ones we try to keep buried in secret. ? It can not only brng us out of the darkness, it can bring us back from the dead (and fortunately without all the nasty "undead" side effects).
Now if He could only deliver us from Deadgirl…