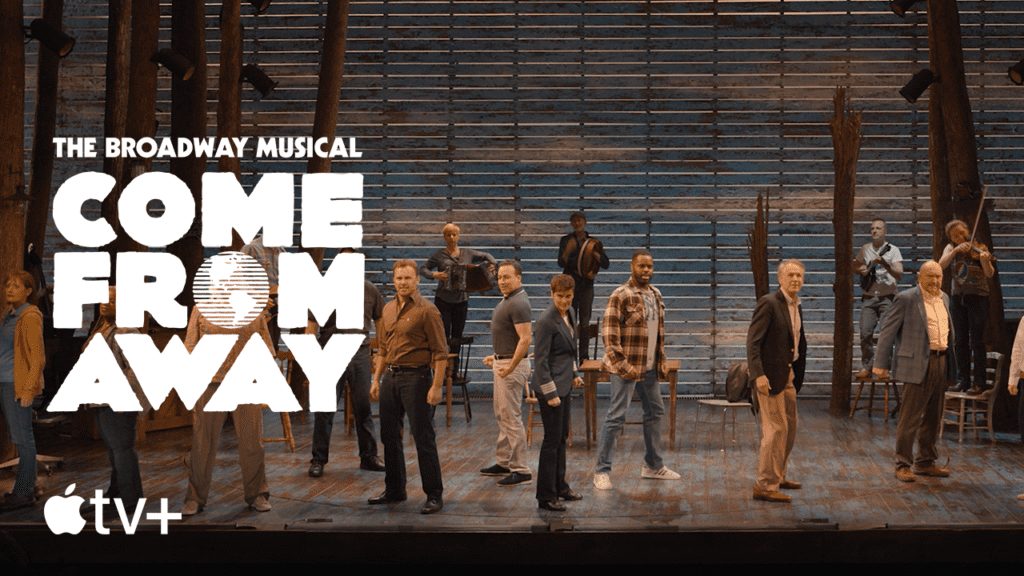 Set immediately after the events of September 11th, 2001, Come From Away tells the story of 7 000 people who were stranded in the remote town of Gander, Newfoundland after 300 planes were grounded after the terrorist attacks. Lost and scared, these involuntary visitors found themselves strangers in an unknown land. Thankfully, the people of Newfoundland embraced those who had ?come from away?, welcoming them into their community and providing food, shelter and compassion as they waded through the tragedy of 9/11 together.
After the success of last year?s stage recording of Hamilton on Disney+, the Tony Award winning Come From Away opts to make use of the same format, this time on Apple TV+. Performed onstage in the Gerald Schoenfeld Theatre in New York City, Away wants to make you feel as though you?re sitting in the seats on Broadway taking in the show first hand. Shot (mostly) from a view that encapsulates the entire stage, director Christopher Ashley maintains the distance between performer and audience that gives it an authentic feel. While one does somewha wish that a proper cinematic adaptation had been offered, there?s simply something magical about this live performance with a cast of 12 (!) that makes it essential viewing. (Although, it is also worth noting that a film version was in the works until the pandemic derailed the plans.)
Of course, adding to the effectiveness of the piece is that fact that we have hit the 20th anniversary of 9/11 itself. With the performance taking place in New York, there?s simply something special about this one. Filmed in front of an audience of 9/11 survivors and frontline workers, Away carries even greater weight as it becomes instantly personal for its audience. Every musical number, every joke and every poignant moment lands with emotion from a crowd that connects with the material for their own experiences and memories. They may not be onstage but, to this audience, this is their story too.
But isn?t that part of the power of 9/11? In a lot of ways, it?s all of our story.
Like the writers of Come From Away, I may be from Canada. (Just outside Toronto, to be more specific.) And the play takes place in Newfoundland. Even so, 9/11 remains the event that shook the world and re-telling the story from an outside perspective serves as a reminder of how thing changed that day. This is a story that affected everyone and Come From Away recognizes the impact on us all.
Filled with real stories and characters, the play has always shown the power that real people had on one another in a time of crisis. (Adding to the realism is the fact that Away shows the actors with their real-life counterparts over the credits.) By focusing on the diverse stories of these people who were thrown together, Away gives power and voice to everyone, regardless of race, language, faith or sexuality. (This becomes particularly visible during the play?s stirring and surprisingly inclusive performance of ?Make Me a Channel of Your Peace?.) Despite the differences between them, all of these travellers were thrown together at the hands of one of the darkest moments in recent history.
Which makes the impact of their hosts even more staggering.
Though the world was in shock, the people of Gander offered grace and shelter to those who were suffering. Despite being far away from their families, these visitors found a home. The actions of the people from this small corner of Canada are the very definition of divine hospitality: no matter who their visitors were or what their stories were, they were going to be safe there.
Everyone was going to be welcome at their table.
While Come From Away doesn?t ignore the travesty that 9/11 had on the families of those who were stuck in Gander, it does show how hospitality and love can shine a light of hope on others. While their care for others may not have changed what happened, the power of love is that it helped change the way that these broken people could deal with what happened. Suddenly, fear and suspicion were transformed into peace and protection. Yes, the world was changed. Yes, lives were decimated. But, in the midst of that trauma, unconditional love broke through to bring comfort in the most difficult of circumstances.
Fueled by joy and compassion,?Come From Away?is energetic, entertaining and an absolute joy to behold. Though the cast only consists of 12 people, they manage to share the stories and experiences of many who suffered during those tumultuous days post-9/11. What?s most powerful about the piece though is the fact that it also serves as a reminder that love is always welcome.
To hear our conversation with director Christopher Ashley and writers Irene Sankoff and David Hein, click here.
To hear our conversation with the cast of Come From Away, click here.
Come From Away is available on Apple TV+ on Friday, September 10th, 2021.