The CF Toronto Eaton Centre has officially gone batty.
In partnership with Warner Bros. Canada, the Eaton Centre is celebrating the release of Matt Reeves? The Batman with a stunning exhibit in the central concourse that will surely draw attention. From now until March 8th, The Batman's Colony of Bats invites viewers to stop by to untangle a mystery of their own.
Created by Rooftop Agency, Colony of Bats is a striking piece that uses forced perspective to move seamlessly between a flock of more than 10 000 bats mid-flight and the logo for The Batman. In celebration of its unveiling, David Videka, the president of Rooftop Agency, notes that the exhibit?s massive size makes it a particularly unique experience in the famed shopping centre.
?It's certainly large,? muses Videka. ?It's 32 feet long by 12 feet high by about 9 or 10 feet wide. It's one of the largest things ever to go into the Eaton Centre. They usually cap build at about 10 feet. So, I think only their Christmas tree has us beat at this point for the height.?

Inspired by The Batman?s noir aesthetic, Videka wanted his installation to offer the same sorts of surprises that Matt Reeves? film gives audiences. As such, the most important question in the development of Colony was how they could turn the piece into a ?riddle? of its own for viewers to unravel.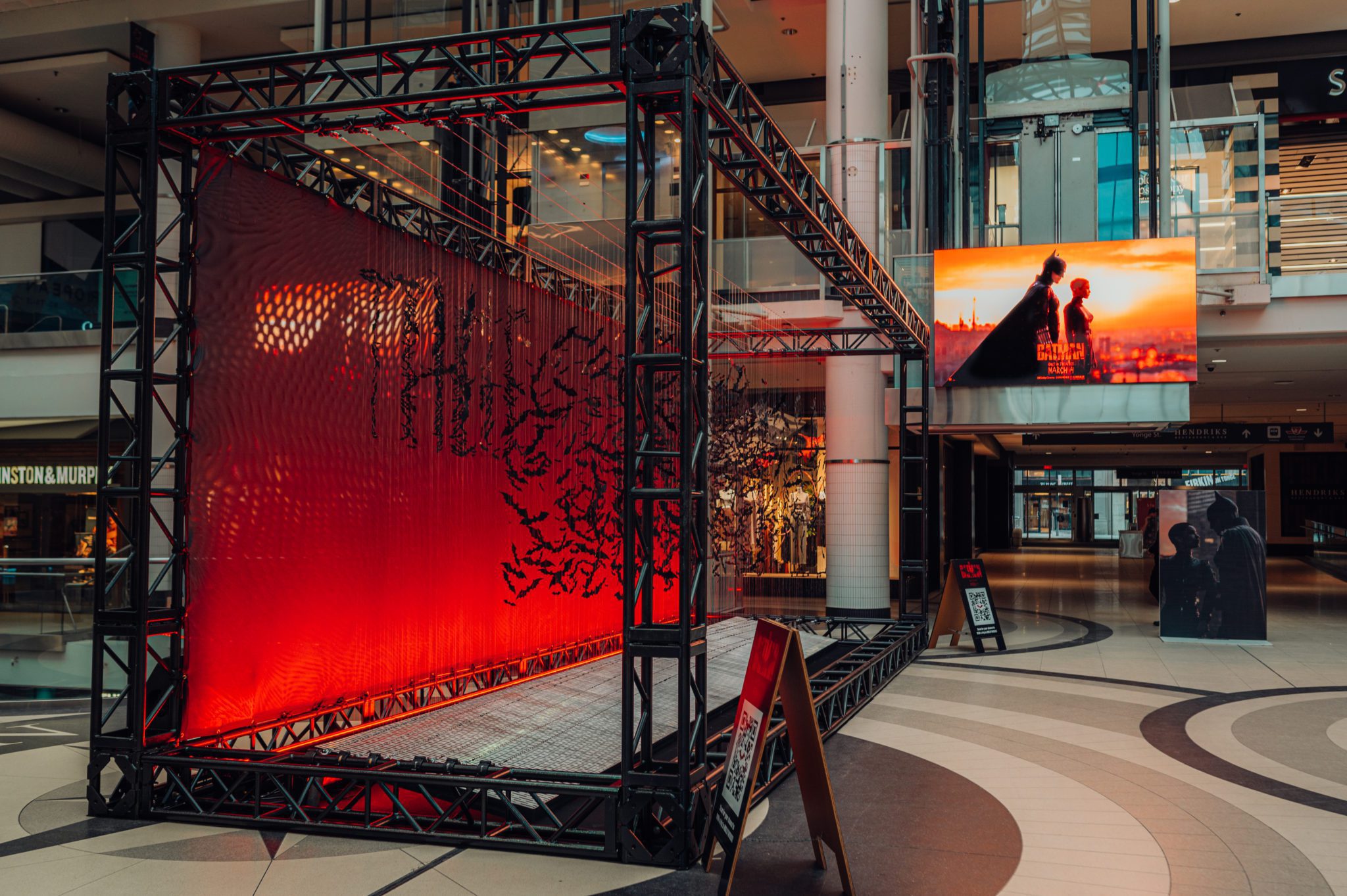 ?Without a doubt, the movie inspired us the most,? Videka recalls. ?To start with all these things, you have to take it back to the very beginning and try to really get a good grasp of what are the writers, the directors (and) the talent are all trying to say. What's trying to come across in the movie, right? It's one thing to sit around and say, 'Oh, this would be cool to do.' And, you know, sure, that's a fantastic way to come about things, but this is art. This is a movie, this is cinema. The idea that we need to use that as the starting point is kind of the most important thing. We work alongside with Warner Bros. [and ask] how do we do these movies, especially something like Batman, justice.?
?What we really wanted to reflect [from] the movie is that things aren't always as they seem, especially when we have a character like the Riddler involved. That was a really key component for us. So, by playing off of all the different twists and turns and the edge-of-your-seat sort of moments of the movie where there's always something different happening and you're never quite sure if you gotten to the right answer or not, we took these twists and turns and [wondered] what if we used a forced perspective art installation piece? It provides a multitude of different ways to look at a problem before you realize that, if you get it just right, everything would be revealed the way it was meant to be. We feel that this really comes to life when we look at the installation from all angles. When you're looking at it from pretty much every perspective, it just looks like a flock or a colony of more than 10,000 bats mid-flight. But, if you stand in just the right place and figure out the riddle in just the right way, it reveals the logo, which is really striking and visually attractive? You know, so it's been really fun to kind of mess with people's minds in the same way that the movie does to the viewer.?

While any art installation of this size would be a massive undertaking, Videka recognizes that Colony of Bats was particularly intricate in its detail. Even so, he and his team were excited to take on the challenge.
Says Videka, ?There's over 10 000 bats, all digitally cut through 3D rendering. [It was a challenge] to establish the individual bat sizes, how many bats per layer, and the amount of layers required to make it the most effective illusion. Again, it's when you get up close and you look at it, there's a lot going on. That's sort of the fun. When you step way back and you take those 10-15 feet back and you look at it, it looks so simplistic. It says The Batman, but when you get in on it, you realize that we have to take into consideration how many bats to hang, but also there's 56 different… opaque, hanging apparatuses that the bats sit on. So again, 10 000 divided by 56 equals how many bats and what direction do they go? Which way do they hit the light so that it reflects properly and spells the proper letters in the name and then the name itself? What vantage point do we need? Again, you're going into a mall with a pre-conceived walkway so people are coming a certain way and you want to make sure that they see The Batman when they're coming in.?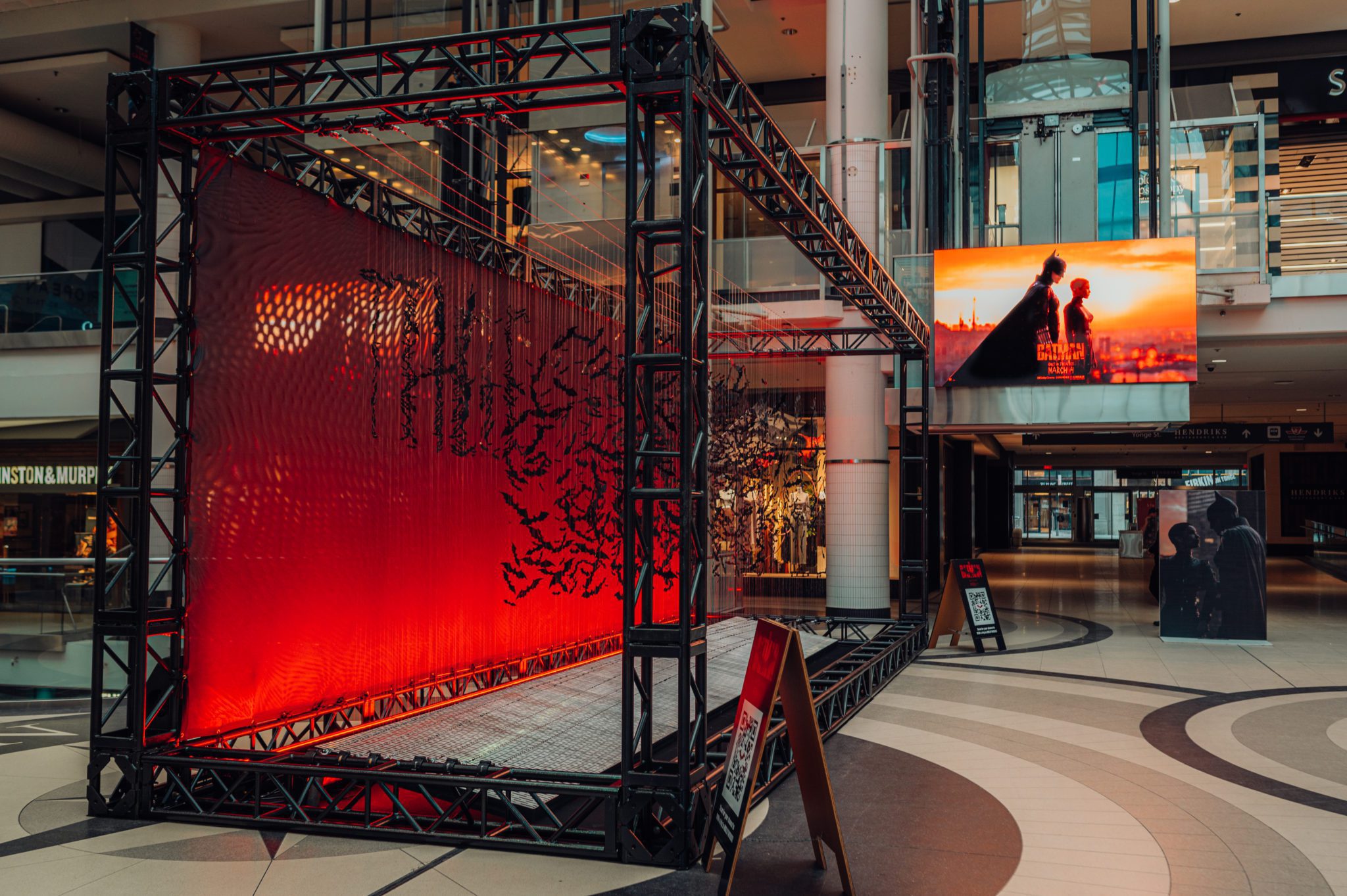 ?So, there's a lot of technical sort of things that go into the idea and the mathematics behind it. But, I think that's what the challenge and fun is, right? Hey, look at it like this. Batman, he's the best. He is badass. He's got these gadgets. He's all these things. And he uses technology to his advantage. And again, like as nerdy as that might seem, that's really how deep we get. [We say,] ?Hey, this is so difficult to do. Only maybe one person could do it and that's probably Batman. So, you know, let's give it a shot.??

In addition to the technical challenges of Colony, Videka also points out that he had to consider the different types of people that will see his work. From casual passersby to avid fans, his goal was to create something that was meaningful for everyone.
?When you're building something like this, you have to think of what are the different levels of consumers or fans that are going to come by and how do you relate to all of them?,? he identifies. ?You're going to have someone that's going to come by and just be like, 'Wow, this is really cool. I like the Batman. I know the Batman, and I'm really intrigued with this' or you're going to have people that come by and [think they] know everything about Batman and want to pick it apart to find out what's wrong with what's going on. The idea is you have to cater to all of those people. That's sort of the fun of it because, if you can connect with all of them in a very unique way yet all within the same sort of structure installation, then you've accomplished your goal.?

?Batman's an 18-49, very mainstream movie. It has a lot of different audiences. It has a lot of different communities and sub-communities of people that love it for different reasons. It's a heritage franchise. So, there's a lot of people that grew up with it, like myself with Michael Keaton and Kim Basinger. That's where I fell in love with it… So, you have to cater to all those different sorts of perspectives and mindsets. Yesterday, [we had] little kids freaking out because they saw the Batman artwork, elderly people, people that were in art or just working in the malls coming out of the stores, saying, ?This is crazy!? I certainly think we've more than achieved that goal and that was only the first day.?
When he considers how he wants his audience to respond to Colony of Bats, Videka hopes that they?ll recognize that there?s always a mystery to life. For him, Colony is an opportunity for them to take pause and look for something deeper.
?Things aren't always what they seem and don't take them for face value,? states Videka. ?Everything is deeper, if you take a longer look and try to get to the solution versus just taking it and walking by. That's what we heard a lot yesterday? From our perspective, we have brand ambassadors on site and they spent more time talking to consumers yesterday that I've ever seen them in 14 years. People just had so many questions. And again, I think that's what you're looking to do with the movie like this. There's a lot of layers and don't just take everything for face value.?
The Batman's Colony of Bats is on display now in concourse of the CF Toronto Eaton Centre through until March 8th.