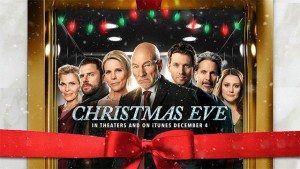 Everyone has their favourite Christmas film.
Maybe it?s something traditional like Miracle on 34th Street, It?s a Wonderful Life, or White Christmas or more modern treasures like Elf or Home Alone but each of these classics seem to bring something nostalgic or special on a cold, winter night.
Then, there?s Christmas Eve.
When a car accident destroys a power box and knocks out the electricity on several city blocks, six (!) different groups of people remain stranded in different elevators around the area. Ranging from a group of doctors with a comatose patient to a recently fired employee and his former boss to? well? Patrick Stewart (essentially playing Ebenezer Scrooge), each random collection of people is challenged with their own issues as they wait for the power to return.
To say that the story in this is convoluted would be putting it mildly. Each scenario is fairly contrived and the characters are relatively uninteresting. In truth, there might have been something to this had they streamlined the script (6 scenarios!?) and developed the remaining characters more fully. In fact, there?s some fairly decent work at times by some veteran actors in this film (Jon Heder, Cheryl Hines, Gary Cole) but they simply don?t have a script to work with. (Though, Patrick Stewart, you?re better than this?)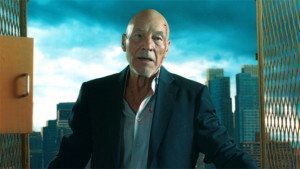 As a ScreenFish reviewer, there isn?t much here that I believe I can even comment on. I mean, to pull out a visible faith element (even if it is included within the script) would be irresponsible in this particular example.
Unless I? No? Well? I mean, I guess there is that one thing?
Oh no. Here I go.
In truth, if there is something to take away from this film, it?s the fact that our stories are far from isolated. So often, we focus on our own circumstances and ourselves that, in both good and bad situations, we feel like our stories are the only ones that matter. In the midst of the hustle and bustle of Christmas (let alone our daily lives), it?s easy to become self-absorbed. The reality is, however, that our lives are small in the grand scheme of things. We are all a very small piece in a very large puzzle.
Amazingly though, our individual stories do matter to our Creator. Despite the sheer number of us collectively, each one of us matters to God. He knows our stories. He knows our hurts.
And he cares.
If anything, Christmas Eve is a reminder that we exist in a balance between individual importance and the connectedness of the human race. Regardless of our circumstances, each of our stories matter to God?and should also matter to each other. Even so, because it?s forgettable in just about every way, this film has little to offer other than this realization.
Thankfully, few people will remember this Christmas Eve.