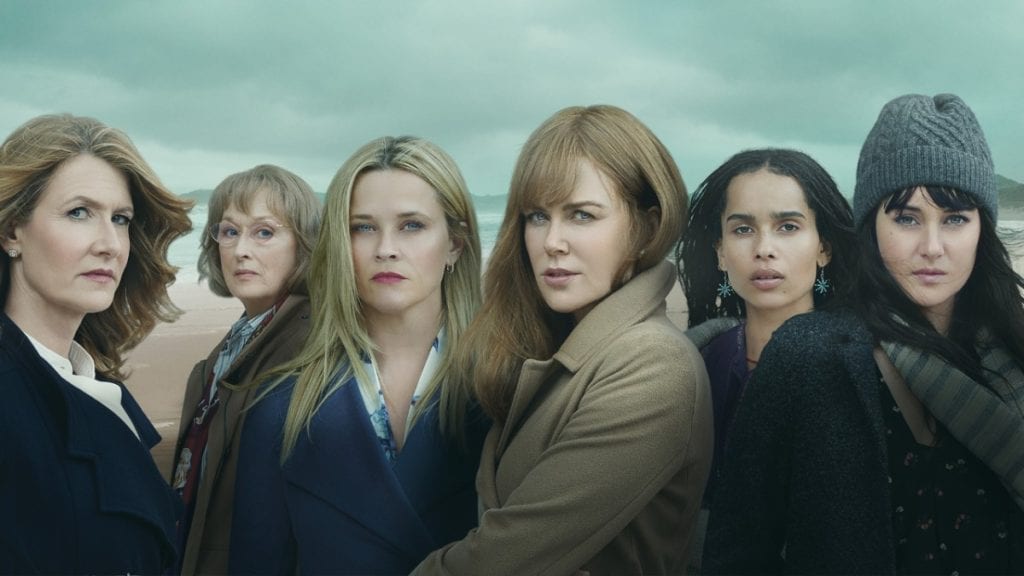 HBO's original season of Big Little Lies garnered so much attention – including winning Emmys and Golden Globes – that it was no shock that its all-star cast would be back for a second run. Created by David E. Kelley (Picket Fences, Chicago Hope, The Practice, Ally McBeal, Mr. Mercedes) from the book by Liane Moriarty, the first season found a highlight reel of leading actresses, including Reese Witherspoon, Nicole Kidman, and Laura Dern, dealing with ordinary "mom" issues mixed in with the subterfuge and violence of abuse and covering it up.
In the second season, Madeline (Witherspoon), Celeste (Kidman), Jane (Shailene Woodley), Renata (Dern), and Bonnie (Zo? Kravitz) must deal with the aftershock of their role in the death of Season One's major baddie. [Honestly, to get the full weight of the emotional damage, you'd need to see the first season before watching this one.] Throw into the mix that the baddie's mother, Meryl Streep's Mary Louise, shows up and asks questions about her child that ratchet up the heat. A spectrum of guilt, anger, and shame radiate through the Monterey Five.
What does it look like when they're caught between guilt and justice, what it means to be right but still wrong? Of course, there is some powerful emotion here to be unpacked and decoded, but the relationships are gripping.
The special feature included is a conversation with the cast called "The Lies Revealed."