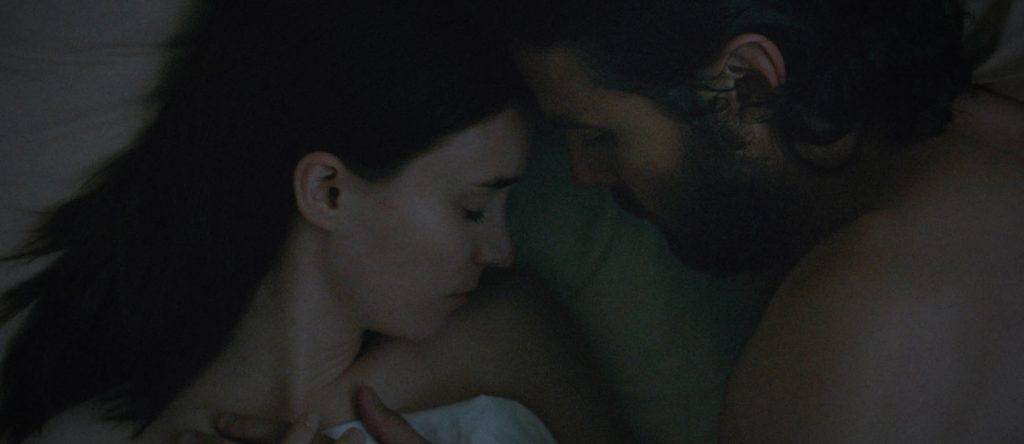 In David Lowery's?A Ghost Story, "C" (Casey Affleck) dies in an accident and comes back as a ghost. But unlike Patrick Swayze's clay-molding physicality, C's disembodiment from his past life is obvious thanks to a white sheet with two eyeholes and a silent existence through the remaining hour or so of the film. And still, his love for his wife, "M" (Rooney Mara), remains. This is at the heart of this haunting romance, a metaphysical exploration of who we are now?and?later, in the midst of life's ebbs and flows.
What is it that you like about this house so much? – M
We have history. – C
In the moments leading up to C's death, we see a beauty-in-the-mundane, as the couple begin the dance about moving and moving on. M wants something different than the suburban home they live in quietly. C's music-writing fills up the space around him, and he's content. There is a conflict here that will resolve itself – and open more issues – when one moves on and one stays.
When C sits up as a ghost in the morgue, we can see a sort of gently amusing-turned-serious take on what it means to experience the afterlife. Something keeps C "there" in M's presence; something draws him from wherever else he might go. [We'll discover he's not the only one but it's clear that not everyone stays or there would be more sheets with cut-out eyes.] We see this as "love" even though we recognize that it's affection in the midst of dissent and friction in C's hanging around; we recognize it's love when M devours a pie forcefully left by her realtor, as a physical expression of her grief.
Watching?A Ghost Story, it's hard not to compare it to other ghost movies. But this isn't?Casper?or?something supernatural, in the way that Lowery shoots and edits the film. Sure, there's a sense of threat in the actions C takes to express his frustration and gain attention, but there's not a violence that we equate with evil. It's akin to?The Presence?… or?Castaway-meets-Ghost. This is about connections, about souls, about time and space, about love and letting go. This is not your 'typical' ghost story.
Beautifully shot, with hints of grit and whimsy mixed together,?A Ghost Story?left me silent for hours after it was finished. There's a depth to it than defies the simplicity of what we see on camera, possibly augmented by the nearly-silent Affleck we see in contrast to the profane, angry Affleck of?Manchester By the Sea. [Even under a sheet, his portrayal leaves me with more to ponder about his acting ascendancy.] This is about who we?are,?what ?we are.
God doesn't exist so this is just physics, nuts and bolts… Let's leave out love. We do what we can do to endure, building our legacy piece by piece. — Prognosticator (William Oldham)
In the darkened kitchen of the house that was once C and M's home, a man opines about how making music and what we do (each person's art, work, labor) is a futile attempt to do something that matters. Obviously, the character denies the divinity, denies the purposeful creation of the world. And the presence of C is not the only rebuttal Lowery provides, even though that might have been enough.
Instead, by the time we are through, we recognize that the thesis of this love story is that love is eternal, that the thin notes we leave behind are reminders that we have been, that we existed, that we matter… that we are. With a stunning finale aimed at love, soul, and time, Lowery delivers in a way that will leave you thinking about forever, and considering how you live today.
Special features include the audio commentary with Director David Lowery, Cinematographer Andrew Droz Palermo, Production Designer Jade Healy, and Composer Daniel Hart, as well as a featurette on the score. From a content perspective,??A Ghost Story and the Inevitable Passing of Time? will excite fans of the film.?