Sound the alarm! It?s finally time to go back to Reno.
Airing on Comedy Central from 2003-2009,?Reno 911!?focused the camera on the behind-the-scenes world of the fictitious, massively inept Reno Sheriff?s Department in Nevada.?Featuring an incredible cast that helped cement the careers of stars such as Cedric Yarbrough (Speechless), Niecy Nash (Claws), Joe Lo Truglio (Brooklyn 99), Kerri Kenney-Silver (Wanderlust), Robert Ben Garant (Night at the Museum: Secret of the Tomb) and many more,?Reno 911!?became a breeding ground for up and coming comedians. Now, with the show set to be reborn on the brand-new streaming service, Quibi,?Reno 911!?has the opportunity to bring the team back together for the first time in over a decade. Asked how he felt to be back on the force, Yarbrough is thrilled to work with such an incredible cast once again.
?Eleven years ago, we were still doing the show and having a great time doing [it], Yarbrough remembers. ?Then, they decided to pull the plug on us. I've stayed in contact with these guys over the years and worked with a number of them on camera, but I've seen them throughout. It's really just kind of cool that we're all able to do the show again. Everyone went off and our careers kind of took off after the show. Now, it's just like?The Super Friends, when Batman and the Flash and all those guys would come together and then, kick butt. It's kind of like that now. Wendi McClendon-Covey is such a star in her own right. We always knew that she was just so, so funny on the show and now she's the ?Kirby Puckett? of?The Goldbergs. And then, of course, Niecy Nash on?Claws. So, for all of us to get back together… you're rocking with the best, man. They're the funniest people in the universe.?
Even though they were still having fun on the show during its original run, the series was cancelled and the members of the team were forced to go their separate ways. While many of them have had successful solo careers, Yarbrough notes that they had always hoped to return to Reno and that much of the delay had to do with finding a network to take them on.
?A lot of [the delay] was trying to find a home. I know that we were canceled, but they tried to bring us back and we just thought it was too soon,? he remembers. ?It was maybe a year or two after [we were cancelled]. It just seemed like there was not enough distance. Then after, when we did want to come back, [the issue] was finding a network that would want us, and frankly, that was really difficult. It took a long, long time to find an avenue that actually wanted to produce the show. And [we had to work] in conjunction with Comedy Central as well, because they owned the rights to the show. So, it's a lot of legal stuff that the actors and writers, we don't really have to deal with, but some of us as writer/producers do have to deal with. Tom, Ben and Kerri were helming that they were at the forefront of trying to get a network that would want us, and Quibi was that network. They were that service that wanted the show. They thought it would be a perfect venue, with these new quick videos. I've seen about 12 episodes and it really does lend itself to do this format. I've been laughing at the stuff that we've done and, man, we're back. It's definitely the same really funny stuff, if not funnier.?
For such the resurrection of such a classic comedy, one might find it surprising that an upstart network like Quibi would be the landing spot for the series. Having launched last month and backed by media icon Jeffrey Katzenberg, Quibi?s unique vision is to create content with episode under 10 minutes in length in order to encourage viewing over portable tech like cell phones and tablets. While Yarbrough isn?t entirely sure on how the process came about, he feels that an innovative service like Quibi offers the best possible outlet for?Reno?to make its return.
According to Yarbrough, ?It's a chicken and the egg [story]. I'm not sure which came, Quibi presented for us or if we presented for them what Quibi was going to be. I believe that they presented to us what Quibi was going to be and and how best served our show would be on that platform. Bugs Bunny was only six or seven minutes long, you know. This is an adult cartoon. We'll get an anvil dropped on our heads and then, we're okay the next scene. So, it just seemed like it would be perfect way of doing the show. Plus, this is a totally new format that you can always watch stuff on your phone. We just thought maybe this is a new futuristic way of doing the show. The show needs to also roll with the times. We did the show in the early 2000s, [but] people barely had cell phones back then. Now, that's what everyone has. So, it's just like this was going to be a good match for us.?
Although the squad hasn?t been all together for several years, Yarbrough feels that reassembling the force has been as hilarious as ever. In fact, with additional time and life experience under their belt, he even thinks that it might be more fun than it was before.
?It seemed seamless, as far as I'm concerned,? says Yarbrough. ?Maybe that question is better equipped for Tom, Ben and Kerri but, for me, it seemed like how we operated before, writing scenes on a little index card, pairing them up with the actors [and maybe] figuring out some beats of it. [We'd make] sure that it was still improvised and fresh and then we'd let the editors edit it down to the funniest part of those scenes and boom. There it is. It's the Reno Show. So, I felt like it was just like we had done it before but, as far as acting is concerned, it just seemed more fun. We've had life experience. We're older and I think we're funnier. So, I don't know exactly what Tom Lennon is going to say but I know that, if I set him up, he's going to knock it home. I don't know exactly what Niecy is going to reply with, but I know she's got a quip that's going to kill it as long as I set her up right. As well as our great guest stars that came in and played with us. So, it felt exactly the same.?

Set as a parody of the legendary FOX series,?Cops, Yarbrough and their team felt that?Reno?required the same level of unpredictability and wildness. As a result,?Reno?has always ingrained improvisation into the show?s DNA in order to create their own brand of outrageous comedy.
?We've always made sure that it was an improvised show,? Yarbrough explains. ?We wanted the show to look like?Cops. So, you know, we wanted that fresh thing that there's this element of danger. There's an element of what in the world is going on here. An element of just herding cats that is best served with improvisation. We would write the scenarios for a given scene. 'Someone is on a roof. Get them down.' And that's about it. You trust your guest stars that they're going to do as much as possible to not get off the roof and your job is to get them off the roof. So, you improvise that scene.??
?With the world of improv, the language is 'yes and'. You'll make a statement and you hope the other actor will say yes and then add on to that statement. So, if I'm on a boat and I say, 'look at these beautiful waves here', your response would be 'yes… and I caught a fish'. So, you add on to the scene, but when you're a police officer, it's all 'no'. You're telling whoever, 'no, get off of that.' It's a language that we've used. We say no, but we really mean yes to the guest star, 'do whatever it is that you want to do.' We're telling you no but please do as much as you want in the scene where I'm not really telling you not to do that. You can do whatever you want and it's my job to stop you. So, it's a language we've used for the show but it is improvised. We do write out a scene if it's really involved or, if it's a stunt, we make sure that we want everyone to be safe. So, that part is plotted out pretty good but everything else is just us rolling with it and trying to crack each other up.?
While the term ?ahead of its time? can get overused in our culture, in the case of Reno 911!, it may be an accurate description. Using the single-camera, documentary style of comedy that has become common over the last two decades, Reno was one of the first shows to make the most of the format. However, as time has marched on, Yarbrough also recognizes that audiences and their tastes have also changed along the way.
?When we started it, this was before?Modern Family, right before?Curb Your Enthusiasm, the Office?[UK Version] had been going but not the American version,? he points out. ?When we started doing that documentary style, straight to camera interviews kind of thing. Now, [it's] been 20 years of that kind of television that has made it to every kind of venue and yes, comedy has changed in that our audiences have changed. I think funny is funny but, what people find funny, sometimes has changed in that audiences have more of a voice. That can be a good thing and a bad thing. With Twitter and with blogging, people have their opinions and they state them.?
?We deal with subject matter that's sometimes taboo [like] family members kissing other family members, race relations, or sexual activities. So, there's a lot of stuff that Reno has always dealt with that is controversial. It's based in the cake of Reno. That's what the show is and some people may be really offended by the shows of this season. It's not for the weak, that's for sure. We deal with a lot of issues. We deal with police brutality, people filming police trying to get them to do something [by] antagonizing them. We also have a really funny ongoing joke about how on the force, we've never shot an unarmed white person before. How do we rectify that? And we go about trying to try to figure that out.?

?Comedy is always funny. I don't think that has changed. I just think we're able to hear [audience's] opinions more, but that doesn't affect what we do or we try not to let that affect what we do. We've always listened to our own voice. We've always tried to figure out what we find funny and hopefully, our audience will enjoy it. Luckily, we have a different brand of comedy that you might not see on network television or somewhere else. So, we have our own brand. If you like that brand, [I think you'll] still really like the show, if not more.?

Even though over a decade has passed since the show?s cancellation, Yarbrough says that the team wasn?t interested in discussing what happened during the gap, opting to pick up things up seamlessly.
?We really don't address it, but personally Jones has maybe gained 20-35 lbs,? he laughs. ?It?s so funny, I just got a chance to look at 10-12 episodes and they're really, really funny. They cracked me up, but I was like, well, okay. During this quarantine, I need to exercise a little bit more and maybe cut down on the bread. But Cedric Yarbrough has enjoyed himself a little too much. [laughs] We don't really go into the gap. We just start head first into the adventures of these weird, inept cops. Like I said, it's a cartoon. We're not going back and [saying], 'Oh, what happened those years? Where did they go? Let's go back.' You don't do any of that kind of stuff.?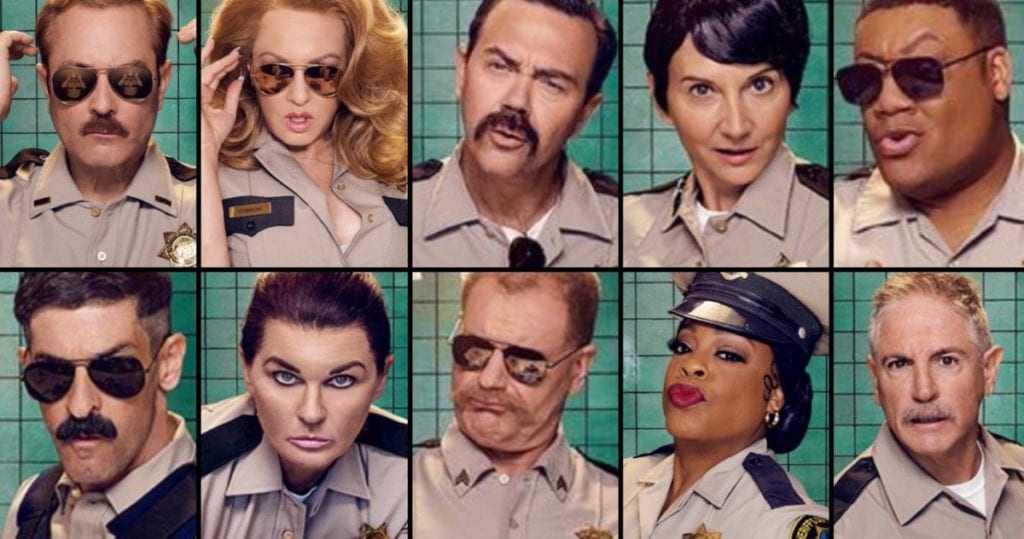 While rumours circulated for years about a potential sequel to their hit film, Yarbrough isn?t thinking too much about the long-term plan for their comeback. Right now, he?s much content to focus on the present and, if the show?s a hit, he would be thrilled to see the team get picked up for an eighth season and beyond.
?I think the plan is to see how this goes and, hopefully, we'll be welcomed with open arms and people will love the show and want to see more of it. But there's no big plan at all. Right now, we're just going to kind of see what the future will bring. We're just trying to bring some comedy, especially in this time right now. I think people need it. We're open to provide just a little bit of a break from some of the stresses that we're dealing with right now and just be able to laugh at these weird guys that you've known for a long time. It's so funny but when we were shooting, we shoot sometimes in public a little bit. People [were] honking and yelling out our names and stuff like that. It was real fun. It was a fun to come back. You get excited when you see a new Muppet movie. You want to see the Muppets back together again. It's cool to see Fozzie Bear with Miss Piggie and Kermit, so that's how it felt. In the future, we'll see what happens. But, for now, let's do this season seven and maybe we'll do season eight.?
For full audio of our interview with Cedric Yarbrough, click here.
Reno 911! brings the squad back on Quibi on May 4th, 2020.