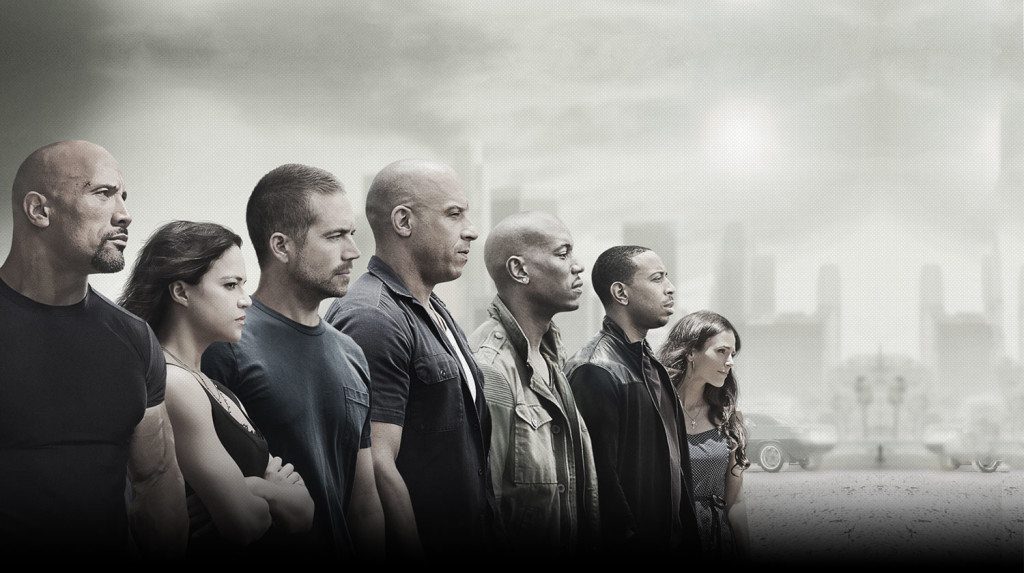 In 2001, Universal Pictures made a 'little' film about street racing called?The Fast & The Furious. Fourteen years later, the film series has topped itself in each of the six sequels, providing more eye-popping stunts and spectacularly delivering snapshots of the best action and car chases that all other films seem to be chasing. Boasting a stunning multinational cast, the?Fast and Furious?franchise truly is one of a kind. But are we overloaded with bigger bangs and crazier stunts? What could the franchise do to keep us engaged?
The short answer??Furious 7?took it to a more personal level.
After the crew led by Dominic Torretto (Vin Diesel) took down Owen Shaw, Shaw's brother, Deckard (Jason Statham) went on a bloody, explosive trail of vengeance that began with the death of Han (in the plot of?Tokyo Drift). Now, the elder Shaw is?pursuing them while they're recruited to pursue him by shadowy black ops leader Frank Petty (Kurt Russell). This launches the film off in a series of explorations of the past, like Torretto's interaction with Lucas Black's Sean Boswell in Tokyo and an attempt to help Letty (Michelle Rodriguez) regain her memories.
While the action is breathtaking and globe-trotting, it's the internal motivations and struggle of the crew that make the film stand out. It's not all bad though: Brian Conner (Paul Walker) and Torretto's sister, Mia (Jordana Brewster), are trying to settle down and raise a family.
But maybe you come for the cast and the explosive stunts, and then you stay because the family dynamic is different. Maybe there's something about capturing us visually that hooks us, while we want more because we've come to care about these characters.
Rock hard Toretto, more compassionate Conner. Willful Lettie, sensitive Mia.
Whether it's the car chase that ends up with a bus going off of a cliff, the air-jumping of cars out of a cargo plane, the crashing of a race car out of a skyscraper into another, or the hand-to-hand combat that sends a rotating crew of baddies like Statham, Ronda Rousey, and Dijmon Hounsou at our heroes, there's plenty to visually captivate you.
I'm not sure that?Mission Impossible: Rogue Nation?topped its opening scene with the plane taking off and a 'helpless' Tom Cruise strapped on to the outside. But?Furious 7?sets up a string of moments, and one-liners, that keep us strung along to the story. It helps that guys like Diesel and Dwayne Johnson are bigger-than-life (inflated?), but James Wan (who took over for Justin Lin) knows his way around a battle?and?gave the film a creepier, vengeance-oriented feel.
The film still has a good cop/bad cop, buddy film feel to it, even though Walker tragically died in a car accident on?November 30, 2013. We know that the relationship between Toretto and Conner, who have both broken the law and crossed the line to doing things their own way, both have a desire to stop evil and protect their family. Their family might be multicultural and wildly broad, but it's their community and they know it's their job to support them.
The banter, all-out harassment, and sometimes brutal?one upping of each other is hilarious. Those foibles spring out from Diesel and Walker, but they branch out into the relationships they have with Roman (Tyrese Gibson) and Tej Parker (Chris Bridges AKA Ludacris). Brothers at arms, these guys are always breaking rules, but lately, they've become the government's version of the 2015 Dirty Dozen.
Whatever you think of the film, it will always be remembered as the ride off into the sunset for Walker. The cast and crew remember him with nods throughout the film, but the ending is ultimately about sending him off in style. It's a beautiful ending, one that blends reality with fiction, and makes us hope for a better day. It's certainly weird seeing Walker on screen and knowing he's not here anymore, but it's a better way to remember him than as an obituary online.
I doubt?Furious 7?has many 'deep' moments that we'd all agree on, but the focus on family, on doing what's right, and on being true to yourself is apparent. If you let this one roll and you find yourself hoping for a better day in heaven for Walker and the rest of us, then you've opened the door to faith. Sometimes, we just have to follow our path and proceed on faith.