Religious communities can be nurturing and fulfilling, providing people with spiritual meaning and a sense of belonging. But those same communities may also be stifling and destructive of individual freedom and self-esteem. Disobedience, set within an Orthodox Jewish community, is a tale of the search for love and freedom, but it carries the risk of losing one?s place in the world.
Ronit (Rachel Weisz) is a New York based photographer. When she gets word that her father has died, she returns to the London suburb where he was the prominent rabbi of the Jewish community. She is not warmly welcomed home. She fled the community and its strict lifestyle many years before. Even her family and closest friends keep her at arm?s length. She is now an outsider, even though this was home. Her father?s obituary says he had no children. Ronit has effectively been erased from the community. But she is determined to pay her respects to her father?s memory.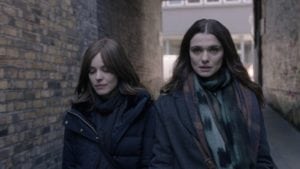 She is reunited with Dovid (Alessandro Nivola), her father?s younger prot?g? and heir apparent, with whom she spent time when they were young. She also reconnects with Esti (Rachel McAdams), who is now Dovid?s wife. The three were inseparable as young people but the years of separation make things a bit awkward?especially when her return kindles a romantic spark between Esti and Ronit. As the week of mourning progresses, the tensions of the community and within the three-person relationship grew to the point of breaking.
On one level, this film seems to speak to the repressive nature of religion. Certainly, that is what Ronit left behind her when she set out to live a different life and her return opens the possibility of another kind of life for Esti, who has suppressed her desires through the years. But the film also plays various tensions that exist in a more universal sense. Community and individual, desire and duty, morality and fulfillment, tradition and modernity. Many of these tensions are made evident in a pair of scenes: Esti and Dovid?s weekly time of having sex in contrast with the sensual explosion of Ronit and Esti?s encounter.
All three of these characters must struggle to come to grips with the changes represented by Ronit?s return to the community?even for a short time. Each must determine what there is of value that they can hold on to, and what they might have to give up to truly find happiness in which ever world they will live in.