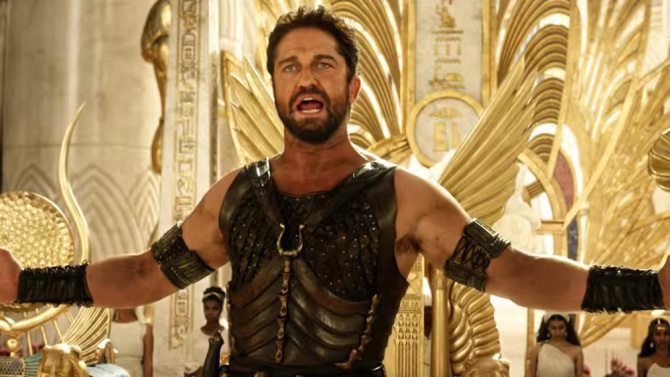 It's been awhile since Gerard Butler nailed his name to the blockbuster wall with?300. But in between making?Fallen?films about terrorists in the U.S. and London, he starred in the ensemble piece,?Gods of Egypt,?about the brotherly rivalry of the Egyptian gods Set (Butler) and Osiris (Bryan Brown), and the young passion of the human thief, Bek (Brenton Thwaites), for his deceased lover (Courtney Eaton). All of this is set against a fabulously extravagant digital panorama of a historically incorrect Egypt…. and a superbly Caucasian cast playing Middle Eastern roles.
Um, what?
As the Internet buzzes with the criticism of the Ancient One in?Doctor Strange?and the casting of?Ghost in the Shell, hot on the heels of a minority-light Academy Awards,?Gods of Egypt?attempts to do what Rick Riordan has done with?Percy Jackson, only stealing from a non-European culture instead. [Seriously, Chadwick Boseman (Black Panther!) is the only really diversified inclusion here.]?While it's entertaining at times and ridiculous at others,?Gods of Egypt?takes the flair of?Prince of Persia?and splashes in a katabasis (a hero's descent to the dead) like Orpheus and Eurydice.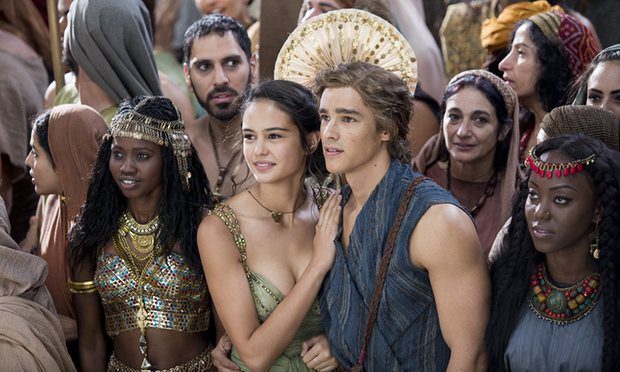 When Set wreaks havoc, destroying the kingdom to recreate it in his own image and stealing the eyes of his nephew, Horus (Nikolaj Coster-Waldau, Game of Thrones), he also indirectly allows for the death of Bek's lover, Zaya. Set wants to gain the attention and approval of his father, Ra (Geoffrey Rush), but he is unwilling to participate in the actions and decisions that Ra hopes for him. Instead, Set rules through fear and violence, setting up the quest of Horus and Bek in tandem to unseat Set and bring back Zaya from the underworld.
Everything gets a bit … convoluted… from there. This is ultimately a hero's quest (Bek's) and a coming-of-age story told in two parallels, between Set and Horus. One will choose to become the god he was meant to be and one will not; one will follow a life of service and faithfulness, while the other pursues his own selfish ends. (While the story is about a nephew and an uncle, their ages are ultimately ones that make it appear more about two brothers.) Therein lies the morale of the story, but wait, there's more!
Bek and Zaya are in love, but Horus doesn't believe that the underworld can be reversed, that anyone can come back from the dead. This is ultimately the tension of the Christian faith: can one come back from the dead??Paul writes in I Corinthians 15:
But if it is preached that Christ has been raised from the dead, how can some of you say that there is no resurrection of the dead? If there is no resurrection of the dead, then not even Christ has been raised. And if Christ has not been raised, our preaching is useless and so is your faith. More than that, we are then found to be false witnesses about God, for we have testified about God that he raised Christ from the dead. But he did not raise him if in fact the dead are not raised. For if the dead are not raised, then Christ has not been raised either. And if Christ has not been raised, your faith is futile; you are still in your sins. Then those also who have fallen asleep in Christ are lost. If only for this life we have hope in Christ, we are of all people most to be pitied.?But Christ has indeed been raised from the dead, the firstfruits of those who have fallen asleep.
Horus comes to believe – but it takes the faith of Bek, the passion of his love, to prove it is possible. For all of the faults of?Gods of Egypt?-and there are many- it has an element of faith that rises above the expectations of the film's C-level expectations (or 12% Rotten Tomatoes rating) to push belief to the forefront.