Inspired by the 16th?Century Chinese fable Journey To The West,?The New Legends of Monkey?follows the journey of Monkey (Chai Hansen), a good God who accidentally sets free demons that ravaged humans and Gods alike and was subsequently punished, being frozen in a stone for 500 years. Freed by young Tripitaka (Luciane Buchanan), Monkey joins forces with a motley trio of fallen gods with magical superpowers and incredible martial arts skills to set right balance of good and evil in the world. Echoing such children?s fables asThe Chronicle of Narnia, Xena: Warrior Princess and Hercules, executive producers Hakan Kousetta and Jamie Laurenson wanted Legends?to become an adventure story suitable for the whole family.
?Growing up in the eighties in Australia and the UK, we were kids [that were] transfixed by a version of the story? and now we all have kids ourselves,? Kousetta begins. ?We were inspired as kids by [the story?s] kind of crazy, high octane style of that show and I got more and more interested in the original material of Journey To The West[which had] a kind of ethical and spiritual underpinning [to it]. We were just really excited to try and make a show that speaks to our time, our kids, and hopefully to the families of many other people internationally. [We wanted to make] a show that was reminiscent of the kind of film that we loved growing up that kind of felt like The Goonies. [Goonies] had an irreverent, kind of cheeky tone to it but, ultimately, was about finding your way in the world, which is essentially part of a kind of growing up story that all of us recognize and remember.?
?It?s just such a brilliant story. We thought it was a great opportunity to reintroduce the world to that story,? Laurenson agrees. ?[We] also [wanted to] give it a bit of a throwback to more traditional kinds of storytelling, especially in this era where [kids are] being bombarded with what rates as modern [and even] bordering on adult type things. So, we said we want to go back to something that's just fun and family friendly.?
Despite the fact that Journey to the West?was written in the 16thCentury, Kousetta still believes that the story remains relevant to today?s culture due to its emphasis on personal growth through relationships.
Says Kousetta, ?There's a classic element of the quest [in Journey], fitting in with your peers and putting together a team. They're all outsiders and I think everyone can identify with feeling like an outsider at some point in their life, especially children. I think that [the idea of] coming together and finding common ground and on a bigger journey [are] the sorts of things that children don't hear enough of actually.?
Of course, at the center of any great epic quest lies the hero?s personal journey as well. In the case of Monkey himself, one of the key?s to his growth stems from his learning that 'a crown doesn?t make a king.? With this in mind, Kaplan believes that Monkey?s journey throughout the series serves as a reminder that awesome power doesn?t necessarily make one a leader.
?I think central to [his] journey is understanding that realizing your potential fully comes about through knowing yourself, respecting others, understanding how you fit into a social whole and all those sorts of questions about growing up,? he claims. ?Monkey's mistake is that his obvious capacity on the surface [left him feeling] entitled to stay just in [the] reputation that he hasn't fully [earned] at that stage of the story. [For example], a startling kind of physical ability and prowess doesn't necessarily equate to all the qualities that are required of a leader. That's an ongoing conundrum for that character. They all have their own flaws. In the case of Monkey, it's the classic idea that his strengths are also his flaws and that is a kind of an Achilles Heel that keeps biting [him] into a certain extent. But the trick is to learn from your mistakes.?
Although the show is anchored by Monkey?s ascension to power, much of the heart of the series stems from the character of Tripitaka. As a young woman pretending to a be a male in order to avoid persecution, Tripitaka?s journey echoes other famed heroes such as Mulan and Yentl. When asked about her role in the story, Kousetta and Laurenson emphasize the fact that they don?t believe her disguise takes anything away from her the strength of her character.
?I think Tripitaka is like all characters but, perhaps sort of little more centrally and more pointedly, rising to the hero?s challenge,? Kousetta states. ?She is facing the warrior arriving that she was expecting, but that warrior did not appear to be everything that was promised. She is having to step up to the challenge of being a leader and finding that strength within herself. So, the disguise is everything that that suggests. It's a mask and it sort of allows her to hide in plain sight. But it was also a mask or an identity that she's kind of growing into.?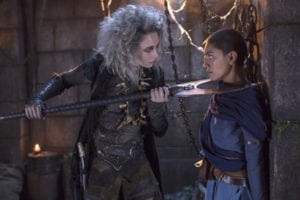 ?It demonstrates her title and what she's prepared to do to achieve what she believes in. I think that's great!,? contends Laurenson. ?It's a great kind of moment in the reveal that she's a girl. It sort of weaves in seamlessly to the rest of the story and where everyone sits. One of the big things for us was that we wanted to have strong female characters in this show and put them center stage. Even though the Monkey is such an overbearingly, charismatic character, we didn't want it to be just about him. So, we were already keen to ensure that the female characters [were] sort of central and as significant as the male ones.?
With many other modern reboots seeking to establish a more serious tone with dark edges, Legendstakes the opposite approach. Keeping their target audience of children ages 8-12 in view, the show balances the drama with a healthy dose of humour. When asked how they managed to accomplish this, Kousetta credits the writers and director for its success.
?I think intrinsic to that tone are the kind of courageous writers behind it, particularly Jacquelin Perske (who led the way) and Craig Ervin and Gerard Johnstone, who directed it,? he beams. ?They were kind of very much looking to find that fun tone to it. I think it's something that's very much part of the DNA of Australian and New Zealand culture as well to be kind of inclusive of all cultures and to have that kind of inclusive, comedic outlook on life that I think infuses the spirit of the show.?
In addition to this, one of the more interesting facets of the series is its emphasis on good and evil as diametric opposites. According to Kousetta, the show?s simplistic moral conflict again stems from its interest in reaching children.
?We're going to go back to the simpler, more straightforward kind of [series that we saw] when we were kids,? he reflects. ?You knew who the nemesis was. You knew who ?baddies? were and you were rooting for the ?goodies?. That's what we wanted to kind of recreate and make it feel like that kind of adventure. You know, our demons aren't all bad. They've just made the wrong choices. [I think] we've humanized them enough… I think [we wanted to ensure] that the children can kind of go on a journey where they're not necessarily being faced with real moral complexity that kind of undermines the [show's] entertainment value. You cheer when he beats the demon. You feel happy that he brings some of the ?baddies? onto the good side. It all kind of bleeds into that fun.?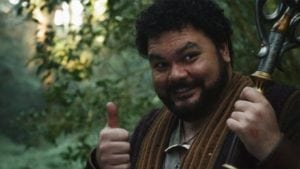 When asked what they hope audiences find as they watch Legends, both Kousetta and Laurenson believe that they?ve crafted something special for families to enjoy together.
?We're really proud to have made a show that has such a wide range of young talented actors and such a kind of diverse profile just in terms of where they're from, their gender, all those sorts of things,? Kousetta declares. ?[It] feels like faces in the show [represent] people of all different kinds of backgrounds. I just hope that the fun, energy and message of the show (without being preachy) has a sort of an uplifting effect from kids and families who sit down and enjoy it.?
Laurenson echoes this idea when he affirms that, ?I'm really proud of the fact that we might've show that parents and children can watch together and equally enjoy and escape reality for a little bit and immerse themselves in a fantastical world with fun and humorous characters.?
The New Legends of Monkey?is currently airing on Netflix and ABCMe.