The messy art of politics is the basis of John Madden?s film Miss Sloane. Elizabeth Sloane (Jessica Chastain) is a high powered DC lobbyist. When offered a chance to represent the gun lobby against a bill to require background checks, she leaves the firm she works for to go to a smaller firm to fight for the bill. She can be unscrupulous in pursuit of winning. She plots, anticipates what the other side will do, and has plans in place to counter. This is not so much about getting the best arguments out there, it is about the behind the scenes manipulation?and corruption?that many see as endemic to our political system. The film may seem cynical (and Elizabeth has an answer to those who call her cynical), but it is really about idealism and how far someone will go to win when something they consider important is on the line. Excellent performance by Chastain. Miss Sloane opens in theaters later this month.
Neruda comes from Pablo Larrain, who has touched on Chilean history earlier in No. Here he goes back to 1948. Poet Pablo Neruda is a Communist senator in Chile. When the supposedly left-wing President he helped elect makes connections to the US, Neruda denounces him. The president impeaches Neruda and seeks to arrest him. Neruda and his wife go into hiding and try to escape Chile to go to Europe. Meanwhile a police officer is on his trail. The two men try to outsmart each other as Neruda, something of a country club Communist, gets a view of what life is really like for working people. Neruda is Chile?s official Oscar entry and will open in US theaters in December.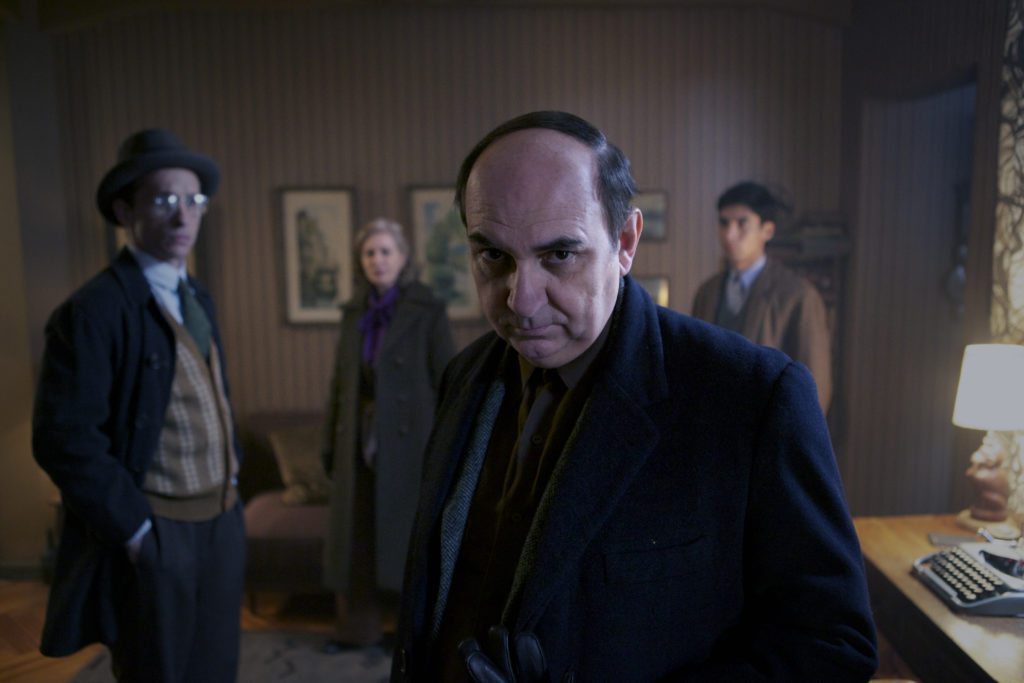 I went into Fraud thinking it could be very bad or quite good. I found it to be totally engrossing and one of my favorite films so far because it opens up so many questions. The film is ?found footage? in that the filmmakers found all the footage on YouTube and the internet. Most of the footage is one family?s home videos. We watch as the family struggles with debt, goes shopping, sets their house on fire to collect insurance money, and then heads off toward Canada. Ah, but things are not what they seem. Actually, there is no crime here. The real fraud is done by the filmmakers editing the family?s video with bits and pieces found elsewhere to create a fiction out of the real life stories. It is a masterful piece of storytelling. It also raises questions about what can be believed once you start manipulating information. How does that apply to the news we receive from the media? How about when we think about those who compiled traditions to weave together the Gospels or the Torah?
In Hunter Gatherer Ashly Douglas has recently come home from jail. He wants to get his life back on track. But his girlfriend wants nothing to do with him. He has no job. He has no prospects. He connects with a young man with a truck. He starts a plan to dispose of refrigerators at a profit. The problem is that Ashly really has no plan for a future and is not willing to let go of a past he cannot restore. This film tries a bit too hard to be artful and symbolic, but it just becomes a bit murky as a result. Hunter Gatherer opens in theaters this Friday.
Photos provided by AFIFest presented by Audi