?In life going downhill is an uphill job.?
Perhaps the most mind-boggling thing about The Lady in The Van is part of the writing credit: Written by Alan Bennett based on his memoir [emphasis mine]. It seems unbelievable that this situation has a basis in reality. Bennett, a playwright living in London, had a dirty, ugly yellow van parked in his driveway?for fifteen years. Inside lived an otherwise homeless woman without much grasp on reality. How she came to be there and the intersection of their lives make for a hilariously entertaining and touching story. It is not only a matter of their relationship, but also of what the writer discovers about himself through that relationship.
When Bennett (played in the film by Alex Jennings) moves into the neighborhood the woman?s van is already a fixture moving from one house to the next when overstaying her welcome. The woman, known as Miss Shepherd (Dame Maggie Smith), is far more than eccentric. She can say the most outrageous things, hoards trash, has no sense of hygiene, and never understands that the reality that she experiences is different than others? reality. Actually, most of the neighbors were accepting of her presence (just doing their bit for the homeless), but they don?t want her in front of their house. When the authorities eventually try to get her to move elsewhere, Bennett offers to let her move the van into his driveway, figuring it will be for a few months. It turns into a very long term stay. It is only after many years that Bennett ever learns who this woman was before she ended up in that van. (In real life, it is only after her death that relatives fill in the gaps of her story.)
Lest we think this is just about a crazy old woman, we should note that there are two Bennetts in this film: the one who lives and the one who writes. The real Bennett who wrote this screenplay (and the West End play that Maggie Smith appeared in fifteen years ago) shows that there are two sides of him that never quite come together. The two Bennetts carry on conversations about their life. It serves as a bit of a reminder that as crazy as Miss Shepherd may be, we are all a bit off-kilter in our own ways. This device allows for reflection on the ambivalence associated with Miss Shepherd. It also allows reflection on the other ambivalence in Bennett?s life, his mother?s deteriorating dementia. At the same time this mad woman is squatting in his driveway, he must place his own mother in a home to be cared for by others as she eventually loses her memories, even of her son.
Miss Shepherd?s background comes to us in bits and pieces. We learn she was once a gifted pianist and at one time sought to become a nun. She also carries a great deal of guilt that she cannot get rid of. Even when she confesses her sin and receives absolution, she continues to believe her guilt remains. (The priest tries to convince her that he has absolved her several times for this and that ?Absolution is not like a bus pass. It doesn?t run out.?) The bits of background we learn give meaning to her comment at one point in the movie. ?I didn?t choose [to live like this], I was chosen.?
Bennett tries to maintain a distance from Miss Shepherd. He does not want to be considered her caregiver. He has merely allowed her to park her home in his drive yet he cannot be totally detached from her situation. As the writer Bennett sits in the window looking out at the world, she or her van is constantly in his vision. Whenever the Bennett who lives life goes out of his house, he encounters this bizarre woman and her outrageous life. It is inevitable that she will become a part of his life, even though both he and Miss Shepherd are a bit ambivalent about it.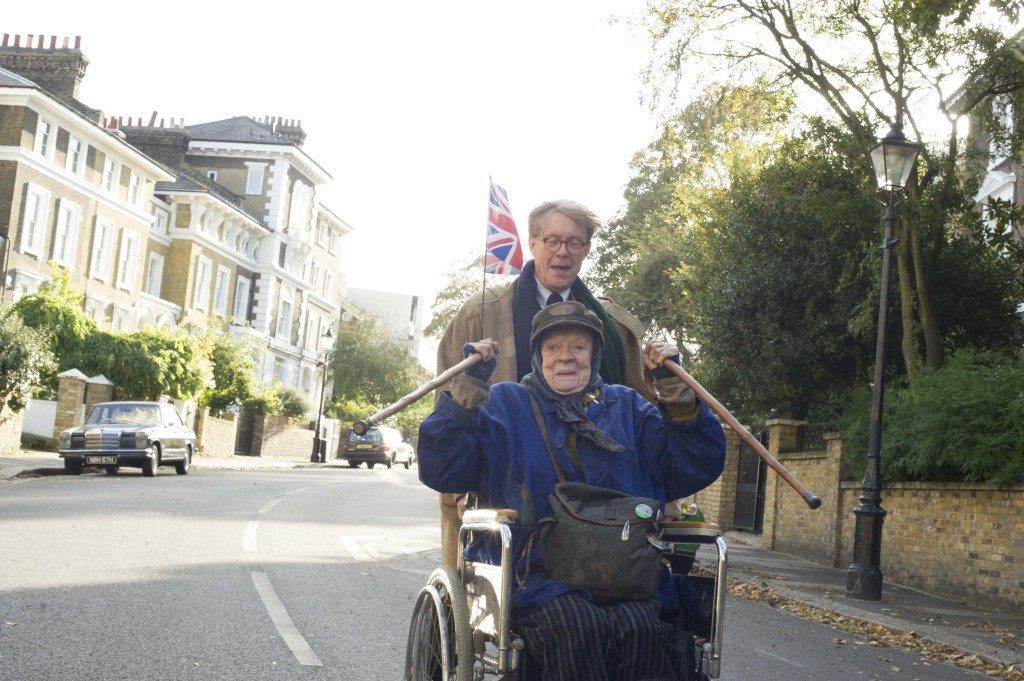 The scriptures often speak of how we are to treat strangers and those in need. The parable of the Sheep and Goats in Matthew 25 teaches us that what we ?do to the least of these? we do to Christ. In Hebrews, we are told: ?Let mutual love continue. Do not neglect to show hospitality to strangers, for by doing that some have entertained angels without knowing it. Remember those who are in prison, as though you were in prison with them; those who are being tortured, as though you yourselves were being tortured? (Hebrews 13:1ff, NRSV). The Torah teaches, ?You shall also love the stranger, for you were strangers in the land of Egypt? (Deuteronomy 10:19, NRSV). In a world and society where many struggle with day to day living, God has enlisted God?s people to be in solidarity with them and to love them as if we were loving God in the process?for indeed we are.
Photos courtesy of Sony Picture Classics