Focusing on the week?following the assassination of John F. Kennedy, JACKIE follows?on the life?of former First Lady Jackie Kennedy Onassis (Natalie Portman) as she is forced to simultaneously grapple with her husband's death, the demands of her position and the eyes of the public. ?Framed around an interview with Jackie, the narrative form allows for an exploration of not only her character but also the public perception of her.
Directed by Pablo Lorrain, this film is?intent on examining?Jackie's character from multiple angles. ?By making use of her famed?Emmy-winning tour of the White House on Christmas Eve in 1961, the film?provides an interesting contrast to her behaviour behind the scenes as well. ?Her image carefully crafted for her public persona, she also demonstrates an emotional courage and depth that most pundits had dismissed?due to her fame and beauty. ?Despite the temptation to divert attention to either the President or the drama surrounding his death, Lorrain wisely keeps the camera?on Portman, who owns absolutely every moment of the film. ?In what is easily her most gripping?performance to date, Portman makes a strong case for her second Best Actress award come Oscar time, portraying Jackie as both?vulnerable and ferocious.
Thematically, the film wrestles with the challenges of constructing a legacy while?Jackie fights tirelessly to spin the narrative surrounding her late husband. ?This is best exemplified through her desire for his funeral to mimic that of Lincoln, as opposed to 'lesser' presidents. ?In doing so, Jackie?attempts to create a mystique around?Kennedy's presidential legacy, directly?linking?his battle for civil rights with the abolition of slavery. ?In a world gripped by fear, Onassis wants the country to bear witness to the greatness of JFK's leadership as opposed to remembering him for the Cuban missile crisis or his extramarital affairs. ?(Ironically, she also remarks that her desire to create this perfect image "was not for him but for [her] and, in that moment, [she] became a Kennedy".)
Interestingly though, the film is also wants to explore Jackie's?raw emotion and spiritual quest as well. ?Yes, she may be the First Lady but she is also a grieving widow and mother. ?In a fascinating side narrative, Jackie meets frequently with a priest?to discuss how God could let this happen. ?Caught in one of the most devastating moments in American history, Jackie recognizes the importance of her role at this time and desperately seeks spiritual guidance. ?(Incidentally, the fact that I saw this film on the 15th anniversary of 9/11 also added appropriateness to the film at this level.) ?Nevertheless, even the priest seems at a loss for words. ?"One of the hardest parts of anyone's life is when they realize that there are no answers," he claims. ?While I obviously disagree with the theology behind this statement, it does?accurately reflect the most common arguments for dealing with global tragedies.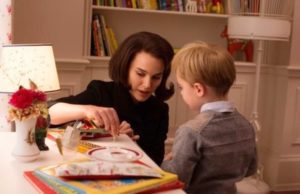 It's this tension between harsh reality and proud image that gives JACKIE its most poignant moments. ?How does someone lead a public persona in a time when millions of people are suffering? ?By the end, the film refuses to submit to 'easy answers' and allows the viewer to recognize the tension between pain and glory and the burden of leadership that requires.
Even so, despite the tragedies to which we bear witness, JACKIE reminds us that all we really want is Camelot.