?Mister, I ain?t a boy, no I?m a man, and I believe in the promised land? (Bruce Springsteen, ?The Promised Land?)
In Blinded by the Light, Javed (Viveik Kaira), a Pakistani young man growing up in a town outside of London, struggles to find his place in the world. He wants to be a writer, but his strict, traditional father Malik (Kulvinder Ghir) doesn?t see that as a proper job for a Pakistani. Javed feels much more English, but that is not acceptable. He feels trapped in a family that doesn?t understand him. His troubles are amplified by the presence of anti-immigrant thugs. But when a friend (Aaron Phagura) introduces him to the music of Bruce Springsteen, he feels he?s found someone who speaks to his problems. Toss in a budding romance with a classmate (Nell Williams), a growing distance from a childhood friend (Dean-Charles Chapman), and an encouraging teacher, and Javed begins to find his own voice. But will it be at the price of losing his family and traditions?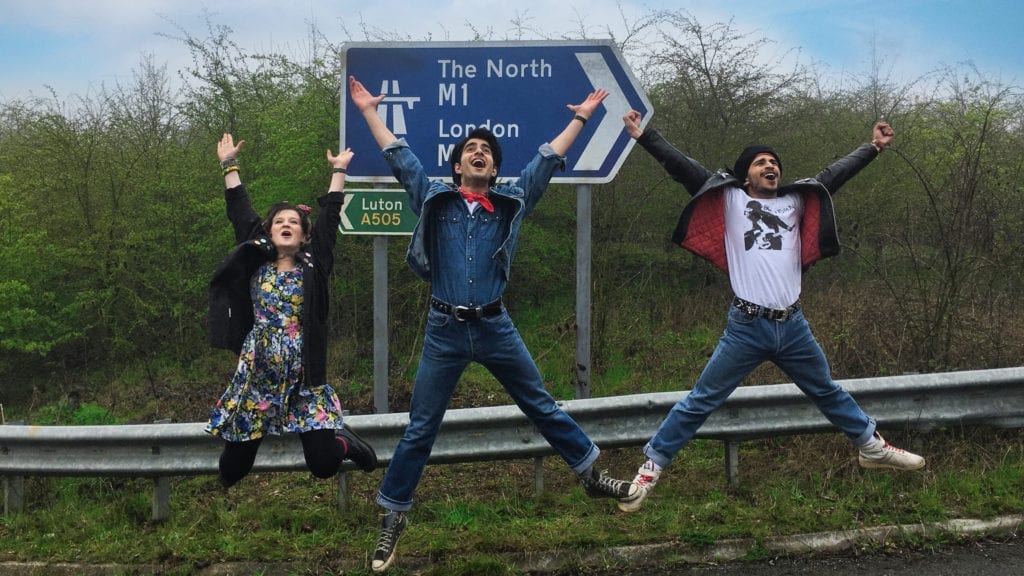 The film is inspired by a true story and based on Sarfraz Mansour?s memoir, Greetings from Bury Park: Race, Religion and Rock N? Roll. The film only touches in the briefest way on the religious aspect of the story, but it still manages to show us how the conflicts Javed faces between family, society, and self-fulfillment are compounded.
Obviously, music plays a key roll in the film. We often hear bits of Springsteen?s music. From time to time a Bollywood vibe comes in, with the lyrics coming on screen in various ways, and one or two minor production numbers that go along with the Boss?s songs.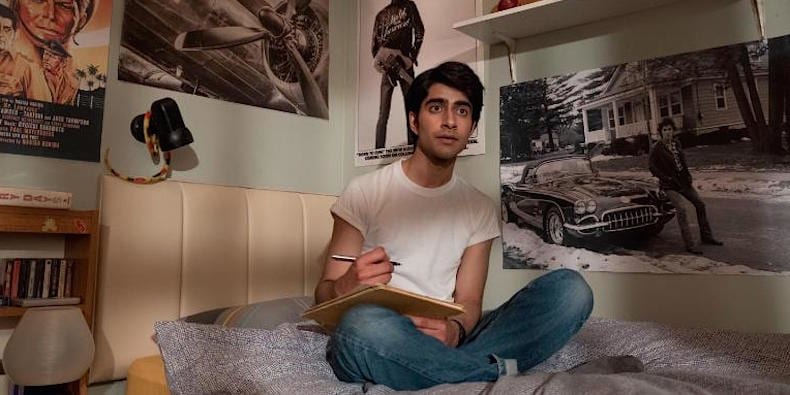 The adolescent struggle for an independent identity has always been fertile ground for stories and films. (The best example is Rebel Without a Cause.) The expectations of society and parents often feel stifling. The relationship between Javed and his father is highlighted by conflict. As Javed notes early on, ?In my house no one?s allowed opinions except my father.? Malik feels that he is responsible for all his family maintaining the values he brought with him from Pakistan. He is stern and demanding. He expects his son to grow up to be Pakistani, not English. But Javed has a different view of where he wants his life to go. Director Gurinder Chadha looked at the generational issues of South Asians growing up in the UK in her earlier film, Bend It Like Beckham. Although the immigrant family issues play roles in both Blinded and Bend It, it is really a universal story of generational conflict.
Although set in 1987, this film seems to be very current in terms of race and nationalism issues. Javed is regularly cowed by National Front thugs and their nationalist and white-supremist actions. Thirty years later, those issues have not only not gone away, they seem to have reemerged in recent years on both sides of the Atlantic. We see the threat of anti-immigrant violence through Javed?s eyes. It is another obstacle he must deal with to find his place in the world?a world where some are very vocal about thinking he doesn?t belong.
One of Springsteen?s lines that comes up at varying points is the one that opens this piece. The push to be seen not as boy but as a man is the essence of the adolescent struggle he is going through. For Javed, the music of Bruce Springsteen not only gives him something to identify with, but it pushes him to express himself through his writing. It is his words that will finally show his family and the world who he can become.
Special features include a "Behind the Scenes" look at the true story behind the film and the making of featurette, as well as deleted scenes.