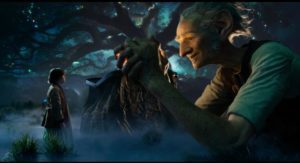 ?Dreams are so quick.?
?Yeah, on the outside. They?re long on the inside.?
I find it interesting that the same year Steven Spielberg brought us E.T. The Extra-Terrestrial, children?s book author Roald Dahl published The BFG, a kind of bedtime fairy tale. Now Spielberg brings Dahl?s story to the big screen with all the visual magic it deserves.
The story focuses on a ten-year-old orphan, Sophie (Ruby Barnhill). She has insomnia and surreptitiously roams the orphanage at ?the witching hour? of 3 a.m. But when she hears something outside, she breaks all the rules (Never get out of bed. Never pull back the curtains. Never look outside.) There she sees an enormous 26? tall giant (Mark Rylance) moving about. But he sees her as well. To make sure she can?t tell anyone, he grabs her and takes her back to Giant Country. There he plans to keep her prisoner. But he is a gentle giant, a Big Friendly Giant (BFG). The other giants are twice his size (they refer to BFG as ?Runt?) and would be happy to eat Sophie if they could find her. The BFG is a vegetarian, eating only Snozzcumbers, a vile, disgusting gourd of some sort.
As Sophie and the BFG get to know one another, they form a bond. He takes her to his work?catching dreams and delivering them to children. It is a magical world that he takes her to as they hunt for different kinds of dreams. There Sophie finds her dream. But back in Giant Country, the boisterous and malevolent giants are on the hunt for Sophie. Sophie and BFG hatch a plan to enlist the Queen?s (Penelope Wilton) help in getting rid of the giants.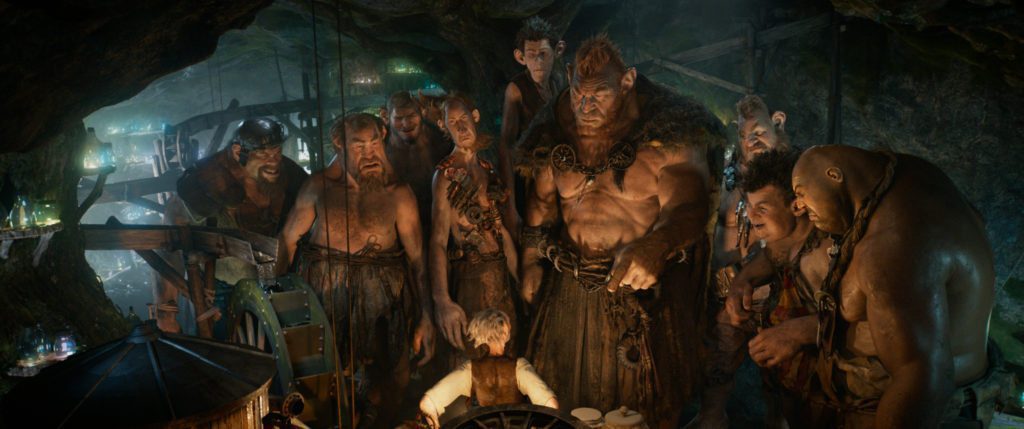 It should be noted that this really is a children?s story. Its humor is often scatological and slapstick (two words: corgis, whizzpoppers) or based in BFG?s language that is a combination of gibberish and malapropisms. Many recent children?s stories have added some more sophisticated humor and double-entendres to satisfy adult audiences. I find it refreshing for a film to rely on its appeal to children (and the child within each of us) as being enough to make the film enjoyable.
What is offered for adults are the amazing visual effects accomplished in part by combining live action and motion capture technology. Ryland?s BFG is a case in point. As ungainly as BFG is, the humanity in his face makes him as lovable to us as he is to Sophie. And the entire production design?from the streets of London to the clutter of BFG?s home to the paradise of Dream Country?all make this a film to enjoy for the artistry of the film.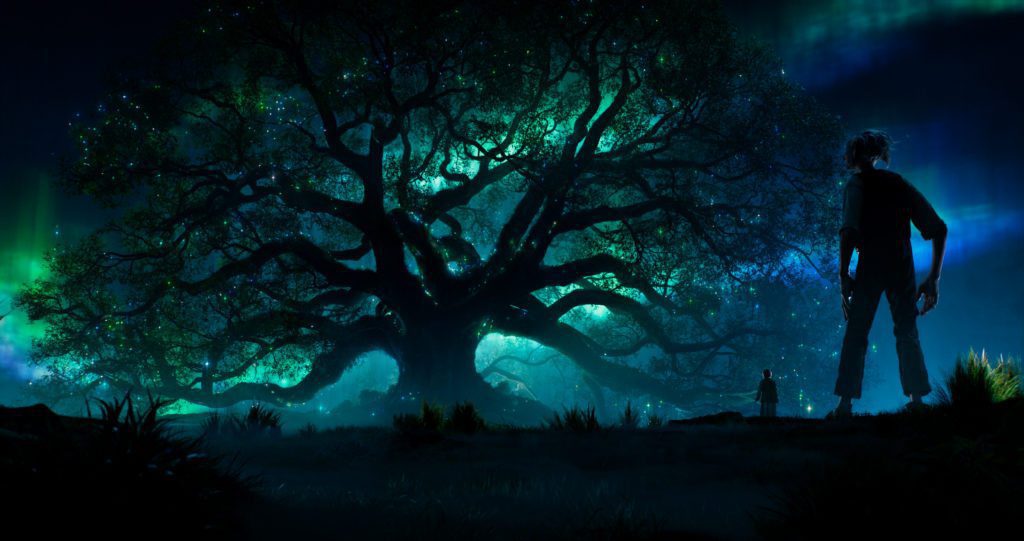 Of course at the heart of the story is the relationship between Sophie and BFG. These are two people who have no one else in their lives that they can connect to. Yet they are so utterly different. Sophie learns to appreciate that BFG is not to be judged because he is in the same category as the other giants. As crude and belligerent as the other giants are, BFG is kind and vulnerable. I was reminded of a line from the biblical story of David. When Samuel went to Bethlehem to find the new king among Jesse?s sons, they paraded in front of him starting with the biggest. (Remember, David was a ?runt? as well.) When Samuel saw the strapping Eliab he thought he would surely be God?s choice for king. But God told Samuel, ?Do not look at his appearance or on the height of his stature. . .; for the Lord does not see as mortals see; they look on the outward appearance, but the Lord looks on the heart.? (1 Samuel 16:7, NRSV) It is when Sophie and BFG see the hearts of one another that the outward appearances and differences melt away.
Photos courtesy of Walt Disney Studios