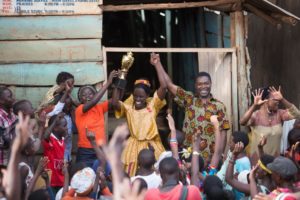 "You belong here." – Robert Katende (David Oyelowo)
Queen of Katwe tells the story of Phiona Mutesi (Madina Nalwanga), a young teenager who lives in the poorest areas of Katwe, Uganda. She connects with missionary Robert Katende (Oscar nominee David Oyelowo), who introduces her to the game of chess. As Phiona quickly demonstrates an incredible grasp of the game, she also faces adversity from her?mother, Harriet (Oscar winner Lupita Nyong'o), who feels the game is a distraction from her work?as well as the oppressiveness of a cultural caste system. ?However, as Phiona improves her skills and becomes an international phenom, she also becomes a beacon of hope for her entire country.
Directed by veteran Mira Nair (Monsoon Wedding, Salaam Bombay!),?Katwe?thrives with vibrancy and energy. ?Having lived there for many years, Nair clearly has a passion for Uganda and she uses that to her advantage. ?With their history of 'feel-good films', there may have been a temptation by Disney to ask Nair to temper some of the realities of life in Uganda to make it more 'palatable' to a wider audience. ?However, to their credit, Disney wisely allows Nair to really explore the country and bring it to life onscreen. ?While not shying away from the trials of life in Katwe (i.e. floods, extreme poverty), Nair?also reveals that the area and its people are full of life and energy. ?Bright colours flood the screen during the scenes in Uganda, deliberately contrasted with the more pale hues of Phiona's tournaments abroad. ?The music is infused with joy in the midst of heartbreaking circumstances. ?Clearly invigorated with this project, Nair deftly balances Uganda's vibrancy with its stories of suffering in a way that both challenges and encourages.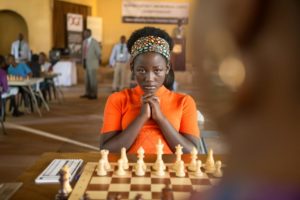 While both Nyong'o and (especially) Oyelowo demonstrate their skill in bringing complexity to their characters, the real star here is Madina Nalwanga. ?Having come from Uganda herself, Nalwanga slides effortlessly into the role of the chess prodigy and reveals a reality within Phiona that may have been a challenge for others. ?For a first-time actress, Nalwanga portrays Phiona with both ferocity and humility and owns every scene.
Throughout the film, Phiona is reminded that 'she belongs [amongst the elite]', despite what those around her believe. ?Coming from the oppression of a caste system, Phiona wants to believe that she has value simply as herself yet she constantly runs into opposition. ?With each foreign chess tournament victory, we witness Phiona struggle with the tension of life beyond Katwe and the reality her family lives within. ?Her struggle is not merely to win games or become a chess master but to bring hope to her family and country. ?The emotional bedrock for this storyline comes through her relationship with Oyelowo's portrayal of missionary Robert Katende who patiently and lovingly supports his young team throughout their journey. ?While the faith elements of Katende's influence are not emphasized in this particular film, they are evident in his grace-filled heart and commitment to the children's emotional spiritual wholeness. ?Despite what they have been told, Katende wants the children to understand that there is hope beyond their circumstances. ?The game of chess is merely his way of passing on?that hope.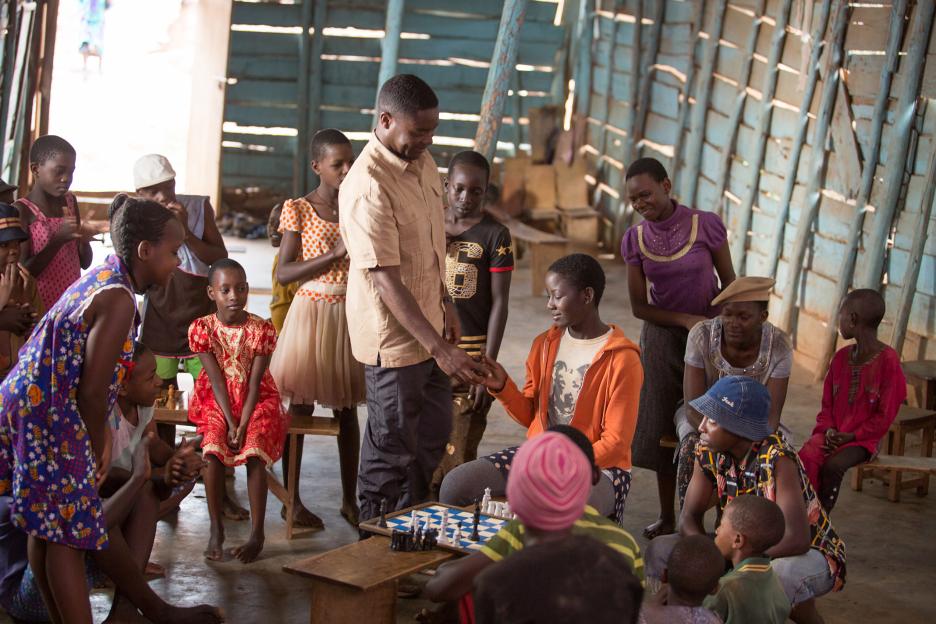 Interestingly, one of the finer touches of the film comes in the closing credit sequence when the actors take the screen next to their real counterparts. ?To see Nyong'o stand next to the real Harriet (among others) was a subtle but poignant touch at the end of the piece to remind the viewer of the authenticity of the story. ?(In fact, many of the subjects?had constant access to the sets and built solid relationships with the cast and crew.) ?Disney wants you to know that these people are not some characters they have created–they are very real and this is their story.
In the end, while Queen of Katwe?does follow many of the story beats of other 'unknown person makes it big' films, the cast is so strong and the film has so much energy that it still feels fresh. ?While chess may be the game that drives the narrative, the film is about much more than a game. ?It is about hope and sacrifice, and offers a deeper understanding of an area of the world that we do not hear much about.
With Katwe, Disney can definitely?claim 'checkmate'.
For more information about Queen of Katwe, check out the latest episodes of the ScreenFish podcast below for roundtable interviews with stars Lupita Nyong'o, David Oyelowo and director, Mira Nair or 1on1 interviews with Phiona Mutesi and Robert Katende themselves!
Roundtable with Lupita Nyong'o and director Mira Nair
Roundtable with David Oyelowo and 1on1 with Robert Katende
1on1 with Phiona Mutesi