For full audio of our interview with Jim, stream below:
While he?s perhaps best known for his role as perennial nice guy Jerry Gurgich from Parks and Recreation, actor Jim O?Heir finally gets to usurp those expectations in the dark comedy, Middle Man.
Written and directed by Ned Crowley, Middle Man tells the story of Lenny (O?Heir), a middle-aged man determined to become a successful stand-up comedian. There?s only one problem: Lenny isn?t funny. Although, after he meets a mysterious stranger named Hitch (Andy West), Lenny finds himself embroiled in a world of violence, intrigue and murder on his journey towards success.
As a long-time friend of Crowley, O?Heir was excited about the project from its inception. Still, because of difficulties finding funding for the project, he explains that the film was far from a sure thing.
?The guy who directed it, Ned Crowley, [and I] have been buddies together since we did Second City together in 1985,? he remembers. ?Ned is just a wonderful, wonderful writer and he?d written this script years ago with me in mind but, at the time, no one cared. Then, Parks and Recreation happened so that gave me some notoriety? And the next thing I know, we?re sitting with these producers and I thought ?Damn, this thing is really gonna happen.? So, it really was a gift to me because, it was written me with me in mind.? Ned has known me so long that he knows my strengths and weaknesses as a performer so he was determined to let me have a role that showed other sides of my acting range.?
Considering its dark humour, those who are more familiar with his roles as jovial Jerry Gurgich might be surprised about O?Heir?s interest in the project. However, O?Heir argues that the primary the appeal of participating in Middle Man was freeing himself of some of those stereotypes.
?Here?s the thing:? People think they know me because of Jerry? well, they don?t,? he explains. ?Jim O?Heir loves dark. Jim O?Heir loves funny. So, to put dark and funny together is just the perfect combination for me. And then, as an actor, you get labelled, good or bad. I?m not complaining because I?ve been very blessed? but a lot of it has been the comedy, big guy wacky roles? but I am an actor at heart. It keeps my blood pumping. To get a chance to play a role that?s so opposite of what people have seen me do [is] scary because there was a lot riding on this film.?
With this in mind, O?Heir also felt that one of the greatest challenges about the project was moving into the film?s lead, rather than the comfort of being involved in ensemble roles.
?If I didn?t pull it off, the film would fail. I?ve never had that much pressure on me in my life,? he insists. ?On Parks, there were 8 of us?and, one point, 10 of us?so if you don?t like one guy, switch to another guy. But, in this film, if you hate Jim O?Heir, turn the thing off because there?s only 3 scenes I?m not in. So, it?s very much on my shoulders which was daunting, exciting, terrifying all of the above. Thankfully?and there?s no one more critical of me than me?but I think I pulled it off enough that I didn?t ruin Ned?s film. So, that makes me very happy.?
Despite his larger role, O?Heir claims that part of what makes Middle Man work so effectively is the strength of its supporting cast.
?Andy West, who plays Hitch, is so damn good.? He certainly made me up my game and he said I upped his so it was a good collaboration and it just seemed to work out that way,? he beams. ?Andy auditioned and, right away, I thought something was special. We auditioned lots of people. Auditions were good and there were wonderful actors who are good and would have been great but Andy and I just connected. The same thing happened to Anne Dudek, who played Grail. Same thing? That?s not to take anything away from anyone else that auditioned? but sometimes it?s what connections are made and Andy and I and Anne and I just connected.?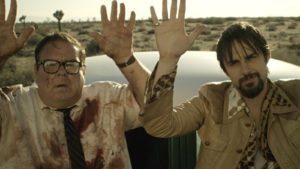 Ultimately, O?Heir believes that what drew such amazing actors to the film simply amounts to the quality of the script.
?Here?s the thing I tell everybody,? he states. ?This film was not made with a lot of money but you saw the talent in it. What people need to know is that good actors?name actors?will work for very little money. There?s other ways to make your money? You get a good indie script? The names that showed up and wanted audition?you wouldn?t believe it. Then I said, I get it. It?s a great script. Who the hell wouldn?t want to be in it? [For] actors who really love acting, it?s not just all about the money.?
One of the most unique aspects of Middle Man is its comedic vision for Lenny?s murderous exploits. While there are those who may not always find humour involving death and severed hands appealing, O?Heir understands that the effectiveness of comedy depends entirely on the individual.
?Comedy is so subjective,? he supposes. ?I mean, we could sit in a room together and one guy go crazy laughing and the other go, ?What the hell?s so funny??? It?s hard to say. Comedy is so subjective. There are people who hate Parks and Rec and some people who say it?s the best show ever created. I know I?m pretty easy. I don?t look for things not to be good. I do enjoy laughing and enjoying things. I?m an easy laugh.?
In light of this, it?s worth noting that Middle Man portrays Lenny as a man obsessed by his quest for fame. When asked why he feels that this was so important to his character, O?Heir maintains that Lenny?s primary motivation lies in his relationship with his mother.
?I think, in his mind, it was all about his mother,? he reflects. ?They sat around listening to Jerry Lewis and Dean Martin and I think, to him, he saw that [to] his mother, that was the top of the heap. She always told him that he was funny? There?s a very quick line where, at the very beginning, he?s saying goodbye to the girl who never had time to go out because she was ?always busy with family?. He says, ?Look for me on television.? For him, that was the ultimate victory to be on tv.?
According to O?Heir, ?At the beginning, Lenny is an innocent. Lenny has had no life experience other than what he and his mother did. Maybe they would go apple picking on the weekend here and there but their fun was sitting at home and listening to old Vaudeville tapes. So, he was very, very innocent. I always say that I?m pretty sure that Lenny was a 50-year-old virgin. I just believe that he just would not have had that life experience. Then, he?s experiencing things he?s never experienced before. So, he?s thrown into a world he knows nothing about with the type of person that Hitch is. Certainly, he knows nothing about that type of crazy. Part of my thinks he?s snapped. I think he was in over his head and did not know how to get out? None of this makes sense to him.?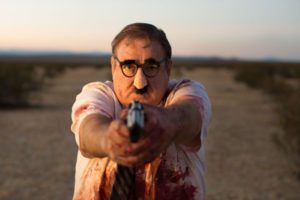 As Lenny slowly descends into darkness, O?Heir still believes that his character remains redeemable because of his innocence.
?Lenny is probably like me in the fact that he?s Catholic and guilt ridden just about everything. That?s just the life I?ve led. I think there is [redemption]? Nothing he did was out of malicious intent. I think Lenny could have redemption because he?s a forgivable character. Hitch is not forgivable. He?s a human piece of garbage… I do think that there?s redemption for Lenny because he does have a heart of gold and he?s put into a situation that his brain just could not process.?
In the end, O?Heir recognizes that the hard work put into the team was worth it, especially given the final product.
?It was a really, really hard shoot. We were in the desert. I?m a fat man who sweats. It was a nightmare shoot. They had me digging holes in the ground? but when it was all said and done, it was worth every flop sweat day I had.?
Middle Man is currently streaming on Netflix.