Joy Ride, Adele Lim's directorial debut, comedically takes us on a journey of friendship, honesty and taking chances. Audrey (played by Ashley Park) is sent to China to close a business deal for her law firm. Excited about the trip, Audrey decides to take her best friend, Lolo (Sherry Cola), as a translator because, although she is Chinese, she was raised by white parents and can't speak the language. Lolo's cousin, Deadeye (Sabrina Wu), joins them on their flight and, when they get there, they meet up with Audrey's college friend, Kat (Stephanie Hsu). Thus, starts the hijinks of work parties, getting stranded, family visits and impromptu dance numbers.
This film is not afraid to be goofy and 'out there,' with a comedic style that admittedly isn't one that I gravitate towards. Still, Joy Ride kept me engaged… and it wasn't just the BTS references. This film has a predominantly Asian cast and I always like to see films like this because, as Kat alludes to in the film, the characters get to be actual people instead of, in this case, 'the Asian one.' All four lead characters are very different from each other: Audrey is a high achieving lawyer with something to prove, Lolo is the laid back "I'll do what I want" artist, Kat is the classy actress and Deadeye is the socially awkward K-pop stan, making for an eclectic mix of personalities and interests. Being stuck on a trip together, they have to learn to appreciate each other's differences as that is what gets them through the trip, and it's interesting to watch them together on the screen.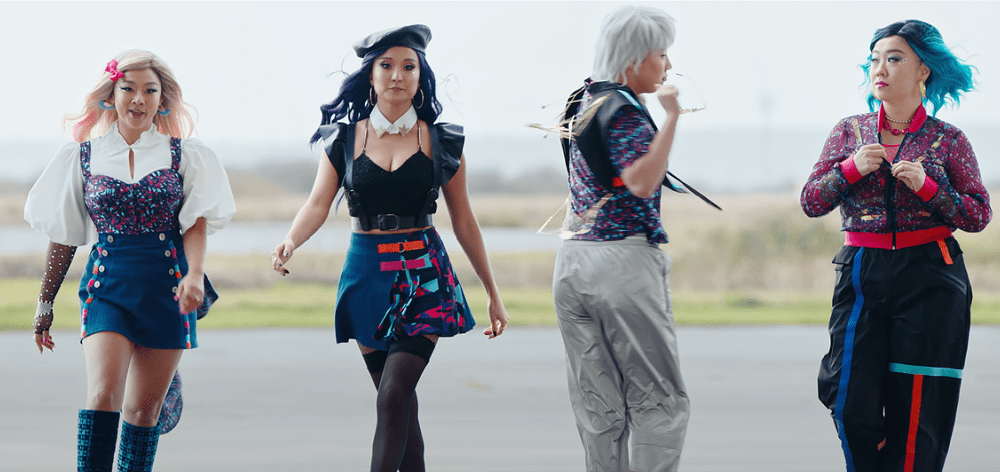 Within the comedic adventures, a few emotional threads line the film. Audrey is pushed by Lolo to find her birth mother, which she says is to help her with closing her deal but is really so that she can finally understand where she comes from and not feel so out of place. This quest itself comes with more surprises that leave Audrey questioning her identity. Deadeye deals with forming meaningful connections with the other characters and realizing that the ones they made online are already meaningful. Kat is faced with being honest about her past- and who she is- to the public and her fiancé who have a view of her that isn't entirely true. (Side note: Stephanie Hsu is a phenomenal actress! It was fun seeing her in a more comedic role.) By the end of the film, she learns that her honesty allows herself and others around her to be free. And Lolo… Although this trip happens because of Audrey, I think Lolo is the heart of the group and the film. She doesn't seem to have a lot going for her but is quick to share everything she has with her best friend, and seems genuinely happy pushing her friends towards their dreams and just coming along for the ride.
Joy Ride is fun, if you love a raunchy comedy. I have to say also that I love this film's soundtrack. I'm now on my way to look for the songs and add them to my playlist.
Joy Ride is available in theatres on Friday, July 7th, 2023.