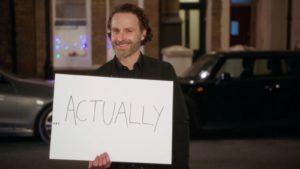 They're back!
For fans of the 2013 hit film
Love Actually
, we have great news.? Key cast-members including Liam Neeson, Kiera Knightly, Colin Firth, Hugh Grant, and Andrew Lincoln reunited for a short ten-minute sequel.?
The sequel titled
Red Nose Day Actually
will air during a special night of programming on NBC on Thursday, May 25 in support of Red Nose Day.? The complete line-up includes:? "Celebrity Ninja Warrior for Red Nose Day" at 8:00 p.m. ET/PT, the 9:00 p.m. episode of "Running?Wild with Bear Grylls for Red Nose Day," featuring Academy-Award winner Julia Roberts venturing to Kenya, and "The Red Nose Day Special," at 10:00 p.m., during which time the sequel will air.
You can view the trailer
here
.