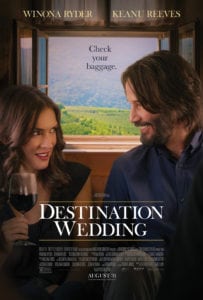 Destination Wedding reunites two of Hollywood's most adored stars, Keanu Reeves and Winona Ryder, as the socially awkward Frank and Lindsay. When they?meet on their way to a destination wedding, they soon discover they have a lot in common: they both hate the bride, the groom, the wedding, themselves, and most especially each other. As the weekend's events continually force them together – and their cheerlessness immediately isolates them from the other guests – Frank and Lindsay find that if you verbally spar with someone long enough, anything can happen. When debate gives way to desire they must decide which is stronger: their hearts or their common sense.
With the release of their new one-sheet,?Destination Wedding?begins to officially ramp up their promotion of the film in anticipation of their late August release.?Here, the art wisely focuses its attention on the connection (or tension) between its two stars, Keanu Reeves and Winona Ryder. There's a playful space between the iconic actors as the two leads share eye contact yet, at the same time, we see the distance between them in the form of the wine country.
Featured between them, the film's tag line 'check your baggage' draws attention to their journey and potential issues along the way. More importantly, however, the phrase offers indication that their relationship brings their personal histories as well. Often, as we build relationships with others (romantic or otherwise), we fall prey to the damage that we have experienced in the past in ways that prevent us from connecting with others in the future.
In other words, it is our hurt keeps us divided.
The manner in which we deal with our past, whether through forgiveness of others or ourselves, often is a predictor of what we allow ourselves to experience moving forward. In this brief example, Reeves and Ryder have an undeniable connection–but will they be able to overcome their histories?
Destination Wedding will be released on August 31st, 2018.