It used to be that when you mentioned Comic-Con, it was only referencing San Diego. However, in the past decade, pop culture has evolved and, with so many "comic-con's", one has to be more specific.
Comic-Con International is THE Comic-Con.
There isn't any that actually comes close to the massive convention that takes over San Diego, CA every year. As the gaming industry and Hollywood have jumped on board, the Con has developed and?now focuses on?more than just comics making it a behomoth of a convention. In fact, Comic-Con International has grown so large that the San Diego Convention Center can no longer contain it, spilling?into the streets and nearby hotels in downtown San Diego (even the San Diego Public Library has panels this year!).
Since we all know how big it's become, let's get to what we can expect this year. Due to personal reasons, I can't make it to the event this time?(my nice Walking Dead press badge is sitting on my kitchen table), but I am more than happy to share what I know and what to expect each day.
Outside of Twitter and Facebook, you can follow live from Comic-Con from the likes of ScreenJunkies Central (YouTube), Marvel.com/sdcc2016,?twitch.tv/skybound, and comic-conhq.com. Some will be comics related, others movies and shows, and some breaking news as they come.
Whether you are attending Comic-Con, or following from afar, here is what you can keep an eye out for this weekend when it comes to movies and TV.
Thursday: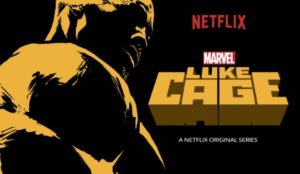 Expect news and chatter from CBS Tevlevision presentation early in the day. However, even with Dreamworks presenting on the first day, I expect most of the news and conversation will be from Netflix/Marvel Luke Cage series. That panel is near the end of the day, so expect news, descriptions of footage and how the series can stack up next to Daredevil and Jessica Jones.
Friday:
Marvel's Agents of Shield will be on hand discussing what happened in?Season 3 and also what to expect in Season 4 (perhaps a fiery skull faced motorcycle rider?)
As great as that news might be, the big guns of TV will take center stage on Friday as The Walking Dead and Game of Thrones will be the talk of Hall H.
Also, Friday evening is the world premiere of WB/DC Animated Batman: The Killing Joke that sees the return of Mark Hamill as The Joker, Kevin Conroy as Batman, and Tara Strong as Batgirl/Barbara Gordon. This title remains a very popular comic book that many fans have been clamoring for, and one of the few Joker origin stories that many refer back to. Batman: The Killing Joke will also have a one-time theatrical debut on Monday July 25 or, if you don't have tickets, you can also?wait until it comes out on digital or Blu-ray.
Saturday:
As the biggest day of the event. If you are in San Diego, this has to be the one day where you looked at the schedule and channeled your inner Luke Skywalker "NOOOOOOOOOO". For TV shows, the day features: Once Upon a Time; Supergirl; Flash; Arrow; Vampire Diaries; Grimm; DC's Legends of Tomorrow. That is one heck of a lineup all in Ballroom 20. So expect announcements and confirmations all throughout the day. One thing I'm looking out for with these, are the rumors true that Batwoman and Oracle will be debuting on season 2 of Supergirl? We shall see!
Well, the TV shows are?just the appetizer. Saturday is the big Hall H day as well. Warner Bros. will start the day off with a monstrous 3 hour slot that includes Wonder Woman, Suicide Squad, Lego Batman, King Arthur and Kong: Skull Island. One film that's surprisingly missing though is Fantastic Beasts and Where to Find Them. One would think that bringing back the world of Harry Potter would be a no brainer, but the film does not appear on their schedule. Either way, Wonder Bros. is sure to have the talk of the day.
Star Trek, which had their premiere Wednesday evening, has the unfortunate task of following Warner Bros. After them, it's a 30th anniversay panel of Aliens, and one of the most recent popular additions is Entertainment Weekly's Women who Kick Ass.
However, the final big presentation of the day belongs to Marvel Studios. We are for certain that Dr. Strange and Guardians of the Galaxy 2 will be shown. Fans can also expect something from Thor: Ragnarok, as well as?possible details on Black Panther film and of course, Spiderman: Homecoming. Marvel never dissappoints, so stay tuned Saturday night as I'm sure social media will be on a frenzy over what happened at the Marvel Studios presentation.
Sunday:
This is the "Get the last deals before you leave" day… but contrary to popular belief, there are still panels.
Hungover from his Marvel Studios Dr. Strange panel the night before, Benedict Cumberbatch will be on hand for Sherlock, followed by Supernatural. And well, actually, that's it, so maybe Sunday is deals day!
Well, there you have it, what to expect this weekend. Follow ScreenFish on Facebook as we will try to share any breaking news we hear.