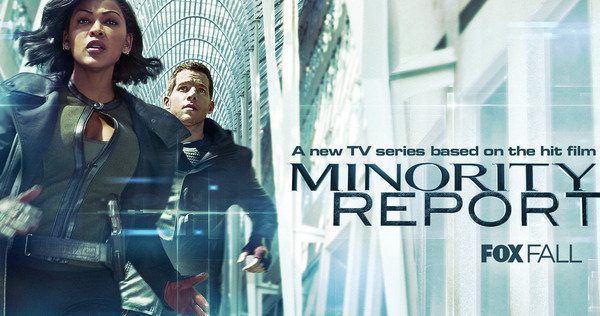 In 2002, Steven Spielberg and Tom Cruise teamed up to deliver Philip K. Dick's science fiction short story to the big screen in a move that received critical acclaim. Personally, it's one of my top ten sci-fi flicks of all time, balancing action, mystery, special effects, and spellbinding questions about what we would do if we knew the future. Ultimately, it's a very direct question about omniscience.
In FOX's new television show, the three precogs (humans with the capacity to know the future) have been relocated into witness protection and the crime-stopping program they were involved with has been shut down. Dash (Stark Sands) believes he should still use his powers for good, and reluctantly comes out of the shadows to team with Washington, D.C. detective Lara Vaga (Meagan Good) to stop crime. His twin brother, Arthur (Nick Zano), is reluctant to trust the government again, choosing to use his powers for his own gain; the boys' adoptive older sister, Agatha (Laura Regan), remains a recluse.
Each episode looks to be self-contained, a bit like?Person of Interest?or?Early Edition, with a gradually revealed mythos that is hinted at in?a conversation between Agatha and Arthur at the end of the episode. This is intriguing, of course, because it wrestles with the future, even while the three precogs are not given a complete picture of what that future looks like. As the audience, we're aware that knowing the future isn't always what it's cracked up to be (consider Cruise's Captain John Anderson), but with knowledge of the future, there's great responsibility. It's also noteworthy that an ongoing theological debate includes a discussion of whether or not God being omniscient means that he causes everything to happen or he (more simply) knows what will happen. That cause and effect is in play in the show as well.
There's also responsibility here, speaking as a fan, for the way FOX handles this. While I loved the film, I didn't love the idea that it would be a show. Could they go somewhere with the material for a season and not water it down? Could they pull off the special effects without being cheesy? The premiere would imply that they can, but now we must wait and see what happens over the next few weeks.
I mean, none of us knows the future, right?
Minority Report airs on FOX at 9 p.m. on Mondays, but you can catch an encore of the premiere on Friday night.?